Tucker Carlson Apologizes After Georgia News Station Calls Out His False Claims About Dead Voters
Fox News host Tucker Carlson issued an on-air apology to his viewers on Friday night after a local Georgia news station called out his false claims about dead voters in the state.
Various local news outlets in Georgia found that two people cited by President Donald Trump's reelection campaign as dead individuals who illegally voted in the state's presidential election have turned out to be living citizens mistaken for being dead. On November 11, the Trump campaign claimed that James Blalock, a World War II veteran in Covington, had passed away 14 years ago but illegally voted this year. Carlson amplified the claim on Fox News and also shared an opinion piece.
"No one quite embodies that story like James Blalock of Covington, Georgia. Mr. Blalock was a mailman for 33 years until he passed away in 2006," Carlson said during a segment on Thursday's Tucker Carlson Tonight. "Fourteen years later, according to state records he was still mailing things. James Blalock cast a ballot in last week's election."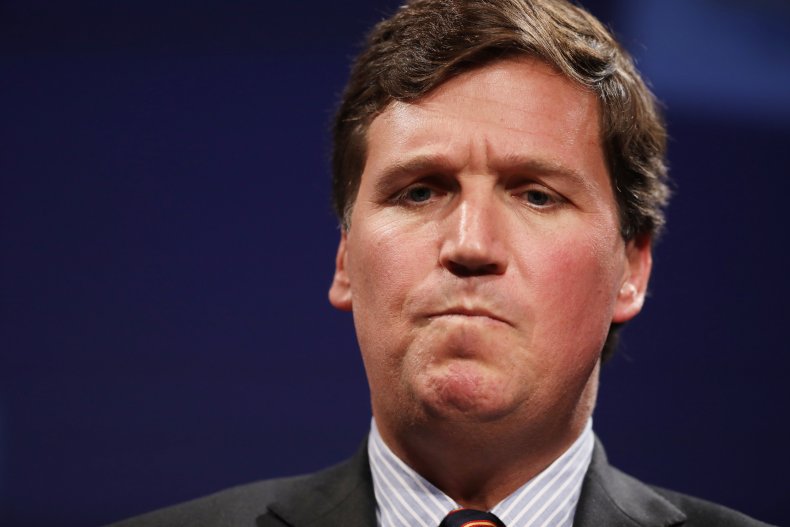 Newton County officials quickly debunked the claim and clarified that Blalock did not vote because he was dead. Blalock's widow, registered under his name as "Mrs. James E. Blalock, Jr." was the one who voted. She also signed that name when she cast her ballot.
Georgia news station 11Alive's Chief Investigator Brendan Keefe called out Carlson on air for echoing the false claim of voter fraud. "False. James Blalock did not vote in last week's election. Mrs. James Blalock voted in last week's election," Keefe said on Friday.
Later that evening, Carlson apologized to his viewers for promoting the false claim and issued a correction. "We've got some good news tonight, and an apology," he said. "One of the people who voted in last week's election isn't dead. James Blalock is still dead, we told you about him, but it was his wife who voted. She voted as Mrs. James Blalock. It's old-fashioned and we missed it."
The conservative host insisted that "a whole bunch of dead people did vote" but said that "James Blalock was not among them."
"It was Mrs. James Blalock. So apologies for that, and of course we're always going to correct when we're wrong. And we were," he concluded.
President-elect Joe Biden has secured at least 290 Electoral College votes, surpassing the 270 required to win the election, but Trump still has not conceded. Since most media outlets called the race for Biden last Saturday, Trump and his supporters have repeatedly accused Democrats of stealing the election. Team Trump also claims that widespread voter fraud cost him Georgia.
Fox News pointed Newsweek to Carlson's on-air address Friday night when asked for comment.