Tucker Carlson Calls 2020 Election 'Sketchy' Amid Fox News Defamation Case
Tucker Carlson has declared President Joe Biden's 2020 election victory "sketchy" while his employer Fox News fights a $1.6 billion lawsuit filed by Dominion Voting Systems over election-fraud claims.
During the Friday night broadcast of his popular opinion show Tucker Carlson Tonight, Carlson lashed out at Biden for "lecturing" Americans about democracy and supporting Ukraine on the one-year anniversary of its war with Russia.
The conservative pundit argued that the president held "tenuous legitimacy" because "many" do not believe that his election win over former President Donald Trump "was even real."
"It is galling to be lectured about democracy by a man who took power in an election so sketchy that many Americans don't believe it was even real," Carlson said. "Joe Biden is far less popular in the United States than Vladimir Putin is in Russia."
"That is not an endorsement of Putin," he continued. "It's just true. And it says everything about Joe Biden's tenuous legitimacy. Democracy? Please."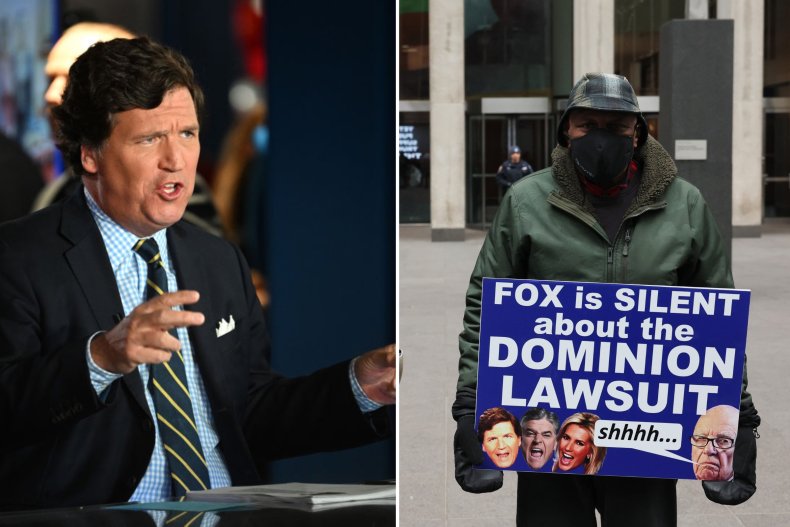 Last week, a court filing by Dominion revealed that Carlson and a number of other top Fox News personalities and executives privately denounced Trump's claims of massive fraud in the 2020 election while amplifying related conspiracy theories on air.
In a text message Carlson sent to his producer Alex Pfeiffer in November 2020, the Fox personality expressed concerns that Trump "could easily destroy us if we play it wrong." Carlson later described election-fraud claims as "ludicrous" and "totally off the rails," according to the filing.
Carlson also said that lawyer Sidney Powell, who once promised to "release the Kraken" with 2020 election-fraud lawsuits that would overturn Trump's defeat, was "crazy" and insisted she was "lying" about having fraud evidence.
In a previous statement to Newsweek, Fox News said that the Dominion filing was spilling "considerable ink on facts that are irrelevant under black-letter principles of defamation law," while arguing that the case was about "freedom of the press and freedom of speech."
"There will be a lot of noise and confusion generated by Dominion and their opportunistic private equity owners," Fox News said. "But the core of this case remains about freedom of the press and freedom of speech, which are fundamental rights afforded by the Constitution and protected by New York Times v. Sullivan."
Multiple legal experts recently told Newsweek that Dominion has so far presented a strong case that may meet the high bar of "actual malice" that is required in U.S. defamation suits.
"It's wild how intentionally misleading Fox News was to its viewers about Dominion with knowingly false claims of vote rigging," New York-based lawyer Andrew Lieb said.
"Unless there is something out there that changes the facts, Fox is going to lose this case," he added. "The only question remaining is going to be how much Dominion will be awarded in damages."
Newsweek has reached out to Fox News and Dominion Voting Systems for comment.