Tucker Carlson Calls Anthony Fauci 'Jesus for People Who Don't Believe in God'
Fox News host Tucker Carlson dubbed Dr. Anthony Fauci "Jesus for people who don't believe in God" on Wednesday.
On the latest edition of Tucker Carlson Tonight, Carlson blasted Fauci, President Joe Biden's chief medical adviser and the director of the National Institute of Allergy and Infectious Diseases (NIAID), for the contents of multiple emails obtained by The Washington Post and Buzzfeed News under the Freedom of Information Act.
Carlson said that the emails showed that Fauci "was worried that the public might conclude COVID had originated at the Wuhan Institute of Virology" before denouncing the media for not questioning the Biden administration over the emails and insisting that the doctor is "a figure of religious veneration" for some.
"No reporters asked about these emails at today's White House press briefing," Carlson said. "Not one question. But you shouldn't be surprised, of course they didn't ask. Tony Fauci is too big to question at this point."
"In affluent neighborhoods throughout Northwest Washington, D.C. you can still see signs that say, 'Thank You Dr. Fauci,'" he continued. "What does that tell you? It tells you that Tony Fauci is no longer a scientist, assuming he ever was one. Tony Fauci is a figure of religious veneration. He is Jesus for people who don't believe in God."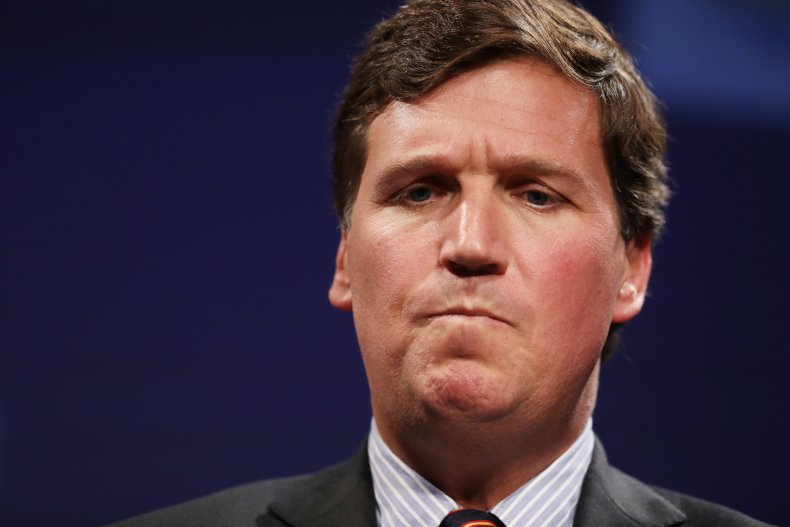 Carlson said that a January 31, 2020 email that Fauci received from Kristian G. Andersen, director of the Scripps Research Institute, was one of several that collectively proved he was guilty of perjury for denying before Congress that NIAID provided the Wuhan lab funding for so-called "gain of function" experiments, which can potentially make viruses more transmissible to humans.
Andersen wrote to Fauci that some of the features of SARS-CoV-2, the virus that causes COVID-19, were "unusual" and "(potentially) look engineered." Andersen later conducted research looking into the possibility that the virus was lab-made and co-authored a paper concluding that the scenario was "implausible."
The email did not mention the alleged gain-of-function experiments, although Fauci sent a separate email his NIAID subordinate Dr. Hugh Auchincloss with instructions to read a paper on gain-of-function research on coronaviruses on the same day. A reply from Auchincloss promised to find out if NIAID had "any distant ties to this work abroad."
During a heated exchange with Sen. Rand Paul (R-Ky.) at a Senate hearing last month, Fauci said that NIAID "categorically has not funded gain-of-function research to be conducted in the Wuhan Institute of Virology." No evidence that has been publicly presented in the newly-released emails or elsewhere disproves Fauci's statement.
Investigations into the origins of COVID-19 are ongoing and it is yet not clear whether SARS-CoV-2 escaped from a lab or emerged naturally. However, if the virus did escape from a lab, that in itself would not indicate that the virus was lab-engineered or part of an intentional plot to start a pandemic since naturally-occurring viruses could also potentially escape.
Newsweek reached out to NIAID for comment.