Tucker Carlson Calls D.C. Mayor Muriel Bowser 'Ayatollah' for Banning Dancing at Weddings
Fox News host Tucker Carlson has referred to Muriel Bowser, the mayor of Washington D.C., as an "ayatollah" for her city's COVID-19 ban on dancing at weddings. Ayatollah is a title for high-ranking Shia Islamic clergymember.
Carlson made his comments on the Thursday evening installment of his Fox News program, Tucker Carlson Tonight. Last week, Bowser issued a city order allowing in-person weddings to resume. However, it forbade dancing as a high-risk activity since it puts heavily breathing people in close proximity to one another.
"So when, you might ask, did Muriel Bowser become an ayatollah in charge of whether you can dance or not?" Carlson asked. "Muriel Bowser is one of the least impressive, most irrational political leaders in the history of the country. Her order is among other things, stupid and crazy."
While the title of ayatollah is used honorifically among Shia Muslims, it can insultingly refer to a ruler who controls people's behavior through severe religious or moral laws.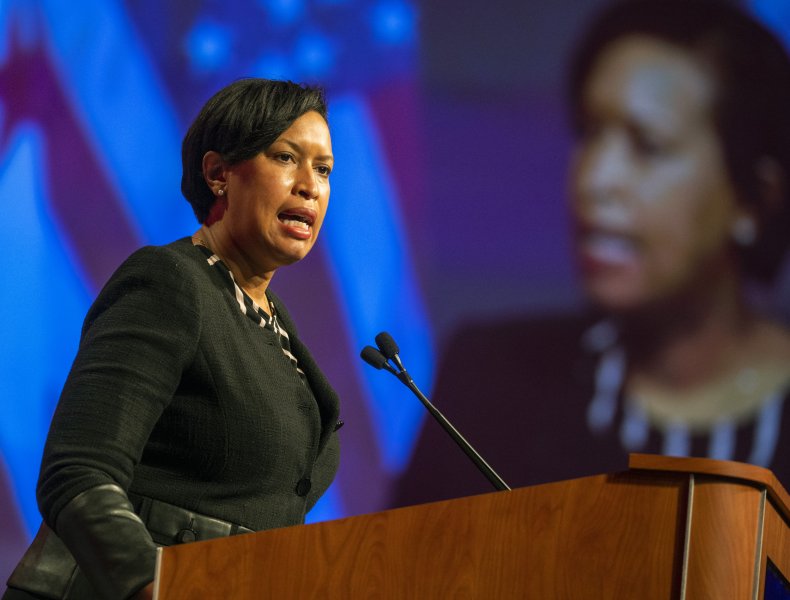 Bowser defended the city's wedding dance ban in a Wednesday CNN interview.
"I think there's a lot of good to a wedding, like people starting off their lives together and doing it in a safe way and not doing it in a way that puts themselves or their guests in danger," she said.
Bowser has said that she hopes the ban will end quickly. The public health emergency order banning dancing is set to expire on May 20, but could be extended, according to The Washington Post. Those who defy the ban could face civil fines or lose their operating licenses.
Carlson later mocked Democratic New Mexico Governor Michelle Lujan Grisham for praising Bowser as "courageous" for clearly defining high-risk activities. Grisham said that her state would possibly allow dancing at weddings if people were vaccinated, socially distanced and wore face masks.
"As an epidemiological matter, that's ridiculous," Carlson said, criticizing Grisham's conditions. He later sarcastically exclaimed, "Because weddings are, needless to say, super spreader events!" He later compared the D.C. restriction to the 1984 Kevin Bacon film Footloose. In the film, young people rebel against a small town ordinance banning dancing.
However, weddings during the pandemic have ended up causing large COVID-19 outbreaks.
A Maine wedding infected 177 people and resulted in seven people's deaths—those who died hadn't even attended. An August 2020 wedding reception in the same state led to 160 infections and two deaths. A June 2020 wedding resulted in at least 113 infections and the death of the groom.
Newsweek contacted Fox News for comment.