Tucker Carlson Calls Posts That Led to Writer's Resignation 'Wrong'
Fox News host Tucker Carlson addressed the resignation of former writer Blake Neff from his television program on Monday. Neff was discovered to have made racist and sexist messages on an online forum using a pseudonym.
Neff was a frequent poster on AutoAdmit, which bills itself as the "most prestigious law school discussion board in the world" and "supporters of the marketplace of ideas and freedom of expression." Using the screen name CharlesXII, Neff posted comments about Black people, Asian-Americans and women.
"Honestly given how tired Black people always claim to be," Neff wrote in June, "maybe the real crisis is their lack of sleep."
"What Blake wrote anonymously was wrong," Carlson said. "We don't endorse those words. They have no connection to the show. It is wrong to attack people for qualities they cannot control. In this country, we judge people for what they do, not for how they were born. We often say that because we mean it." Carlson added that Neff had "paid a very heavy price" for his actions.
Carlson then warned against individuals action in a self-righteous fashion. "We are all human," Carlson said. "When we pretend we are holy, we are lying. When we pose as blameless in order to hurt other people, we are committing the gravest sin of all. And we will be punished for it. There's no question."
According to information sent to Newsweek from Fox News on Monday, Carlson is expected to go on a previously planned fishing trip for the remainder of the week.
Neff began writing for Tucker Carlson Tonight in 2017. When his online persona was exposed via reporting by CNN, Fox News higher-ups accepted his resignation.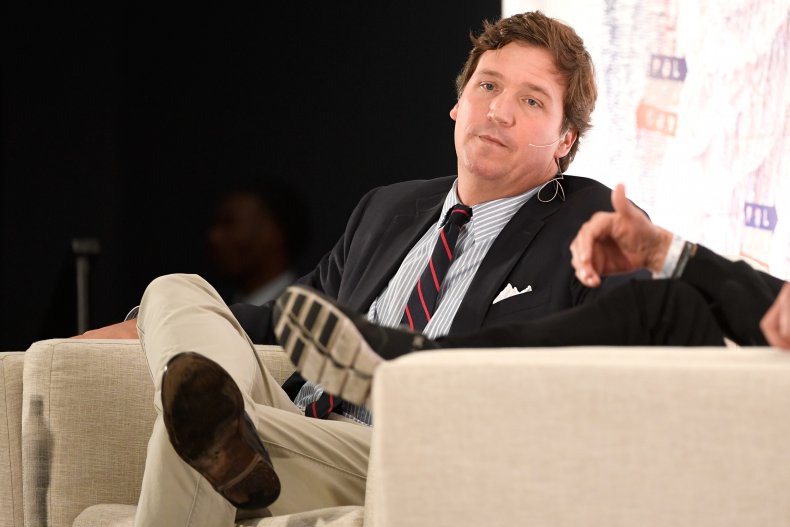 "We want to make abundantly clear that Fox News Media strongly condemns this horrific racist, misogynist and homophobic behavior," read a Friday statement from Fox News CEO Suzanne Scott and President and Executive Editor Jay Wallace.
"Neff's abhorrent conduct on this forum was never divulged to the show or to the network until Friday, at which point we swiftly accepted his resignation," the statement continued. "Make no mistake, actions such as his cannot and will not be tolerated at any time in any part of our work force."
In an interview republished in July by Dartmouth Alumni Magazine, Neff said he had "gotten used to what [Carlson] likes and what [Carlson] thinks about."
"Our show is controversial—that's just objective—but I don't believe that we're stoking conflict," Neff said of the show. "When people accuse us of that, they're allowing actual firebrands to stir them up."
Although Carlson has raised the ire of some observers and sponsors for his potentially controversial remarks, ratings for his show have skyrocketed. In the second quarter of 2020, Tucker Carlson Tonight was the number one cable news program, registering 4.331 million viewers.
Allegations of racism were levied against Carlson in June after his on-air remarks about protests organized by the Black Lives Matter movement after the May death of George Floyd in Minneapolis.
"This may be a lot of things, this moment we're living through, but it is definitely not about black lives," Carlson said. "Remember that when they come for you and, at this rate, they will."
In response, advertisers such as Disney, Poshmark and T-Mobile stopped advertising on Carlson's show. In a June tweet, T-Mobile said it had not run any advertisements on Tucker Carlson Tonight "since May and have cancelled all future placements. We will continue to support those who stand against racial injustice."
Fox News said in June that Carlson's remarks were not referring to any members of BLM, but to leaders of the Democratic Party.
Updated 3:55 p.m. EST 7/14/2020: This story has been updated with information from Fox News.