Tucker Carlson Calls on Sen. Richard Burr to Resign Over Stock Dumping Reports
Intelligence Committee Chairman Senator Richard Burr of North Carolina sold over $1 million in stocks, including stocks in two lodging and hospitality chains, in February before the coronavirus pandemic sent the markets into a tailspin according to Thursday reports.
Whether Burr's decision to sell the stocks was influenced by information about the coronavirus has yet to be confirmed, but Fox News host Tucker Carlson said Thursday that Burr, co-author of a February op-ed piece which claimed that the U.S. was "better prepared than ever before to face emerging public health threats, like the coronavirus," should resign from office and be placed on trial for insider trading.
"[Burr] had inside information about what could happen to our country, which is now happening," Carlson said. "But he didn't warn the public. He didn't give a primetime address. Didn't go on television to sound the alarm. He didn't even disavow an op-ed he had written just ten days before claiming that America was, quote, 'better prepared than ever for coronavirus.'"
"Instead, what did he do? He dumped his shares in hotel stocks so he wouldn't lose money," Carlson continued. "And then he stayed silent. Now, maybe there's an honest explanation for what he did. If there is, he should share it with the rest of us immediately. Otherwise, he must resign from the Senate and face prosecution for insider trading."
"There is no greater moral crime than betraying your country in a time of crisis," added Carlson. "And that appears to be what happened."
"Senator Burr filed a financial disclosure form for personal transactions made several weeks before the U.S. and financial markets showed signs of volatility due to the growing coronavirus outbreak," said a Burr spokesperson in a statement sent to Newsweek on Friday. "As the situation continues to evolve daily, he has been deeply concerned by the steep and sudden toll this pandemic is taking on our economy. He supported Congress' immediate efforts to provide $7.8 billion for response efforts and this week's bipartisan bill to provide relief for American business and small families."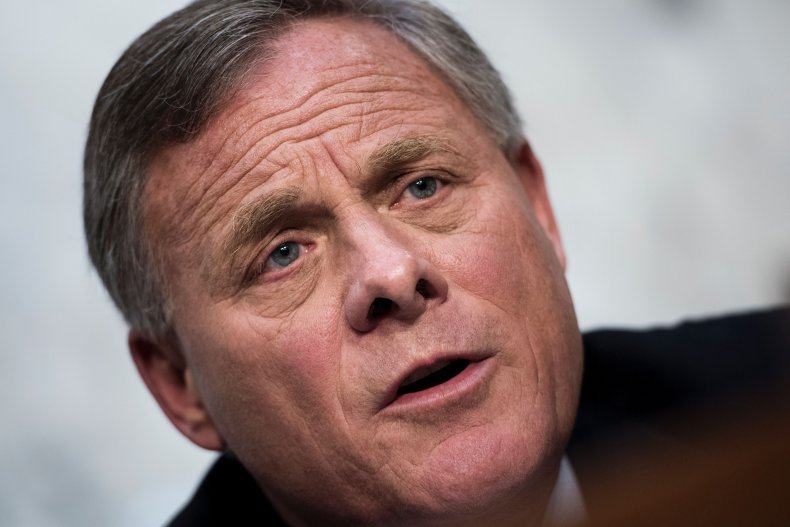 Roughly two weeks after selling the stocks, Burr gave a speech in North Carolina in which he told attendees that the coronavirus "is much more aggressive in its transmission than anything that we have seen in recent history," according to NPR.
"There will be, I'm sure," Burr said, "times that communities, probably some in North Carolina, have a transmission rate where they say, 'Let's close schools for two weeks. Everybody stay home,'"
Saturday, North Carolina Governor Roy Cooper issued an executive order closing schools in the state for two weeks.
Burr has not denied making the speech, but said as part of a Thursday thread on Twitter that he wanted people to "be prepared."
"The message I shared with my constituents is the one public health officials urged all of us to heed as coronavirus spread increased," Burr tweeted. "Be prepared."
Burr's communications director Caitlin Carroll tweeted Thursday that Burr "has been banging the drum about the importance of public health preparedness for more than 20 years."
"His message has always been, and continues to be, that we must be prepared to protect American lives in the event of a pandemic or bio-attack," Carroll continued.
Former New York Representative Chris Collins pleaded guilty to 11 charges related to insider trading in October 2019 after he was accused of using information he received as a member of the board of directors of an Australian pharmaceutical company to help others with their investment decisions.
In December, the House of Representatives passed the Insider Trading Prohibition Act in an attempt to quell the practice.
Updated 4:08 p.m. EST 3/20/20: This story has been updated to include a statement from Burr's office.