Tucker Carlson Calls 'Steamy' Romance Novels by Stacey Abrams 'Soft-Core Porn'
Fox News host Tucker Carlson has alluded to three romance novels written by Democratic voting rights activist Stacey Abrams as "soft-core porn."
Carlson made his comment on the Tuesday installment of Fox News' Tucker Carlson Tonight. In the broadcast, the host called Abrams a "naughty novel writer" and described her books as "steamy," "sexy" and "soft-core porn."
"In her spare time [Abrams was] a naughty novel writer. Bodice-rippers, they called them. Steamy, sexy," Carlson said. "And those books may soon be coming to a bookstore near you."
Carlson's guest, Fox News anchor Trace Gallagher, briefly explained the upcoming re-release of Abram's novels and their inclusion of words like "turgid," a word that means "swollen."
Afterward, Carlson complimented Gallagher on his voice and said, "You could do voiceovers. That was fantastic ... Soft-core porn! Brought to you by Trace Gallagher."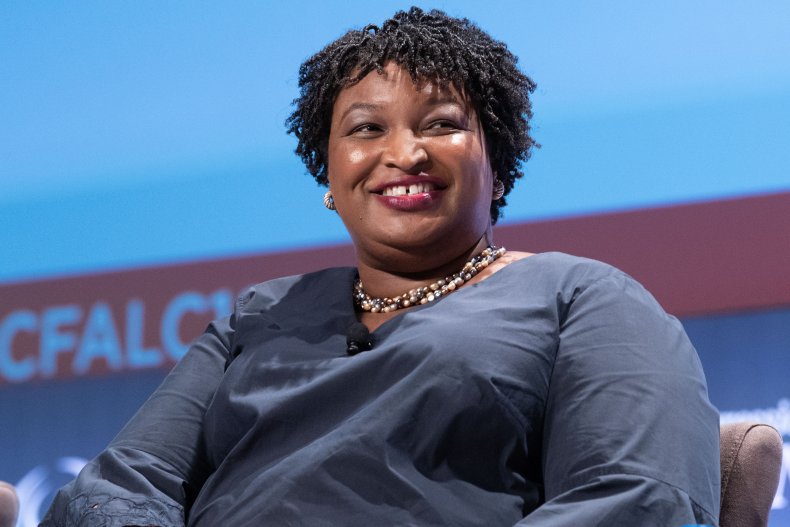 Soft-core porn refers to media that contains depictions of sex that are neither violent nor explicitly detailed, according to Collins English Dictionary.
In 2022, Berkley, an imprint of the Penguin/Random House publishing house, will re-release Abram's three out-of-print romance novels that she published in the early 2000s under the pen name Selena Montgomery.
The three books are The Art of Desire, Rules of Engagement and Power of Persuasion. They form a romantic suspense trilogy about a fictitious government agency that recruits civilians to work as international spies, according to The New York Times.
Abrams' books were originally published by the romance publishing company Harlequin. The novels will be republished in hardcover editions under both Abrams' real name and her pen name.
"As my first novels, they remain incredibly special to me," Abrams said in a statement. "The characters and their adventures are what I'd wished to read as a young Black woman—stories that showcase women of color as nuanced, determined, and exciting."
Abrams has written many other books under her pen name including titles such as Deception, Reckless, Hidden Sins, Secrets and Lies and Never Tell.
Last year, she published Our Time Is Now, a nonfiction history of U.S. voter suppression from the past to the modern day. This month, she will publish While Justice Sleeps, a legal thriller entitled.
Abrams decided to publish her earlier work under a pen name after her editors worried that romance readers might find her non-romantic academic work published under her real name, she told late-night talk show host Stephen Colbert in 2019.
She said that she initially stopped writing novels in order to focus on improving voter access across the nation.
Newsweek reached out to Fox News for comment.