Tucker Carlson Claims Joe Biden Is First Presidential Candidate to 'Predict His Own Death,' Calls It 'Disturbing'
Former Vice President Joe Biden is the first presidential candidate to "predict his own death" on the campaign trail, Tucker Carlson said on his Fox News program Wednesday.
"I've covered a lot of campaigns but I've never seen a candidate predict his own death or say so clearly, 'I may not make it to the end of my first term,'" Carlson said on the Wednesday edition of Tucker Carlson Tonight. "It's disturbing at that moment."
Carlson was referring to a clip recorded at Biden's campaign stop in Clinton, Iowa Tuesday. Answering a question about who he would pick as his vice president, Biden said he had some candidates in mind.
"I can think of at least eight women, at least four or five people of color, that I think are totally qualified to be vice president of the United States," Biden said. "But for me, it has to be demonstrated that whoever I pick ... is capable of [being] president because I'm an old guy."
Though the clip Carlson aired on his show ended at this moment, Biden continued, clarifying that he had released his medical records and was healthy.
"No, I'm serious. Look, I thank God I'm in great health. I work out. No, I'm serious. You know, I work out every morning. I'm in good shape—knock on wood, as my mother would say," Biden said.
The question of age has followed not only Biden, but many of the Democratic presidential candidates. Three of the candidates running—Biden, Sen. Bernie Sanders of Vermont and former New York City Mayor Michael Bloomberg—would become the oldest president in history if elected. Biden and Bloomberg are both 77, while Sanders is 78.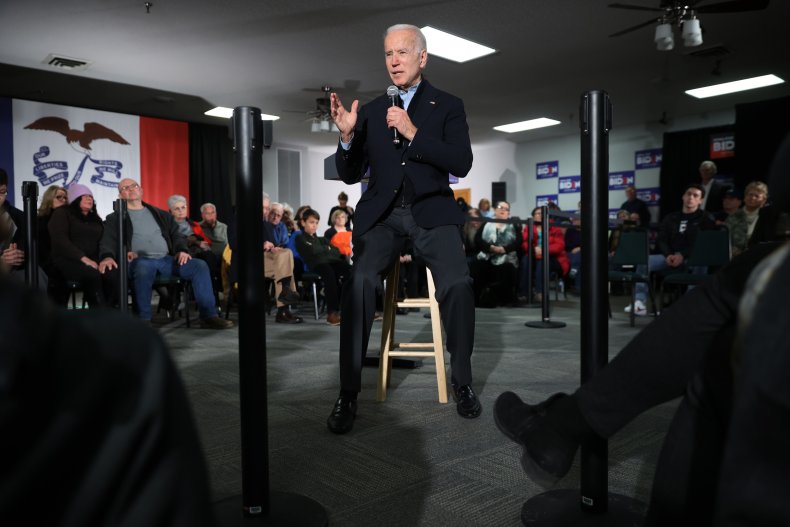 At the same campaign stop, Biden floated the idea of Michelle Obama as his running mate. Answering the question "Would you consider appointing Obama for the Supreme Court?", Biden said he would.
When the followup question "Which Obama?" was asked, Biden laughed and said he'd want Michelle to be vice president, presumably leaving the Supreme Court to Barack Obama.
"They're both incredibly qualified people, I mean, and they're such decent, honorable people," he said.
Carlson's guest on Wednesday's episode, Fox News contributor Lisa Boothe also had harsh words for Biden, claiming that his campaign leans too heavily on his association with the Obama administration.
"The centerpiece of his entire candidacy simply has to do with the fact that he was the vice president to President Obama. I really don't even think he'd be considered as a remotely viable candidate if it weren't for that. I really think that is the only thing that has really been propping him up," Boothe said.
Newsweek reached out to the Biden campaign for comment, but did not hear back by publication time.