Tucker Carlson Compares Impeachment Trial to Kids' Movie, Says 'Sources' Tell Him Schiff Didn't Have 'a Single Friend in High School'
On his Fox News program Wednesday night, Tucker Carlson said that House Intelligence Chairman Adam Schiff, lead prosecutor in President Donald Trump's impeachment trial, did not have any friends as a high school student. Carlson also compared the impeachment trial in the Senate to a subtitled foreign film.
"The start of the proceedings has been Congressman Adam Schiff, fittingly of Burbank, California," Carlson said. "Schiff, who sources say had not a single friend in high school, has been relishing his recent turn in the spotlight. He seems to be taking a break from his Joe McCarthy impression, in which he repeatedly denounced his political opponents as agents of the Russian government, and he's now trying out a new role as a tough but lovable dean of students."
Newsweek reached out to Schiff for comment but did not receive a response in time for publication.
Carlson said viewers would be forgiven if they did not watch "every single minute" of the impeachment trial.
"Imagine a movie written and directed by children," Carlson said, "whose ending you already know and, buy the way, it's 20 hours long, in Hungarian with misspelled subtitles. That's what it's like."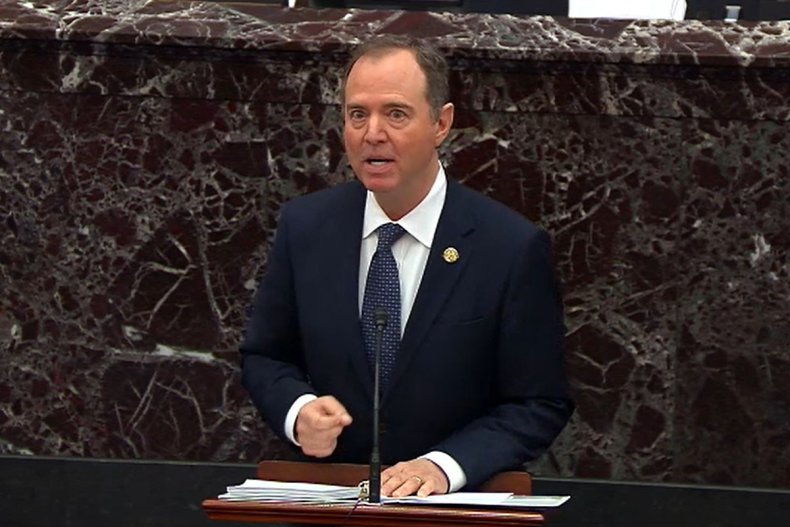 Speeches have been the main focus of the trial as House prosecutors have a total of 24 hours to present their case against Trump. Under the rules of the trial, that time does not have to be used consecutively.
During his remarks, Schiff told the Senate that President Trump "withheld hundreds of millions of dollars in military aid to a strategic partner at war with Russia to secure foreign help with his reelection. In other words, to cheat."
Carlson said Schiff's mention of cheating made it sound like "America was suddenly the world's largest middle school. Keep your eyes on your own paper, class."
Carlson also questioned Schiff's statement that the U.S. "aids Ukraine and her people so that we can fight Russia over there so we don't have to fight Russia here," a reference to a quote from former National Security Council official Tim Morrison during the initial impeachment hearings in November 2019.
"Whoever said anything about fighting Russia, much less 'over here?'" Carlson asked. "Is Putin planning to invade the homeland? Is Milwaukee safe? Do unseen Slavic saboteurs move among us? What does Adam Schiff know about World War III that the rest of us don't know?"
Ukraine has been involved in what has been described as a "hot war" with Russia since 2014, particularly in the Donbass region where pro-Russia separatists have been fighting Ukrainian forces. Approximately 13,000 people have died in the conflict.