Tucker Carlson Compares COVID Vaccination Status to Asking If Someone Has HIV
Asked if he was vaccinated against COVID-19 or not, Fox News host Tucker Carlson declined to answer, comparing the question of an individual's vaccination status to asking if someone has HIV.
"That's like saying, 'Do you have HIV?'" he told TIME's Charlotte Alter in an interview published Thursday. "How about, 'None of your business?'"
Carlson said it was a "super vulgar personal question" to ask if someone has received their COVID vaccine, adding, "I mean, are you serious? What's your favorite sexual position and when did you last engage in it?"
The highest-rated Fox News host used a similar response last month, when the New York Times' Ben Smith asked if he had been vaccinated.
"When was the last time you had sex with your wife and in what position?" Carlson responded. "We can trade intimate details."
On his show, Carlson has been vocally opposed to the Biden administration's plan to increase vaccinations across the country, calling it "the greatest scandal in my lifetime," and has warned his roughly 2.9 million viewers against getting vaccinated.
During a segment on his show last week, he said that college students "shouldn't get the shot" after some schools required students to get vaccinated before returning to campus.
"It's not good for them. There's a risk involved, much higher than of COVID, but colleges are forcing them anyway," he said.
Carlson has never disclosed whether or not he's been vaccinated. A Fox News spokesperson pointed Newsweek's request for comment for previous statements made by the anchor, including one from April, in which he told the audience, "I've had a million vaccines in my life as we all have. I think vaccines are great."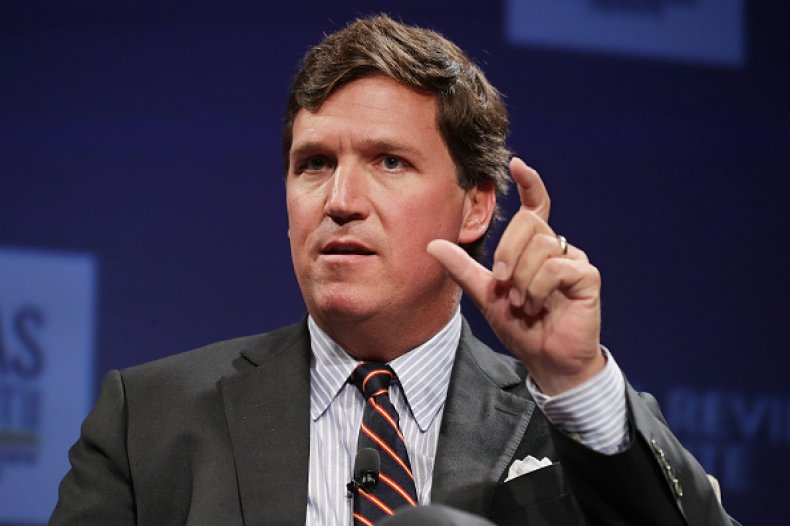 While some Fox News stars, including owner Robert Murdoch, have spoken out about getting their vaccines and encouraged others to do so, Carlson and colleague Laura Ingraham have faced criticism for spreading vaccine skepticism on the network.
"There are two hosts of programs on Fox prime time that can only be characterized as anti-vaxx quacks—I'm referring, of course, to Tucker Carlson and Laura Ingraham," Democratic Senator Dick Durbin of Illinois said on the Senate floor on Monday. "They have been spreading what I consider to be irresponsible information about vaccines across America and about the effort of this nation to deal with them.
"If there are things that can remove you from the air for being said on a program, I certainly hope that the management of the station will caution Tucker Carlson and Laura Ingraham with the statements they have made in opposition to vaccines," Durbin added.
In response, Carlson denied ever attacking vaccinations on his show during an episode that aired hours later, alleging that "very few Americans are against vaccines."
"Virtually every American has had a ton of vaccines and was expecting to take this one," he told viewers. "But when you refuse to answer basic questions about the vaccine and when you dodge them with partisan talking points like that, you make people nervous."
As of last week, nearly half of Americans remain unvaccinated, with only 55 percent of the U.S. population saying they have received at least one dose of a COVID vaccine.
Correction 10:30 p.m.: An earlier version of this story stated that Carlson said he planned to get the vaccine, but the statement was made by Sean Hannity.