Tucker Carlson Sees Conspiracy in America's Eggs Shortage
Fox News host Tucker Carlson claimed that the nationwide egg shortage that has hit the U.S. in recent months is the product of a conspiracy between the media and the Biden administration.
Talking about the way the price of eggs has recently shot up and how the product has disappeared from many grocery store shelves across the country, the television host alleged the real reason behind the egg shortage might not be the bird flu outbreak raging in dozens of countries worldwide, as experts say—but instead the feed the birds are given.
While the surge in egg prices and the shortage has been linked to a combination of the bird flu, pandemic-related supply chain disruptions and the increased costs of fuel, transportation, feed and packaging, Carlson said that "some farmers who deal with chickens every day are not convinced" by this explanation.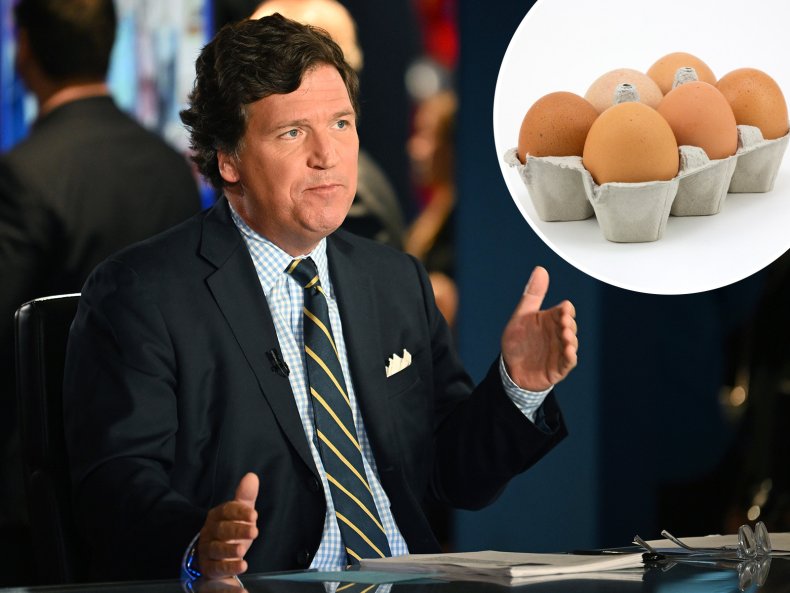 "Some of them, some chicken farmers, have noticed something odd. Their chickens aren't laying eggs or as many eggs. And these chickens don't appear sick with avian flu. They're not dying. They're still alive. They're just not producing eggs," he said.
"Now healthy hens lay eggs on a regular basis, every 24 to 26 hours. But suddenly, chicken owners all over the country—not all of them, but a lot of them—are reporting they're not getting any eggs or as many. So what's causing that? Clearly, something is causing that. Some have concluded their chicken feed may be responsible."
Carlson didn't provide any evidence supporting this allegation, limiting himself to cast doubt over chicken feed and saying he has to examine these claims because "no one else seems to be keeping track of this."
The television host claimed that the American media and the Biden administration are ignoring issues that he claims are suspicious and related to the egg shortage.
Talking about a fire that killed an unknown number of chickens in Bozrah, Connecticut, on Saturday, Carlson—who quoted unconfirmed reports claiming more than 100,000 birds died in the blaze—said it was "weird" that "most media companies did not consider it a story at all."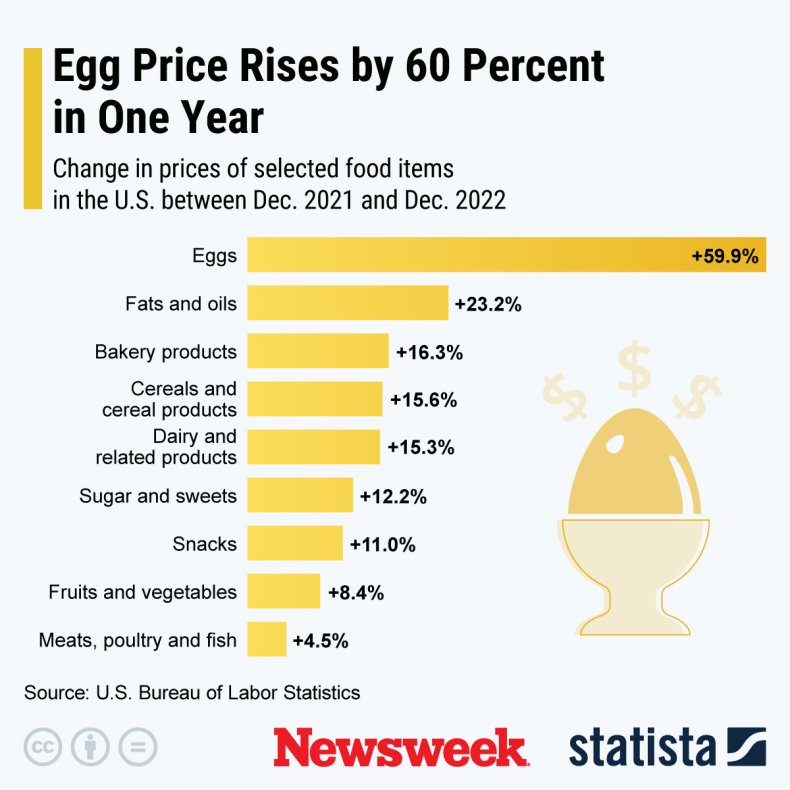 This chart, provided by Statista, shows the change in prices of selected food items in the U.S. between December 2021 and December 2022.
"If you ask the Agriculture Department, for example, or anyone in the Biden administration, to the extent they're paying attention, which is not much, they'll tell you that egg prices are high because avian flu," he said.
"And that's a completely natural virus, just like COVID. The prices have nothing to do with chicken farms burning down. Again, not that anyone in the government tracks that kind of thing. Why would they? Because nothing like that could ever happen. Settle down, QAnon. And a lot of people, particularly the national news media, people who could not identify a chicken if it didn't come with dipping sauce, are satisfied with that explanation."
Newsweek has reached out to Fox News for comment.