Tucker Carlson Contradicts Himself Over Mask Stance, Previously Said They Work
Tucker Carlson has claimed that measures to prevent the spread of coronavirus such as masks "have no basis in science," despite having previously stated that "everyone knows" they work.
The Fox News host made the claims in a rant on Tuesday night about schools reopening.
"Many schools that do plan to reopen will do so under a series of restrictions that have no basis of any kind in science," he said. "It's kind of a bizarre health theater. Students will be kept six feet apart, everyone will have to wear a mask, class sizes will be limited."
However, in March, the host of Tucker Carlson Tonight supported the use of mask-wearing to prevent the spread of the virus and referenced countries like Japan, where they are widely used.
"Of course, masks work. Everyone knows that. Dozens of research papers have proved it," he said at the time. "In South Korea, Japan, Hong Kong, the rest of Asia—where coronavirus has been kept under control—masks were key."
As of Wednesday morning, 131,480 people in America have died from coronavirus, with a total of 2,996,098 COVID-19 cases being confirmed in the U.S.
The Centre for Disease Control and Prevention's research states that cloth face coverings help to prevent the spread of COVID-19 and are recommending that "people wear cloth face coverings in public settings when around people outside of their household, especially when other social distancing measures are difficult to maintain."
The CDC's advice combined with growing research from other medical bodies such as The New England Journal of Medicine and World Health Organization all recommend masks and face coverings combined with social distancing and regular hand washing as the most effective ways to slow the spread of the virus.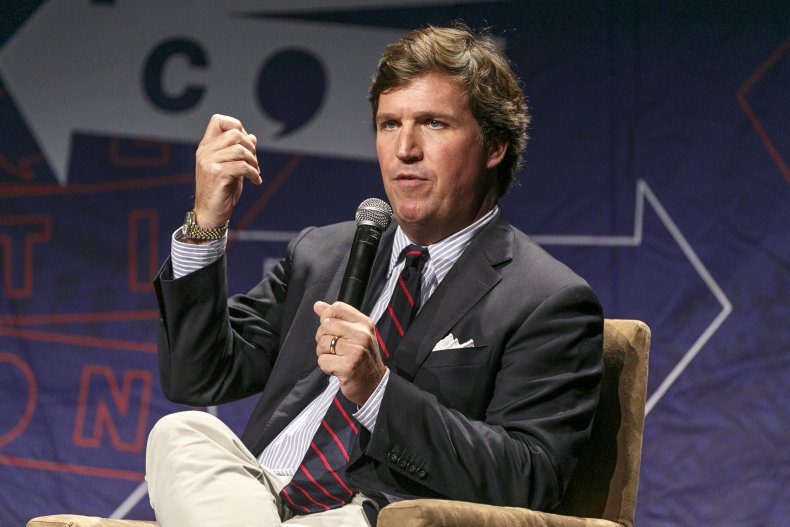 Carlson's received immediate backlash for his comments from a number of social media users following his claims.
Conservative political columnist Jennifer Rubin, who is an official contributor for rival news network MSNBC, warned Fox News that Carlson's message about masks was putting people at risk, tweeting: "Fox News puts this on the air. People listen and die. If you have a conscience you have no business working there; if you are an advertiser who are facilitating deaths."
Jay Rosen, a professor at NYU added: "Tucker Carlson actually says here that social distancing and wearing masks have "no basis of any kind in science." That goes beyond giving bad information. It's entering on death cult territory. I watched the whole segment. The clip is not out of context."
A number of Twitter users also pointed out how Carlson's latest comments are at odds with what he said about masks back in March.
MSNBC's Kyle Griffin tweeted: "As Tucker Carlson lies to his audience about face masks, here he is in March praising face masks: 'Of course, masks work,' he said. 'Everyone knows that. Dozens of research papers have proved it.'"
While journalist Steven Dennis added: "Watching *July* Tucker Carlson on masks vs. *March* Tucker Carlson on masks gave me whiplash."