Conservative pundit Tucker Carlson defended InfoWars host Alex Jones on his Fox News television show on Thursday.
Jones—a conspiracy theorist famous for saying, among other things, that the Sandy Hook shooting that left 20 small children dead was a hoax—received a relatively minor suspension from Facebook and YouTube this week. Facebook removed four of his videos and suspended him for 30 days, while YouTube removed four videos and barred InfoWars from live-streaming for 90 days.
Carlson questioned the actions taken against Jones while comparing it to the White House barring a CNN reporter—Kaitlan Collins—from an event after she shouted questions at the president as a pool reporter, which is a relatively common practice.
Carlson said:
"So I couldn't help but notice, the big story in Washington today is Kaitlan Collin over at CNN was prevented from covering an event at the White House yesterday. Kaitlan worked for me for years. She's a fair and decent person and I don't think she should have been prevented from covering anything. That's my position. But CNN has been basically a martyr for free speech for the last 24 hours. At the same time they're telling us how important it is that people should be able to say what they think, they are agitating for Alex Jones to be pulled off YouTube. Now I know we're supposed to think Alex Jones is way more radical than like Bill Maher, [or] Michelle Wolf, or Rosie O'Donnell. But he's got a point of view and CNN is trying to squelch his point of view."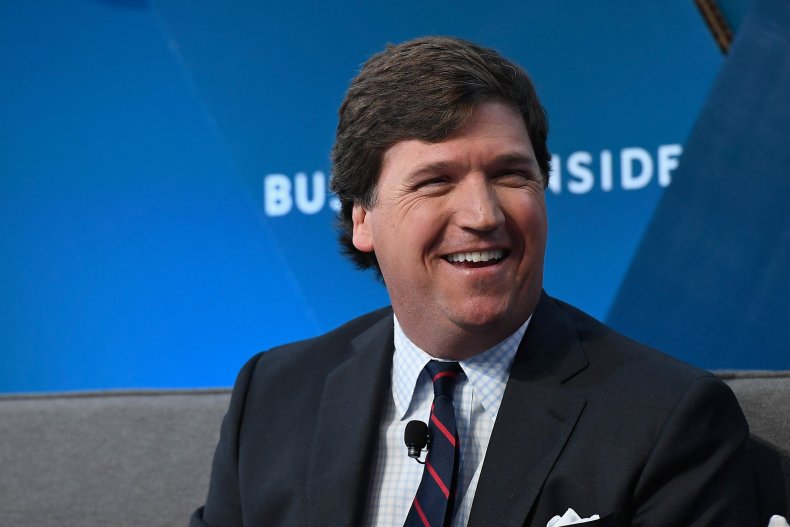 Carlson has, in the past, appeared onInfoWars with Jones. The InfoWars host has found himself in a legal battle over his past comments about Sandy Hook. Families of victims have sued Jones, claiming they have been subjected to harassment and death threats from the host's followers, some of whom think the families are so-called "crisis actors."
"The First Amendment simply does not protect false statements about the parents of one of the worst tragedies in our nation's history," said Bill Bloss, a lawyer who represents the families, according to an ABC News report this week. "Any effort by any of the defendants to avoid responsibility for the harm that they have inflicted will be unsuccessful."