Tucker Carlson Denies Ever Attacking Vaccine, Slams Durban Who Called Him 'Anti-Vaxx Quack'
Tucker Carlson went on the offensive against Sen. Dick Durbin (D-Ill.) after the senator called him and his fellow Fox News opinion host Laura Ingraham "anti-vaxx quacks" on Monday.
"There are two hosts of programs on Fox primetime that can only be characterized as anti-vaxx quacks," Durbin said during a speech from the Senate floor. "I'm referring, of course, to Tucker Carlson and Laura Ingraham. They have been spreading what I consider to be irresponsible information about vaccines across America and about the efforts of this nation to deal with them."
During an episode of Tucker Carlson Tonight that aired hours later, Carlson fired back at Durbin by accusing the senator of attempting to "divide the country further along partisan lines," while insisting that he is not against vaccination but concerned with finding answers about "basic questions" concerning COVID-19 vaccines in particular.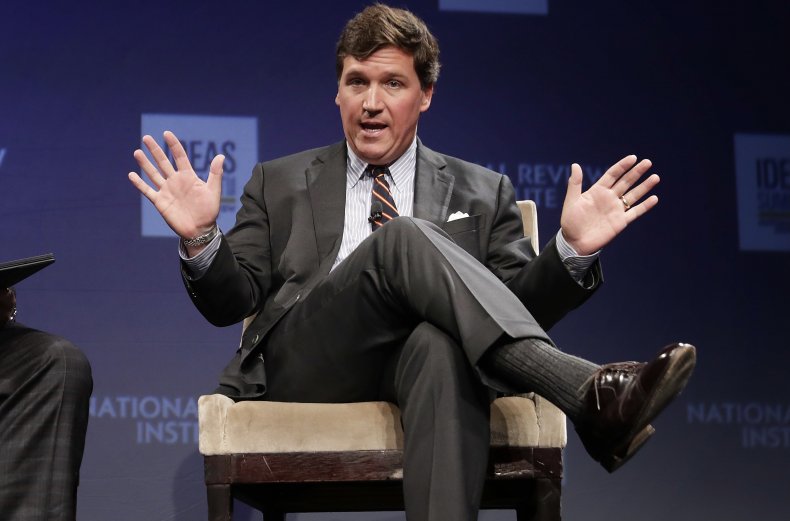 "Notice what he didn't say," Carlson told viewers. "Durbin did not accuse us of spreading false information. He did not accuse us of being factually wrong. We haven't been, nor are we against vaccines, of course. Very few Americans are against vaccines. Virtually every American has had a ton of vaccines and was expecting to take this one."
"But when you refuse to answer basic questions about the vaccine and when you dodge them with partisan talking points like that, you make people nervous," he added. "Americans have a right to have basic questions answered before they submit to taking a medicine. That is their right. But Durbin and hacks like [Dr. Anthony] Fauci persist in pretending that anyone who has questions is somehow a right-wing ideologue, and that's a lie."
While Durbin said that Carlson and Ingraham had been "irresponsible" about vaccines, he did not call out all of Fox News during his speech. The senator noted that those who are currently becoming ill or dying from COVID-19 are overwhelmingly unvaccinated, before specifically praising Fox personalities like Steve Doocy, Harris Faulkner and Sean Hannity for past positive comments about vaccines.
Carlson asserted that he had "never" attacked the vaccine on his show. He did not specify what "basic questions" he believed needed to be answered about the vaccines, although he has repeatedly questioned whether they could be dangerous in the past. Carlson has also said that college students "shouldn't get the shot," claiming that it is "not good for them."
Carlson went on to say that "people like Durban" were "attacking anyone who has questions as partisan or racist," before citing Centers for Disease Control and Prevention statistics from December 2020 to July 2021 that showed Black Americans were the racial or ethnic group least likely to have received a COVID-19 vaccine.
"It turns out that it's African Americans, those are the Democratic party's most faithful voters, who are still the most hesitant to getting vaccinated," said Carlson. "Now they're telling us that anybody who resists mandatory vaccination is a white supremacist."
Ingraham also responded to Durbin's comments during her show, calling the senator a "fossil" and "windbag" while insisting that his critique was aimed at "suppressing speech ahead of next year's midterms" rather than fighting vaccine misinformation.
Newsweek reached out to Durbin's office for comment.