Tucker Carlson Encouraging COVID-19 Vaccine Could Help Sway Trump Supporters
When it comes to conservative media personalities, Fox News' Tucker Carlson could be an influential voice in persuading supporters of former President Donald Trump to get vaccinated against COVID-19.
An estimated 36 percent of Trump's supporters aren't interested in getting vaccinated, which presents a potential problem for America reaching herd immunity. Data from doctors is the best persuasion tool for convincing these skeptics to get vaccinated, but when it comes to who they trust most on television, it's Carlson.
A majority of Trump's supporters are likely to get their information about COVID from Fox News, according to a recent poll from Frank Luntz. When asked which conservative media personality they would trust most if they encouraged them to get vaccinated, Carlson came out on top at 22 percent.
Carlson, who has been criticized for undermining vaccination efforts, has asked questions on his show that critics point to as fueling skepticism about inoculations. The Fox News host has defended his questions as ones that people have the right to get answered and wrote in a February op-ed that "the most powerful people in America" made "certain that no one could criticize" the vaccine.
"Don't dismiss those questions from anti-vaxxers....Answer the questions, especially now," Carlson said on March 15. "It turns out there are things we don't know about the effects of this vaccine, and all vaccines, by the way. It's always a tradeoff."
Carlson's primetime program is a leading show for Fox News and draws an average audience of about 3 million people, according to Nielsen Media Research. Given his appeal to viewers, Fox is expanding his reach to include Tucker Carlson Today, which launched on Fox Nation on Monday, followed by Tucker Carlson Originals in April.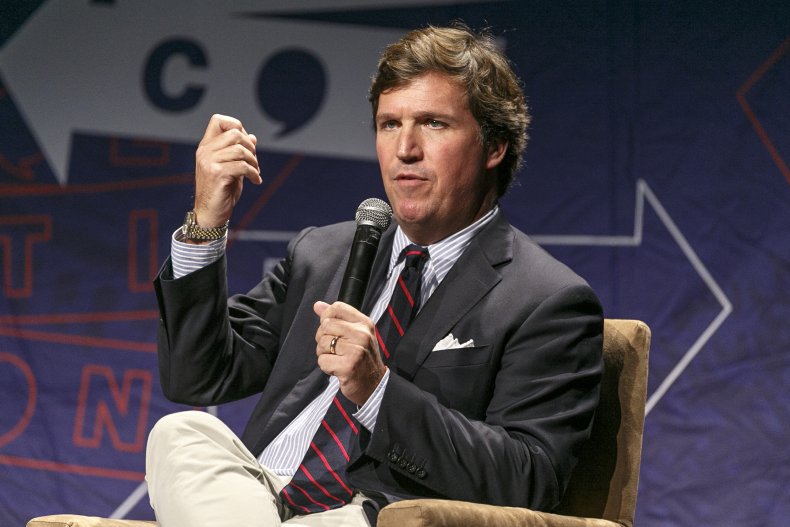 Behind Carlson for conservative media personality vaccination influence was another prominent Fox News personality, Sean Hannity. Eighteen percent of those polled said he could persuade them to get vaccinated.
If Carlson, Hannity and Fox News host Laura Ingraham joined forces for a public service announcement (PSA) about the importance of getting vaccinated, 29 percent of Trump's supporters said it could impact their decision to sign up for the vaccine.
However, a PSA from America's leading doctors and medical experts would have more influence, and the poll and a focus group conducted by Luntz showed physicians can be a powerful force in increasing vaccinations.
"I was surprised in how not influential Trump was," Luntz told Newsweek about the focus group's findings. "I assumed weeks ago that Trump was needed to reconsider their hesitancy. Now I realize the facts are much more important and Trump is much less important."
The follow-up poll showed the same results as the focus group, and the majority of respondents said the person they trust most to recommend the COVID-19 vaccine is their doctor. While they support Trump, the poll found they largely distrusted politicians and the government when it comes to the vaccine, so hearing from their doctor or their spouse would be more persuasive than the former president.
Although, knowing that Trump and his wife, former first lady Melania Trump, got vaccinated was helpful.
The top concern for Trump supporters who are hesitant to get vaccinated is the potential for long-term side effects. Brian Castrucci, CEO and president of the de Beaumont Foundation, told Newsweek that the focus group showed there's "risk calculation" going on where people weigh the effects of getting COVID and the effects of the vaccine.
He encouraged messaging to be transparent, that "we don't know" the long-term side effects of the vaccine but there is data on how many people had long-term side effects from contracting COVID. Trump supporters don't want to be talked down to, Castrucci said, but want facts and they "lit up" when they heard about the significant number of participants in the trials.
"The most compelling message that we shared on Saturday was that about 90 percent of doctors when offered take the vaccine," Castrucci said. "That was seen as truth, whereas, when a politician or a celebrity takes it, there's still a sense of agenda. But, if a doctor's taking it, I'll take it."
That statistic—that 90 percent of doctors took the vaccine when it was offered—was the second-most persuasive statement, behind people taking the vaccine because they want to, not because they were told to.
To reach herd immunity, at least 70 percent of the population needs to be vaccinated against COVID-19, according to Dr. Anthony Fauci, director of the National Institute of Allergy and Infectious Diseases. With any vaccine, there are going to be people who cannot take it because of a medical issue or a religious one. So, it's vital that everyone who is able to be vaccinated does so. More than 30 percent of Trump's supporters objecting to it could be a roadblock in returning to normal.
The focus group and poll show that people can be persuaded. After thinking about the vaccine and the facts they read, the percent of Trump supporters who probably wouldn't get the vaccine dropped from 36 to 34.
Castrucci felt optimistic at the end of the focus group because he was confident that over time, he could convince 16 of the 20 people to get vaccinated, a result he called a "public health victory."