Tucker Carlson-Founded Website Runs Opinion Piece Comparing Fox News Host to Winston Churchill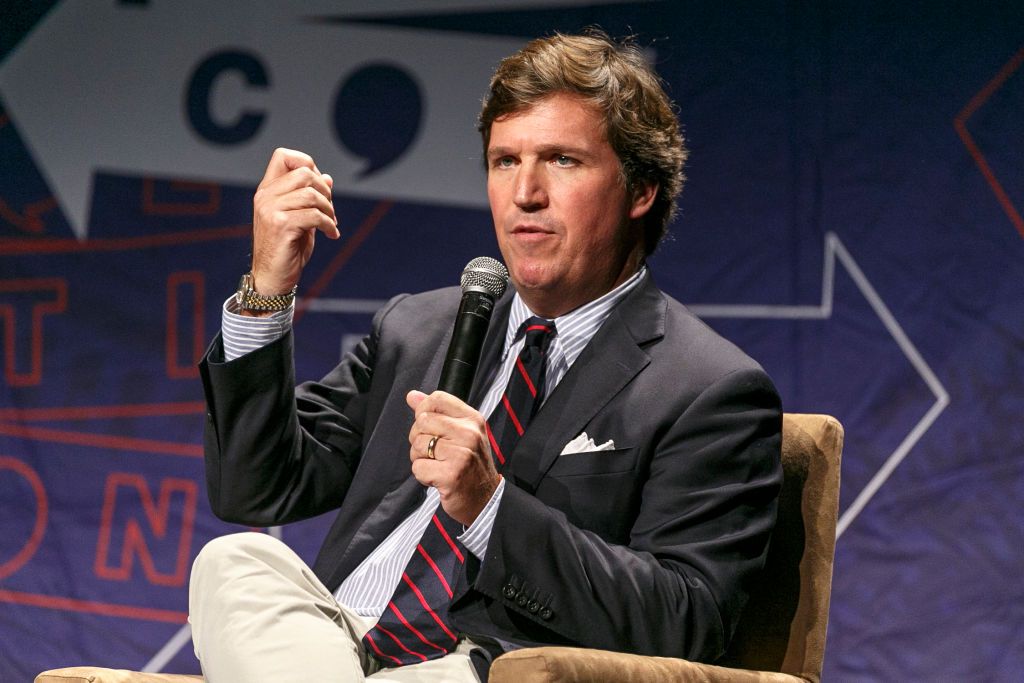 Amid calls for Fox News host Tucker Carlson to be fired from his show, Tucker Carlson Tonight, and a push for advertisers to boycott the primetime news show, an opinion piece defending the media personality popped up at The Daily Caller.
The Daily Caller was founded by Carlson and his college friend Neil Patel, who once worked as an aide to former Vice President Dick Cheney, in 2010. The website, Carlson said in a 2012 New York Times interview, "is the balance against the rest of the conventional press."
The piece, written by Raheem Kassam, global editor in chief of Human Events, a conservative media outlet, highlights a famous comedy bit, "Seven Dirty Words," from comic George Carlin.
In the monologue, Carlin discusses seven words which, in 1972, were never allowed to be uttered on television. Kassam also compares Carlson to Winston Churchill.
"Churchill was known for such cutting comments. In fact, one of my favorite Churchill stories goes like this," Kassam writes. "Churchill was in the lavatory in the House of Commons and his secretary knocked on the door and said: Excuse me Prime Minister, but the Lord Privy Seal wishes to speak to you. After a pause Churchill replied: Tell the Lord Privy Seal that I am sealed in The Privy. And I can only deal with one s**t at a time. You wouldn't call Churchill a c**t, would you?"
Carlson used the word c**t in reference to Martha Stewart's daughter, Alexis Stewart, during an appearance on the Bubba The Love Sponge radio show. The clip is one of several released on Sunday by Media Matters for America, a progressive watchdog group, where Carlson engages in conversations that some have called misogynistic. The interviews were conducted from 2006 to 2011 and include Carlson's riffs on a variety of subjects, including referring to Britney Spears and Paris Hilton as the "biggest white wh--res in America."
Carlson also compares women to dogs and calls females "extremely primitive" in transcripts of additional interviews which accompanied the recordings from the nationally-syndicated radio show.
"No man (or woman) is flawless. Which is presumably the attitude the left has taken as to why Ralph Northam is still the governor of Virginia. Or why those who protected and defended Roman Polanski for years are still at large. Or why Joy Reid's infamous 'hack' was never explored in any detail. The list, of course, goes on and on," Kassam writes. "But not only are Tucker Carlson's speech crimes — as 'reported' by the [George] Soros-backed Media Matters — not even half as immoral as those covered for by the political left; they're actually scarcely crimes at all."
Kassam adds that Carlson's discussion of Warren Jeffs, who is serving a life sentence on two counts of child sexual assault, was the media personality "simply playing devil's advocate."
"But that's what makes for good debate. I cannot tell you the number of times I have espoused opinions I do not personally hold, for the sake of furthering the discussion. Then there was the line, 'You know what gets women going? Arguing with them.' Would any woman like to claim that's not true? Didn't think so," Kassam writes.
Kassam goes on to saddle the left with instances where politicians have been encouraged to swear, citing articles from CNN and Rolling Stone and Politico. In each article, the media outlets document the rise of profanity among political candidates.
Michelle Obama's use of 's--t' during Brooklyn stop on her book tour and freshman Rep. Rashida Tilab's f-bomb earlier this year in reference to impeaching President Donald Trump are other examples, utilized via articles from The Cut and GQ.
"The left has continuously attempted to promote the same kind of parlance they eventually ran against candidate Donald Trump for using," Kassam writes.
"The fact is on such matters the general public is smarter — through irony — than the chattering classes. When Donald Trump said he could shoot someone on Fifth Avenue and get away with it, he was generating an abstraction."
Kassam calls another comment by Carlson, "anybody who answers 'my trophy wife is my favorite possession is my hero,'" a "tongue-in-cheek delivery" and encourages readers to recognize the "liberal roots of such behavior."
"While Hollywood celebrities are getting away with rape and pedophilia, and while Democrats are getting away with blacking up, linguistics should perhaps be the least of our concerns," Kassam adds.
While no advertisers have yet pulled out of Carlson's show, several women's groups have called for the Fox News host to be fired. Carlson previously lost insurance company Pacific Life as an advertiser in December 2018 after a comment about immigrants making America "poorer and dirtier."