'Vote For Me Because of My Race': Tucker Carlson Says Tlaib, Ocasio-Cortez Making 'Racist' Pitch
Fox News host Tucker Carlson said Democratic figures such as Nancy Pelosi and Joe Biden are being pushed out of the party by a small group of young congresswomen making a "racist pitch" to liberal voters.
New York Democrat Alexandria Ocasio-Cortez and Michigan's Rashida Tlaib are leading a progressive "revolt" whose demands equate to, "give us power because of our skin color," Carlson said Monday evening. The Fox News host also said House Speaker Pelosi's leadership is being challenged by a race-obsessed group that includes Tlaib, Ocasio-Cortez, Minnesota's Ilhan Omar and Massachusetts' Ayanna Pressley.
Carlson said their "racist pitch" to Democrats is on par with Jim Crow-era white people asking for votes because of their skin color.
"Give us power because of our skin color. That's the argument Tlaib is making," Carlson said Monday. "Many make that argument. Ocasio-Cortez has made the very same case during her Democratic primary campaign last year."
"By definition it is a racist pitch, it's every bit as repugnant as a white candidate making the same appeal, many Democrats did make that pitch under Jim Crow: 'vote for me because of my race.' It's disgusting. But it's everywhere now and Democrats applaud it."
Carlson accused the Democratic Party of becoming a "religious cult" that places race over one's character or credibility. He lamented a "purity spiral" where "nobody is safe, not even the party's own leaders."
Carlson said many party insiders believe the progressive faction of the Democrats are increasingly being embraced by the wider party. Former Hillary Clinton and Chuck Schumer aide Brian Fallon remarked Sunday, "The four House freshmen whom Pelosi dismisses in the Dowd column have done more to define the vision and moral center of today's Democratic party than all of the message bills pushed by the party leadership combined."
The Fox News segment included a clip of Tlaib saying "people of color have been missing in the chamber" in an ABC News interview Sunday targeting Pelosi. "Uplift the women, especially the women of color that are within your caucus... more people like us, more people like me, that come out to vote, we win, all of us win."
Carlson became only the latest conservative Fox News figure to seemingly stand with Pelosi as they characterize her in a battle against so-called "rogue" progressives.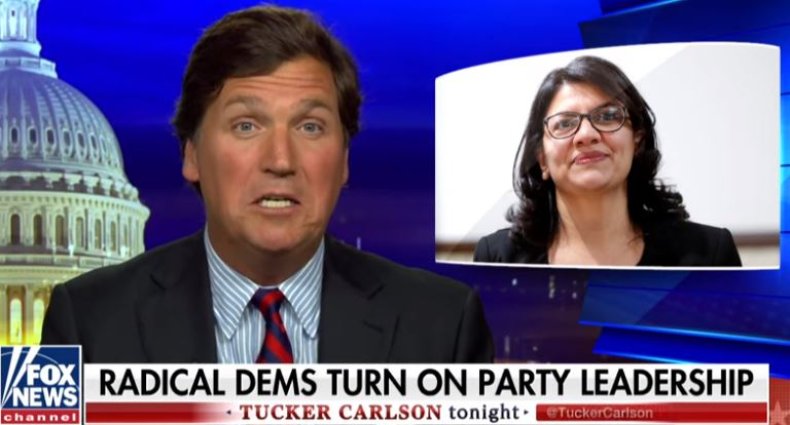 "Nancy Pelosi, for example, is the most left-wing Speaker of the House in the history of this United States. She has been a fire-breathing liberal for longer than Alexandria Ocasio-Cortez has been alive," Carlson continued.
"But none of that has been enough to save her. Ocasio-Cortez and a tiny group of House freshmen demand explicit socialism in this country, right now. They want to open the borders, empty the prisons, and take over the entire US economy in the name of fighting climate change," he added.
"This is bad news for people like Joe Biden," Carlson later concluded.