Tucker Carlson Says Black Lives Matter Protests a 'Hysteria' Pandemic
Fox News anchor Tucker Carlson has described the protests that followed the death of George Floyd and the removal of monuments across the country in a wider debate about race and colonialism as being driven by "hysteria" which has spread like a "disease."
In an extended metaphor, Carlson drew the comparison between COVID-19's ability to infect with the indignation that spread following Floyd's death. "We now know that the craziness spreads very much the same way," he said, "and we're now living through a pandemic of it," he added.
The city where Floyd died at the hand of police officers in Carlson's view was "where this outbreak first began. Minneapolis was our Wuhan," he said.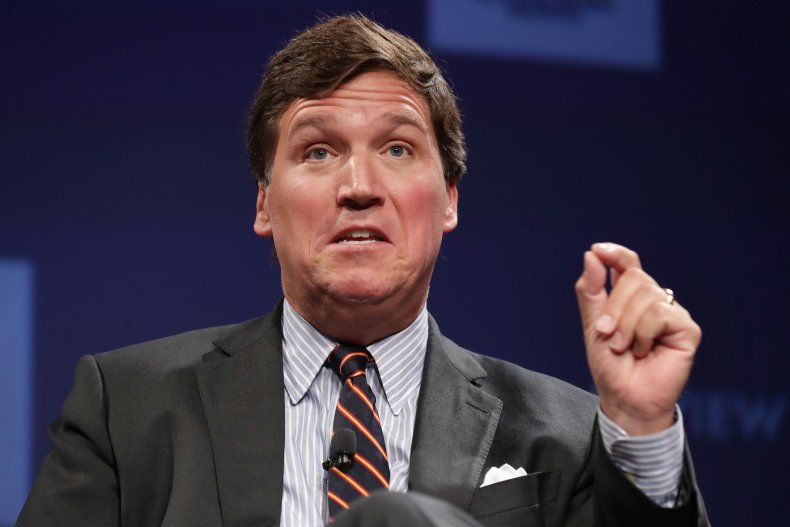 He then threw to a sequence of images of protesters targeting and removing statues of the explorer Christopher Columbus with Black Lives Matter signs shown in the background.
"So to translate what you just saw into the clinical language of epidemiology, holy smokes, this is getting really crazy. What does Christopher Columbus have to do with George Floyd?" the Tucker Carlson Tonight host said on Wednesday.
"Christopher Columbus was not a Minneapolis police officer, Christopher Columbus was an Italian navigator who died more than 500 years ago. Columbus probably never even heard of George Floyd. He almost certainly didn't mistreat him personally.
"So why are people attacking Columbus' statue? Well, who knows? You're definitely not allowed to ask. Questions are not permitted during hysteria epidemics... the disease back in force.
"It's safer not to say a word," he added, before segueing into criticism of the move by Senators James Lankford (R-OK) and Ron Johnson (R-WI) to replace Columbus Day with Juneteenth as a new federal holiday.
Carlson did not mention the Black Lives Matter movement during the segment, although he has previously faced a backlash following comments on the protests that followed Floyd's death.
Last month, a number of companies including T-Mobile, Disney and Papa John's pulled their advertisements from Tucker Carlson Tonight after the anchor said that the protests were "definitely not about black lives." The network said that no money was lost because all national ads were moved to other programs.
This week it was revealed that his show finished the second quarter of 2020 with the highest ratings in cable news, drawing 4.331 million viewers, with 791,000 viewers in the 25-54 demographic. Fox News Channel also finished the quarter with the largest audience in its history in both total day and primetime figures, according to Nielsen Media Research.