Fox News: 'Gypsies' Are Threatening America, Defecating Everywhere and Beheading Chickens, Tucker Carlson Warns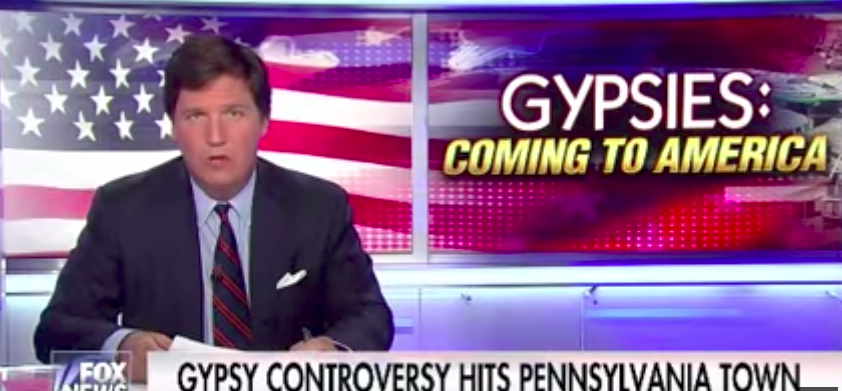 Last week, Peter Beinart of The Atlantic praised Fox News commentator Tucker Carlson for "offering a glimpse into what Fox News would look like as an intellectually interesting network."
This week, Tucker Carlson warned his viewers about defecating gypsies.
Leaning forward, looking somberly into the camera, the normally spunky prepster painted a Boschian portrait of the purported bedlam that has descended on the small town of California, Pennsylvania. Behind him, a graphic showed an American flag and the title of the segment, "Gypsies: Coming to America."
"Integration is not going well," Carlson declared, citing reports that Roma people "have little regard either for law or public decency." Similar sentiments have been voiced about a certain short-fingered, tweet-happy head of state, but that would be a story for another cable network—MSNBC, perhaps.
Carlson is hardly the only right-wing commentator reporting on the supposed friction between the residents of California (population: 6,400) and the 40 ethnic Roma who had come from Bucharest, the capital of Romania, to seek asylum in the United States.
"We left our country not because we are poor; we left because of racism, and we're seeking political asylum," one of the Roma explained to the Pittsburgh Post-Gazette.
They were resettled in the small Pittsburgh-area town by Immigration and Customs Enforcement in May, joining an estimated one million fellow Roma who live in this country.
The source of the right's outrage appears to be an article published in the Post-Gazette last week, describing a contentious town hall meeting in which Californians vented, hardly suspecting they'd soon be the subjects of national attention. "More than 150 residents packed California borough council's municipal meeting room Thursday evening to voice concerns about the influx of the Romanian refugees," the article said, describing locals' worries:
Angry residents at Thursday's meeting said the newcomers throw trash around, park their cars in yards, disobey traffic rules, and are disruptive in markets. Others said that they've seen Romanians killing chickens and children defecating in public.
Although town officials were apparently unprepared for the immigrants' arrival in their small community, much of the friction appeared to be of the kind that might involve the sudden appearance of a nomadic people with ancient customs to the American Midwest. The Post-Gazette reported that "there have been no instances of violence or aggression, and the immigrants involved in minor infractions have been duly cited and paid their fines."
Another article in the Post-Gazette described the interactions of a local store clerk with her new Roma customers:
She said the children are "super sweet" and that Roma are learning local customs. For example, at first they kept using the back door of the store because they couldn't read "emergency exit only," she said. Once a sign was put up in their Romani language, "nobody's touched it since."
The article also noted that the Roma population in California "temporarily swelled when Roma from other states gathered to mourn the brother of a new resident here who was killed in an accident in Romania." Perceptions of civic disorder appear to be at least partly tied to that gathering.
Right-leaning media outlets have neglected such details, instead engaging in baroque displays of antiziganism, as prejudice against the Roma is called. Media Matters for America, a liberal watchdog group, cites news reports that seem to exaggerate complaints about the Roma, particularly in their headlines:
Fox News: "Immigrants defecate in streets, behead chickens, angry Pennsylvania residents say."
Breitbart News: "Pennsylvania residents protest Romanian immigrants 'defecating and killing chickens' in public."
No one went further than Infowars conspiracy theorist Alex Jones, who as usual engaged in the weaving of complex fantasies which seemed to both delight and disgust him. "They're crapping in the streets, they're robbing people, they're stealing," Jones said. Media Matters provided a transcript of his extended riff on the issue:
Your kid gets kidnapped out of your backyard, big kidnappings all over Europe, and they find em with the gypsies, and even liberal groups just say "Let em have your kid now, it's part of their" — it was in Italy, they actually find them with kids and let them keep em. "Oh, they've had your daughter for three years, just let em keep em, and let the Muslims rape your wife too. It's okay, they only get probation." Because it's liberal.
Antiziganism has a long history in Europe. Estimates suggest that about 220,000 Roma were killed by the Nazis in the Holocaust. That suffering did not win them reprieve, and they have continued to live on the margins of society. The World Bank calls the Roma "the largest and most vulnerable minority group in Eastern Europe," where 71 percent of the members of that group live in "deep poverty."
The plight of the Roma has only worsened as much of Europe seems to turn to nationalism. Hungary, which has embraced xenophobia more eagerly than most of its neighbors, has been especially brutal in its treatment of the Roma. Barbora Černušáková, a researcher with Amnesty International, described one incident that took place five years ago in a Politico article earlier this year:
On August 5, 2012, more than 700 people associated with far-right groups descended on Devecser, a village in western Hungary. After holding a demonstration in the village center, the marchers moved on to a street where they believed Roma families were living. Gathering outside houses they chanted "Gypsy criminals …We will set your homes on fire … You will burn inside your houses!" They threw rocks and paving stones, forcing the Roma to barricade themselves in their homes. Meanwhile, the police just stood by watching.
An earlier brand of compassionate conservative would have recognized, as Ronald Reagan did, that the promise of the United States is replenished by immigrants. "It was in Ronald Reagan's bones—it was part of his understanding of America—that the country was fundamentally open to those who wanted to join us here," his onetime speechwriter Peter Robinson told NPR in 2010.
But that brand of conservatism is dead; Donald J. Trump made sure of that two years ago, when he began his presidential campaign with a scurrilous invocation of Mexican criminals destroying this once-great nation. Conservative pundits like Carlson are merely echoing his sentiments, even if some of them previously grasped the importance of immigration to the American project.
Carlson seemed acutely focused on the mention of defecation in the Post-Gazette. "That seems to me a hostile act," Carlson said, repeating on at least two occasions that he had seen pictures of such excretory acts online.
As for the prevalence of such acts in California? "I haven't seen any defecation," says Lisa J. Buday, a lawyer who has lived there for about 30 years and has been working to help the Roma acclimate to the town she loves. She says Carlson contacted her by email but she didn't respond. "I don't watch Fox," she told Newsweek. "I don't even know who the guy is."
That's just as well, for Buday would have only complicated Carlson's fearsome tale of a gypsy intrusion into the American heartland. Speaking with quintessential Midwestern cheer, Buday described efforts to integrate the Roma asylum-seekers into the small Pennsylvania community. She wishes the federal government had provided some "resources and staffing" for that enterprise but is confident that her fellow Californians can work with their new Roma neighbors.
"We have no understanding of what these people have seen or been through," Buday says. She remembers how, some years ago, California sponsored a family of refugees from Vietnam. Today is different, but not so different: Cultures clash, old-timers crow, children gape, the Tucker Carlsons of this world slather themselves in xenophobia that they insist is patriotism. But good people do the right thing, and then, one autumn day, the people you once called "the foreigners" are cracking open beers and complaining about the Steelers' secondary.
"I'm proud," Buday says, "that people still want to come to America."