Tucker Carlson and Fox News Launch Video Podcast and Documentary Series
Fox News is giving host Tucker Carlson an even bigger platform for his conservative opinions and content.
The network announced on Wednesday that Carlson will host a new video podcast and a long-form documentary series, Tucker Carlson Originals, on Fox Nation, Fox News Media's on-demand, subscription-based streaming service..
He will continue to host his current program, Tucker Carlson Tonight, during its 8 p.m. time slot during the week.
"As we continue to expand and evolve as a service, adding exclusive content from Tucker Carlson will make Fox Nation a must-have service for his most passionate fans," Fox Nation President Jason Klarman said in the announcement.
Carlson, a Donald Trump advocate and opponent of political progressives, has become a divisive news figure who is often the subject of controversy because of misinformation he has bolstered on his nightly political talk show.
Most recently, a Newsweek fact check debunked Carlson's claims that George Floyd died from a drug overdose. The claim received a "mostly false" ruling.
Fox News has also felt the aftershock of its polarizing host's remarks. Advertisers have tried to avoid his show, which makes it difficult for the network to monetize the show. However, Carlson has said in the past that he has the support of Fox News head Rupert Murdoch and his son Lachlan Murdoch, which will keep him on air despite ad difficulties.
"Trust me, it's a constant assault. It's a never-ending effort to take us off the air," Carlson told Variety in August.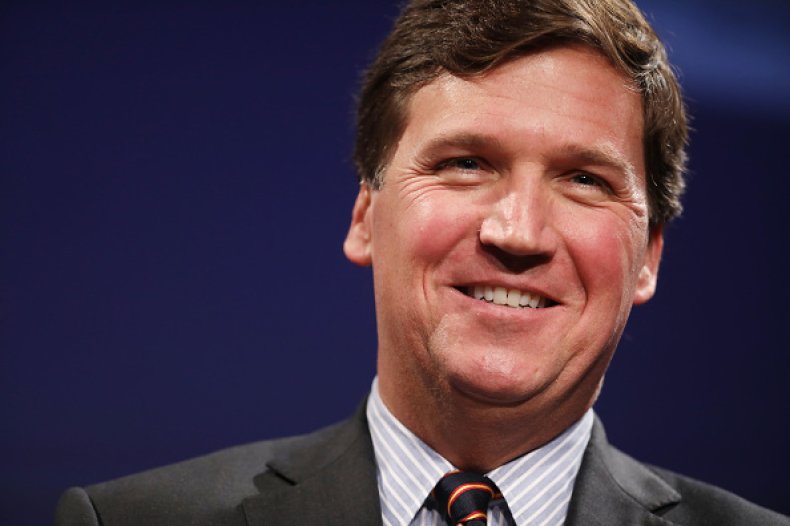 Despite backlash over his controversial statements on topics like this summer's Black Lives Matter protests and the coronavirus pandemic, he remains one of the most-recognized personalities from Fox News and draws in one of the largest audiences on cable television.
According to Nielsen Media Research, Tucker Carlson Tonight averaged 3.6 million viewers last month, topping both CNN and MSNBC.
Beginning in April, the Fox host will release at least three new video podcast episodes per week. That same month, the documentary series will debut and continue monthly. The network also announced that the team behind his prime-time show will also be producing the new programs.
"This is my twelfth year at Fox News and I've never been more grateful to be here," Carlson said in the press release. "As other media outlets fall silent or fall in line, Fox News Media's management has redoubled its commitment to honesty and freedom of speech. I consider that heroic at a time like this."