Tucker Carlson Calls Fury Over Tyre Nichols Death a 'Propaganda Campaign'
Tucker Carlson has said the death of Tyre Nichols is being used to "inflame racial hatred in the United States," suggesting on his Friday night show that America's political elite had launched a "highly aggressive propaganda campaign … designed to manipulate you."
The Fox News host made the comments after the authorities in Memphis released body cam footage of Nichols being beaten by police officers on January 7.
Nichols, aged 29, died in hospital three days after the traffic stop.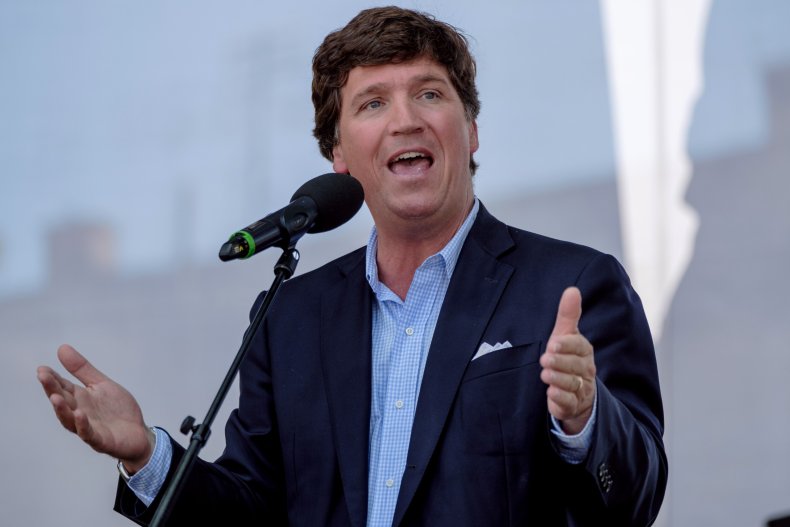 Five Memphis officers—Tadarrius Bean, Demetrius Haley, Emmitt Martin III, Desmond Mills Jr. and Justin Smith—have since been charged with a number of offenses including second-degree murder.
Carlson began his Fox News monologue by expressing his disgust at the body cam footage. He said: "That video is hard to watch, parts of it are brutal. It seems like an abuse of power, you can't kick a man when he's on the ground handcuffed."
However, he added that we "don't know all the facts here" and "should suspend some level of judgement" as previous police abuse videos were "put to uses that had nothing to do with the topic of the video itself."
Carlson pointed out that Nichols and all five officers are Black, suggesting that the beating was "not an example of racism, systemic or otherwise."
The Fox host said "most media outlets" had only identified the victim's race and quoted President Joe Biden's statement that "fatal encounters with law enforcement have disparately impacted Black and Brown people."
Carlson went on to say there was a "highly aggressive propaganda campaign underway tonight designed to manipulate you, and using the sad death of a young man in Memphis to do it.
"That propaganda campaign, like all propaganda campaigns, is by definition dishonest. But it's more than that, it's worse than that, this is yet another attempt by our leaders of our country to inflame racial hatred in the United States.
"Why would anyone ever do that, the consequences of doing that ripple through the generations. They don't go away quickly. And anyway, why? We can't say for certain, but we can't help but notice the last time we had race riots in this country an incumbent president lost re-election."
This seems to be a reference to the 2020 protests that followed the murder of George Floyd, by a police officer in Minneapolis.
Carlson predicted that the scenes of unrest seen after Floyd's killing would be repeated on Friday night.
He said: "As we speak, antifa is coordinating riots on both coasts and in-between. That would include Seattle and Portland, Oregon, and Los Angeles, California, as well as Atlanta, Georgia, New York City, surburban Washington, D.C."
Friday's protests were almost entirely peaceful, however.
Fox News has been contacted for comment.