Tucker Carlson: Gay Latino Assault Accuser Called My Daughter 'Whore'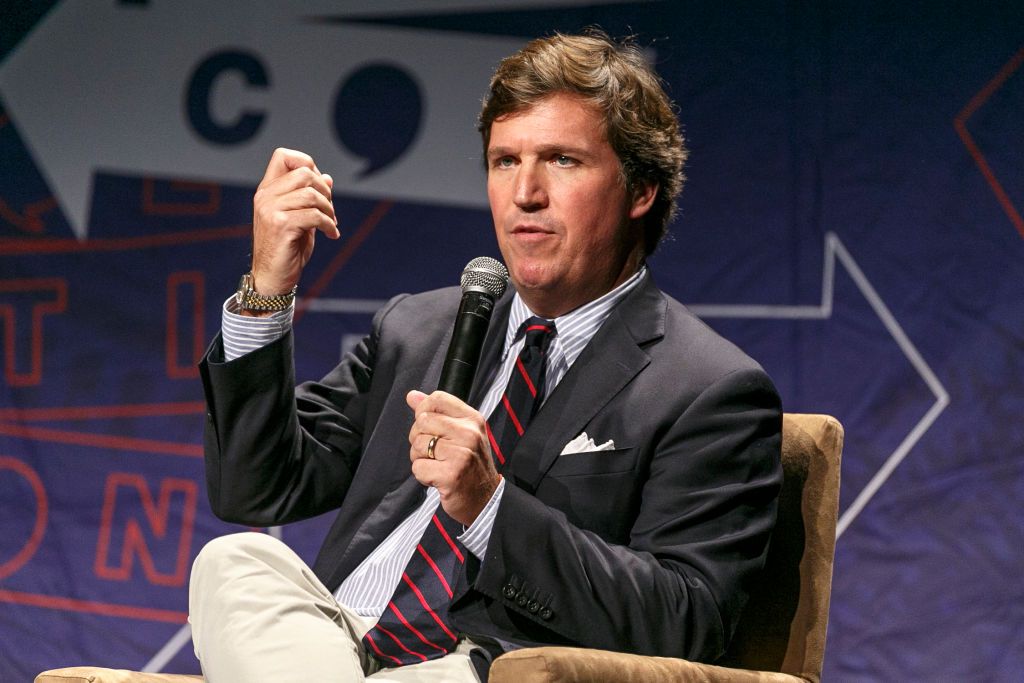 Tucker Carlson has responded to the assault accusations against him being investigated by lawyer Michael Avenatti.
In a message posted to Twitter Saturday Avenatti—who represented adult actress Stormy Daniels in her lawsuit against President Donald Trump—claimed that he's investigating an assault by Carlson on a "gay Latino immigrant."
He posted a video on Twitter apparently showing Carlson engaged in a verbal altercation with a man at a country club, and asked for witnesses to come forward.
"We are investigating an alleged assault on a gay latino immigrant committed by T. Carlson and/or members of his inner circle at a club in VA in Oct. It likely includes underage drinking in violation of VA law," tweeted Avenatti.
In a detailed response to Avenatti's allegations, Carlson said that the man had called his daughter a "whore" and "c**t," prompting Carlson's son to throw a glass of wine in the man's face. He denied accusations that he assaulted the man.
"On October 13, I had dinner with two of my children and some family friends at the Farmington Country Club in Charlottesville, Virginia," Carlson said. "Toward the end of the meal, my 19-year-old daughter went to the bathroom with a friend. On their way back through the bar, a middle aged man stopped my daughter and asked if she was sitting with Tucker Carlson. My daughter had never seen the man before. She answered: 'That's my dad,' and pointed to me. The man responded, 'Are you Tucker's whore?' He then called her a 'f*** c***.' "
"My daughter returned to the table in tears," the statement continues. "She soon left the table and the club. My son, who is also a student, went into the bar to confront the man. I followed. My son asked the man if he'd called his sister a 'whore' and a 'c**t.' The man admitted he had, and again become profane. My son threw a glass of red wine in the man's face and told him to leave the bar, which he soon did."
"Immediately after the incident, I described these events to the management of the Farmington Country Club," Carlson said. "The club spent more than three weeks investigating the incident. Last week, they revoked the man's membership and threw him out of the club."
"I love my children," he adds. "It took enormous self-control not to beat the man with a chair, which is what I wanted to do. I think any father can understand the overwhelming rage and shock that I felt seeing my teenage daughter attacked by a stranger."
"But I restrained myself. I did not assault this man, and neither did my son," the statement concludes. "That is a lie. Nor did I know the man was gay or Latino, not that it would have mattered. What happened on October 13 has nothing to do with identity politics. It was a grotesque violation of decency. I've never seen anything like it in my life."
The video posted by Avenatti shows a man grabbing another man by the collar. Avenatti told Politico that he is representing the man grabbed by the collar, whom he described as the "victim."
In further tweets Saturday, he described Carlson's account of events as a "lie" and accused Carlson and his son of assaulting the man.
Critics have accused Carlson of spreading nativist and white nationalist views on his Fox News show, Tucker Carlson Tonight. The assault accusation comes three days after Antifa protesters staged a demonstration outside Carlson's Washington home, with his wife calling 911 after allegedly being harassed by the protesters.