Tucker Carlson Guest Appears to Blame 'Woke' Californians for State's Wildfires
A guest on Fox News' Tucker Carlson Tonight this week appeared to blame California's "woke" culture and the impetus on diversity in hiring for the state's wildfire crisis.
There are at least 7 active large fires currently currently in California which has spanned a total of roughly 97,500 acres. As the state continues to burn and citizens look for a cause to blame, Governor Gavin Newsom has pointed to global warming and Pacific Gas and Electric Company (PG&E), California's largest utility, who said on Monday that their power lines may have ignited two fires over the weekend.
"PG&E strikes me as almost a metaphor for the destruction of the state," Carlson said during a segment on Wednesday's show.
"So, here's the utility which doesn't really know anything about its own infrastructure but knows everything about the race of its employees. How did we get there?" the host asked American political commentator David Rubin.
"The problem right now is that everything," Rubin responded, "from academia to public utilities, to politics, everything that goes woke, that buys into this ridiculous progressive ideology that cares about what contractors are LGBT or how many black firemen we have or white this or Asian that, everything that goes that road eventually breaks down."
He continued: "It is not how freedom is supposed to operate. What is supposed to happen—Tucker, imagine if your house was on fire, would you care what the public utility or what the fire company, what contractor they brought in, what gender or sexuality or any of those things he or she was?"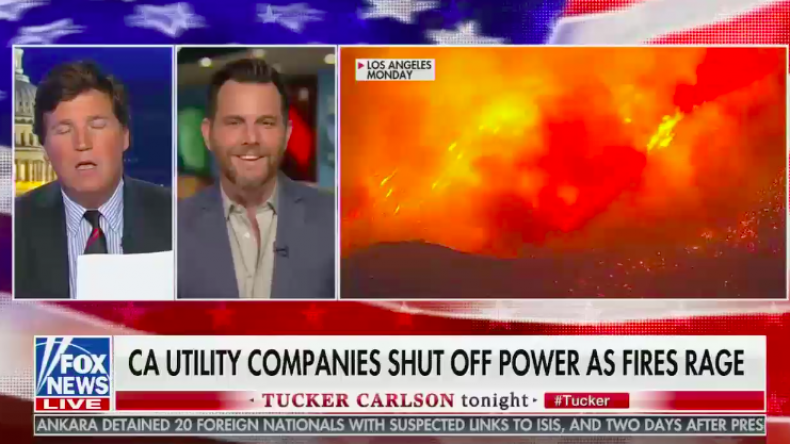 "Who would care?" Carlson said. "Who would care about something like that?"
"I hate to tell you but we just don't have enough clear thinking," Rubin replied, "more libertarian or conservative-minded people in California to fight what the progressives are doing to the state."
"If you can't keep the lights on and you can't keep the place from burning down, you've reached the point where there is no kind of lying about it anymore," Carlson added. "Like it's falling apart. It's a disaster. It's not civilized anymore."
This week, PG&E has said that the two wildfires that broke out in Lafayette, under 20 miles northeast of San Francisco, may have been sparked by electrical malfunctions, according to CBS News. Although the company cut the electricity of 2.5 million Californians, they did not turn off the power in the area due to it being designated a high risk area.
"If we did go into a mode where we wanted to prevent everything from happening then we'd have to shut the whole system down and that's just not acceptable," PG&E CEO Andy Vesey said.
The utility company also admitted they did not notify tens of thousands of customers about the power shutdown beforehand. According to CBS's Jonathan Vigliotti, state officials will be launching an investigation into the company's strategy.