Comedian and late-night talk show host Jimmy Kimmel slammed what he described as the "devastating effect" Fox News host Tucker Carlson has on the country but said the popular cable news personality shouldn't be canceled.
In 2021, Carlson boasted the highest-rated cable news program overall, drawing an average of more than 3.2 million viewers. His evening program, Tucker Carlson Tonight, continues to be among the most-watched Fox News shows and across cable month after month. However, the popular host regularly draws backlash from Democrats—and some Republicans—over his controversial commentary on and coverage of the news.
Kimmel, who has regularly mocked former President Donald Trump and recently got into a public spat with GOP Representative Marjorie Taylor Greene of Georgia, strongly condemned Carlson in a Thursday episode of the New York Times' Sway podcast, hosted by Kara Swisher. But the comedian, who hosts Jimmy Kimmel Live! on ABC, said that he didn't believe Carlson should be canceled for being controversial and spreading ideas he dislikes.
"No, I don't think we should cancel Tucker Carlson," Kimmel told Swisher. "I think that Tucker Carlson is on commercial television. And if you don't like Tucker Carlson, you should not buy the products that are advertised on his show. And if you feel like writing a letter to those companies, you should write a letter to them."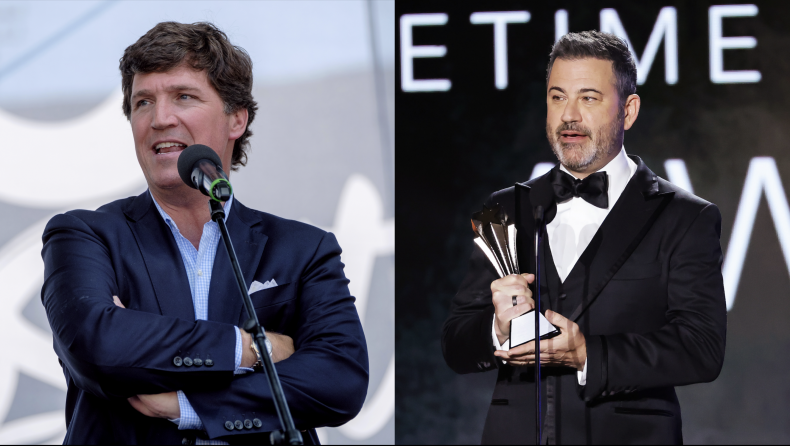 Kimmel said that he personally wants to know what people "think" and if "they have horrible thoughts." He added that he doesn't think Carlson actually believes the things he says, describing the Fox News host as "a phony in every respect."
Kimmel also contended that Carlson "figured out what worked for him ratings-wise, which is primarily speaking to senior citizens like they're kindergarteners and scaring them with garbage." The comedian said that scaring an audience is a good way to keep them engaged.
"I think he's like the media version of the Sackler family. He's knowingly producing this deadly opioid of lies that has a devastating effect on the country. But he's OK with it because it's making him rich," Kimmel added.
"I do still really believe strongly in freedom of speech. You know, I do. And I don't necessarily agree with people being silenced," he said.
Carlson has faced criticism for his views on Ukraine and Russia, as well as for his coverage of unproven treatments during the COVID-19 pandemic. The controversial Fox News host also created a documentary for Fox Nation last year that floated the conspiracy theory that the January 6, 2021, assault on the U.S. Capitol was a so-called false flag operation to entrap Trump supporters.
Earlier this month, Greene, a staunch Trump supporter, said she filed a police report against Kimmel after she alleged a joke he made on his show was a "threat of violence."
That came after Kimmel was discussing the controversy surrounding Greene's previous comments, in which she accused GOP Senators Mitt Romney of Utah, Lisa Murkowski of Alaska and Susan Collins of Maine of being "pro-pedophile" after they announced their intention to vote to confirm Ketanji Brown Jackson to the Supreme Court.
Kimmel additionally called Greene a "Klan mom" before knocking her "pro-pedophile" tweet. The congresswoman's claim was based on discredited allegations that Jackson gave lenient sentences to individuals who shared or received child pornography.
"Wow, where is Will Smith when you really need him?" Kimmel said. He was referencing Smith's now-infamous slap of Chris Rock during the Oscars ceremony on March 27.
Greene then tweeted the clip from Kimmel's show, writing on April 6: "ABC, this threat of violence against me by Jimmy Kimmel has been filed with the Capitol Police."
Newsweek reached out to Fox News for comment.