Tucker Carlson Could Face Hate Speech Charges if He Were Canadian or British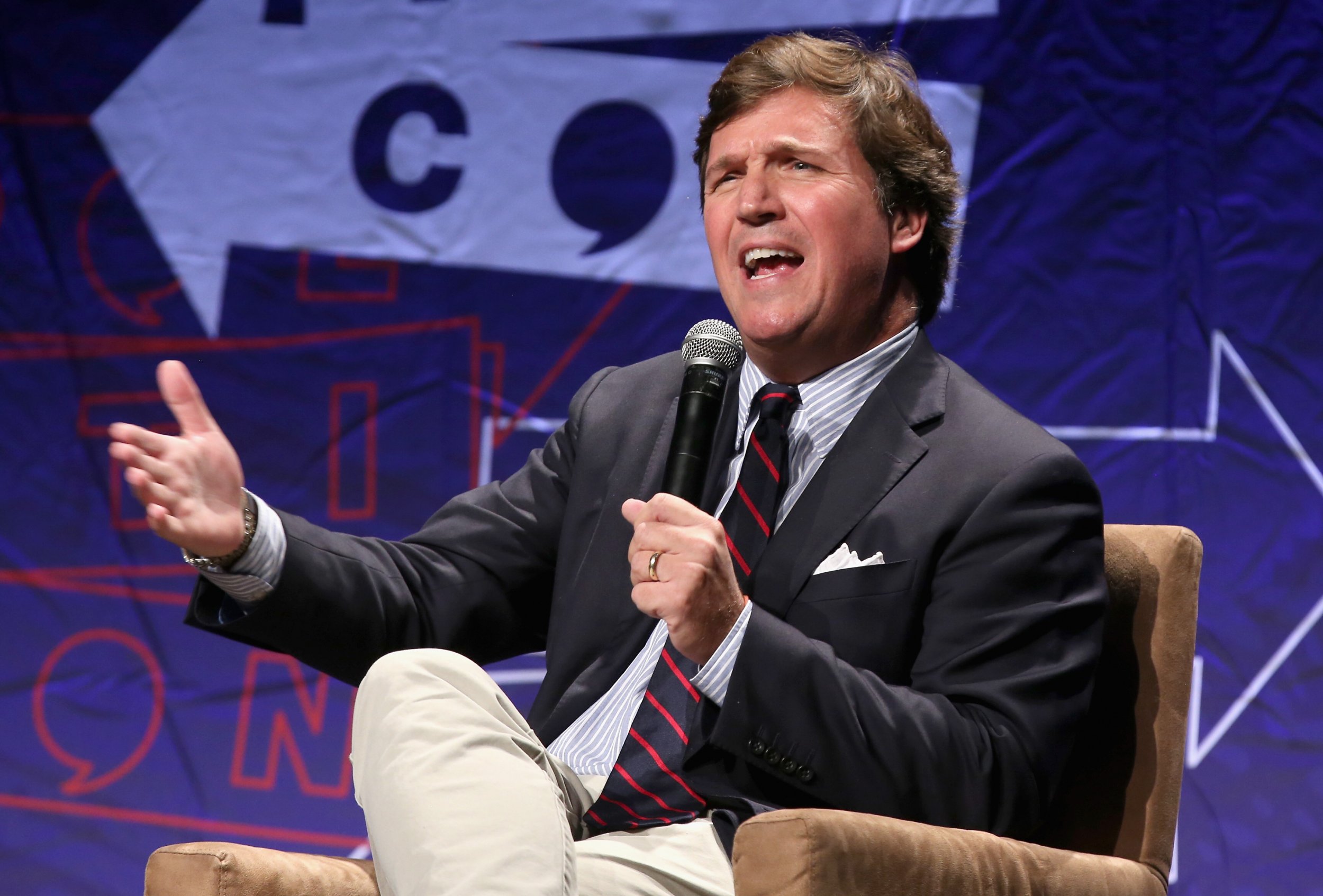 Fox News personality Tucker Carlson has faced growing calls to resign after racist and sexist comments he made on a radio show several years ago were brought to light by Media Matters. However, Canadian and British legal experts have told Newsweek that if Carlson were based in their countries, he could lose more than his job, with national hate speech laws meaning the host's comments could constitute a chargeable offense.
Over the past week, Media Matters released clips from calls Carlson made to The Bubba the Love Sponge Show radio program between 2006 and 2011 and that date back to his time as a host at MSNBC. The recordings reveal Carlson making a number of racist and sexist remarks, including calling Iraq a "crappy place filled with a bunch of, you know, semiliterate primitive monkeys," and calling women "extremely primitive," "pigs," "whores" and the "C-word."
While Tucker defended his comments, citing his First Amendment right to freedom of speech, high-profile Toronto-based criminal lawyer David Butt told Newsweek the Fox News personality's remarks could constitute "hate speech" in Canada, which, under the country's Criminal Code, can be considered a chargeable offense.
"Could these conversations, in terms of their content, qualify as hate speech under [Canadian] legislation? Yes they could," Butt said. "On their face, it's not difficult to see that when you're calling somebody 'pigs' and 'whores' as a class, that's hateful. That serves to undermine their humanity."
However, Butt said, while it is certainly "possible" that Carlson could be charged for hate speech over his comments, "there is a big difference between the possibility of a charge and the likelihood of a charge" under Canada's hate speech laws.
"Those are two very different things and deliberately so," Butt said. "The law is crafted very carefully in Canada to keep open...the possibility of a charge, but at the same time, to diminish the likelihood of a charge."
According to Butt, only a small handful of cases of alleged hate speech have gone to court, despite the country's hate speech laws having been around for decades.
One reason for that, Butt said, is that in Canada, hate speech cases must go "all the way to the top of the food chain in the criminal justice system," with cases requiring the consent of a province's attorney general in order to move forward.
"So, a 21-year-old who just graduated from police college can lay a murder charge, but for a hate crime...it has to go all the way up to the attorney general."
Even if a case does receive the attorney general's approval, however, Butt said that hate speech cases are further complicated by the difficulties in determining whether a statement "willfully promotes hatred."
"If it's recklessness, thoughtlessness or impetuous comments...none of those are covered by the legislation," he said. "There has to have been a careful strategy to say, 'I am going to promote hatred against this group by using hate speech."
Another challenge to prosecuting such cases is that statements motivated by religious beliefs are often protected, given that "parliament has said it doesn't cover those kinds of things because there is a long and complicated history around religious doctrine that condemns beliefs and practices that are outside of that particular religious doctrine."
In Carlson's case, however, Butt said he does not believe this protection applies, with the lawyer saying he believes some of Carlson's comments would be categorized as "hate speech directed at an identifiable group."
Still, the lawyer said that yet another reason so few hate speech cases have their day in court is that Canadian officials simply do not want to "risk giving too much attention to the content of the speech and risk inadvertently helping the hatemonger spread his or her message."
Ultimately, Butt said, Canada's laws are viewed as "an aide in combating hate" and ensuring that adequate statutes are in place to ensure that, when deemed necessary, prosecuting is an option.
"The U.S. is a bit of an outlier in that every other sort of developed Western democracy does address hate speech in some way," Butt said, adding that Americans, on the other hand, "tend to say, 'No, we don't regulate speech. We wait until its action."
Meanwhile, London-based partner at Hodge Jones & Allen Solicitors legal firm Sean Caulfield told Newsweek that in Britain, Carlson's words could "amount to a criminal offense."
"Some of his words aren't very flattering about people, they are not complimentary, but they are not criminal offenses," Caulfield said. However, other comments, such as Carlson's statement about Iraq, do "meet the threshold" for being considered "abusive" behavior under Section 5 of the Public Order Act of 1986, which makes it an offense to use "threatening, abusive or insulting words or behaviour, or disorderly behavior."
"Many crimes in the U.K. are a basic crime, but then they can be 'aggravated' if they are committed because of someone's actual or perceived race or religion," Caulfield said. "The racially aggravated version of that offense would be [Carlson's] abusive words."
Caulfield added that while Carlson could technically face charges for his words in Britain, he agreed with Butt that it would be unlikely for prosecutors to actually pursue such a case.
"I think it's very unlikely, and the reason for that is that there is a two-part test to deciding whether someone should be prosecuted in England or Wales. First, is there evidence? And arguably, here there is. But the second is, is it in the public interest for him to be prosecuted?"
"I think that at the moment, if you were in England, which he isn't, but if he was, the public would say, 'we don't like him, but you can turn the radio off or ring in a complaint [to Ofcom, Britain's regulatory and competition authority for the broadcasting, telecommunications and postal industries]."
"So, he could be prosecuted, but it's very unlikely that he would be because there are other avenues which are cheaper, more effective and more appropriate," Caulfield said.
Still, as Butt noted, the existence of hate speech laws in Canada and Britain does highlight the lack of such regulations in the U.S., where the First Amendment would make it difficult for such measures to pass constitutional muster.