Tucker Carlson Heads Back to Hungary in Continued Support of Orbán's Autocratic Rule
After previously praising Hungary's authoritarian government for offering "a lot of lessons for the rest of us," top-rated Fox News personality Tucker Carlson said Wednesday he's again traveling to the central European country for "important reporting."
In anticipation of his upcoming visit, Carlson on Wednesday again held up the "small country in central Europe" as an example for others, particularly for the border fence erected as part of the hardline immigration stance of Hungary's right-wing Prime Minister Viktor Orbán.
"You can run your country for the benefit of the people who live there," said Carlson, during the Wednesday broadcast of Tucker Carlson Tonight. "It doesn't mean you have to hate other countries, strike some kind of bellicose posture, pick fights, attack anybody. No. But your job, if you run a country, is to run it for the benefit of your citizens. That's what democracy is."
Hungarian Foreign Minister Peter Szijjarto appeared on the show Wednesday in a segment titled "Here's what America should learn from Hungary" on YouTube. Szijjarto had kind words for the Fox News host.
"I have to express my appreciation to you to show the reality about Hungary," said Szijjarto. "That's very, very rare. We are usually faced by the lies and the fake news produced by the international liberal mainstream."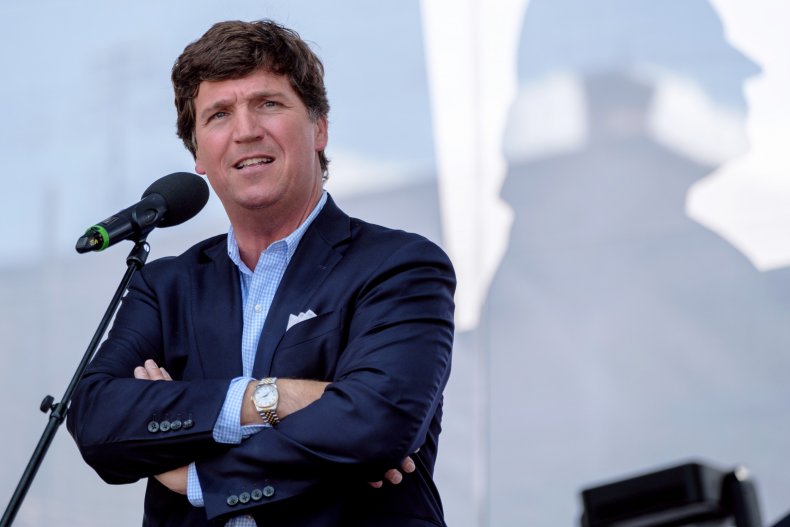 Carlson broadcast Tucker Carlson Tonight from Budapest, Hungary for a week in August 2021, where he interviewed Orbán and lauded the country's immigration and social policies.
Carlson's visit raised eyebrows. Notably, Senator Mitt Romney, a Utah Republican, was incredulous that Carlson would praise Orbán, under whose leadership the country has been labeled as one of the least free and democratic in the developed world.
Freedom House, a Washington, D.C.-based human rights advocacy nonprofit, has labeled the country "partially free" for Orbán's move to consolidate power and impose restrictions on the press. A group of 62 members of the European Parliament from various political parties on Wednesday took the unusual step of calling for large-scale observation of Hungary's upcoming elections, reported Politico.
Carlson asked Szijjarto Wednesday why he thought Hungary is such a threat to the U.S.'s foreign policy establishment.
"I think why they hate us is that we are conducting a patriotic, Christian-based policy, the target of ours is to fulfill the national interest," replied Szijjarto. "We are conservative, and in the meantime, we are successful. So basically, our existence is a danger for them."
Szijjarto continued that Hungary's government is bringing progress while "respecting our history and religious heritage, respecting our values like family."
Under Orbán's leadership, Hungary in 2020 banned adoption by same-sex couples and banned transgender people from changing their names, in addition to refusing to ratify a convention intended to prevent violence against women, according to Human Rights Watch. Last year, the country's parliament passed a law equating homosexuality with pedophilia. The country's lawmakers also banned promotion of some portrayals of homosexuality, according to the nonprofit.