As Tucker Carlson Heads Back to Hungary, NY Young Republicans Endorse Autocrat Orbán
As Fox News correspondent Tucker Carlson prepares to travel to Hungary once again, the New York Young Republican Club (NYYRC) on Monday endorsed the country's autocratic leader, Prime Minister Viktor Orbán.
Orbán has served as Hungary's prime minister since 2010 and is up for re-election in the spring.
In its official endorsement, the NYYRC called Orbán "a great defender of Western Civilization and the rights of the family."
"Orbán has stalwartly defended the people of Hungary and pushed back against globalist encroachment on his nation's sovereignty," the group continued. "Orbán commits to continue his focus on the success of the Hungarian people collectively while respecting and supporting the traditional civil rights of the individual."
"The New York Young Republican Club strongly urges all voters in Hungary to help preserve Western Civilization by re-electing Viktor Orbán as Prime Minister of Hungary," the group ended.
The NYYRC stated that its support of Orbán was the group's first-ever international endorsement.
However, NYYRC's pro-Orbán stance comes amid controversy given the prime minister's authoritarian past.
Under Orbán's leadership, Hungary has dropped 11 spots in The Economist's ranking of world democracies. It sat in 55th place on the most recent list, and has been described as seeing significant democratic backsliding.
Reporters Without Borders (RWB) also ranks Hungary as a significantly risky place for journalists to work. The nation is listed at No. 92 out of 180 countries in the group's World Press Freedom index, and RWB called Hungary the "EU's alternative, repressive model."
Amid rising concerns of Hungary continuing to turn into an authoritarian regime, Orbán in 2021 became the longest-serving incumbent government head in the European Union.
Orbán's regime has also faced criticism for imposing restrictions on LGBTQ rights and immigration.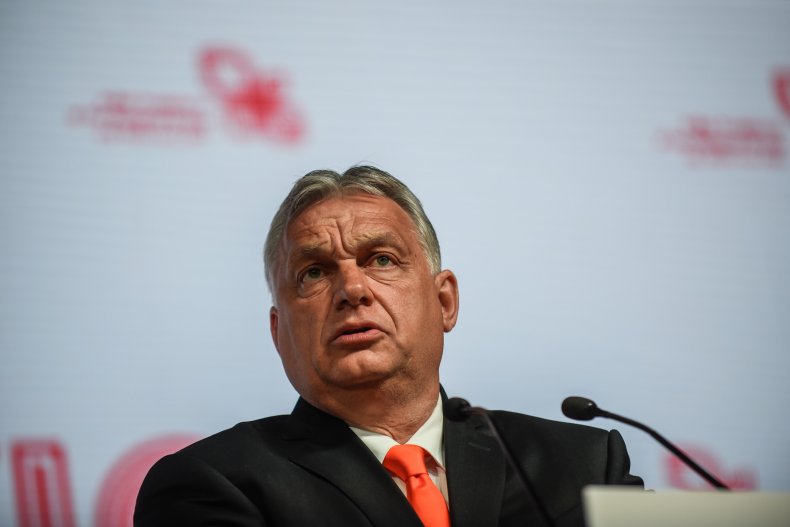 Despite this, though, as with the NYYRC, a number of right-wing organizations in the United States have come to Orbán's support in recent months, as Hungary's elections draw closer.
Orbán has notably received an endorsement from former President Donald Trump, who described Orbán as a "strong leader" who "truly loves his country."
However, Orbán's most notable supporter continues to be Carlson. The Fox News host, who helms the network's top-rated Tucker Carlson Tonight, has called Hungary a "simple, sweet country with some problems like every country."
When asked by Fox's Geraldo Rivera if he wanted the United States to embrace Hungary's government visions despite its autocratic tendencies, Carlson pushed back, stating, "I don't know if I would say it's authoritarian."
"Orbán could lose by the way in the elections in April, so it's hardly this monolithic, one-party state," Carlson added.
However, Peter Marki-Zay, Orbán's primary opposition, told Newsweek this past October that "these elections are not fair and free at all."
Despite pushback against his affinity for Hungary, even from some at his own network, Carlson stated last Wednesday that he would be returning to the country to film segments of his show there. Carlson had previously reported from the Hungarian capital of Budapest in August 2021.
It is unclear exactly when this trip will take place. However, Carlson has recently been promoting a documentary that his team produced, known as Hungary vs. Soros: The Fight for Civilization, that purports to investigate the connection between the country and Hungarian-American billionaire George Soros.
In addition to this programming, Carlson has recently welcomed Hungarian Foreign Minister Peter Szijjarto onto his show. Szijjarto stated that he wanted to "express my appreciation to you to show the reality about Hungary."
"We are usually faced by the lies and the fake news produced by the international liberal mainstream," Hungary's foreign minister added.
The NYYRC told Newsweek in a statement that it was "proud to endorse Viktor Orbán on the basis of his accomplishments.
"Orbán operates within a constitutional framework of which the Hungarian people approve. Our Club proudly fought against Soviet-backed oppression in Hungary in the 1950s; to call Orbán autocratic devalues the very real and oppressive environment that Hungarians endured in the past.
"Ultimately, the Hungarian people have a choice: effective leadership that achieves results and, in doing so, frustrates Eurocrats and Bidenistas or a cobbled-together opposition group with no plan that has embraced genuinely concerning entities in pursuit of toppling Orbán."
Update (01/26/2022, 10 p.m. ET): This story has been updated with a statement from the NYYRC.