Ex-Weinstein Adviser Lisa Bloom a 'Feminist Al Sharpton, Scam Artist,' Tucker Carlson Says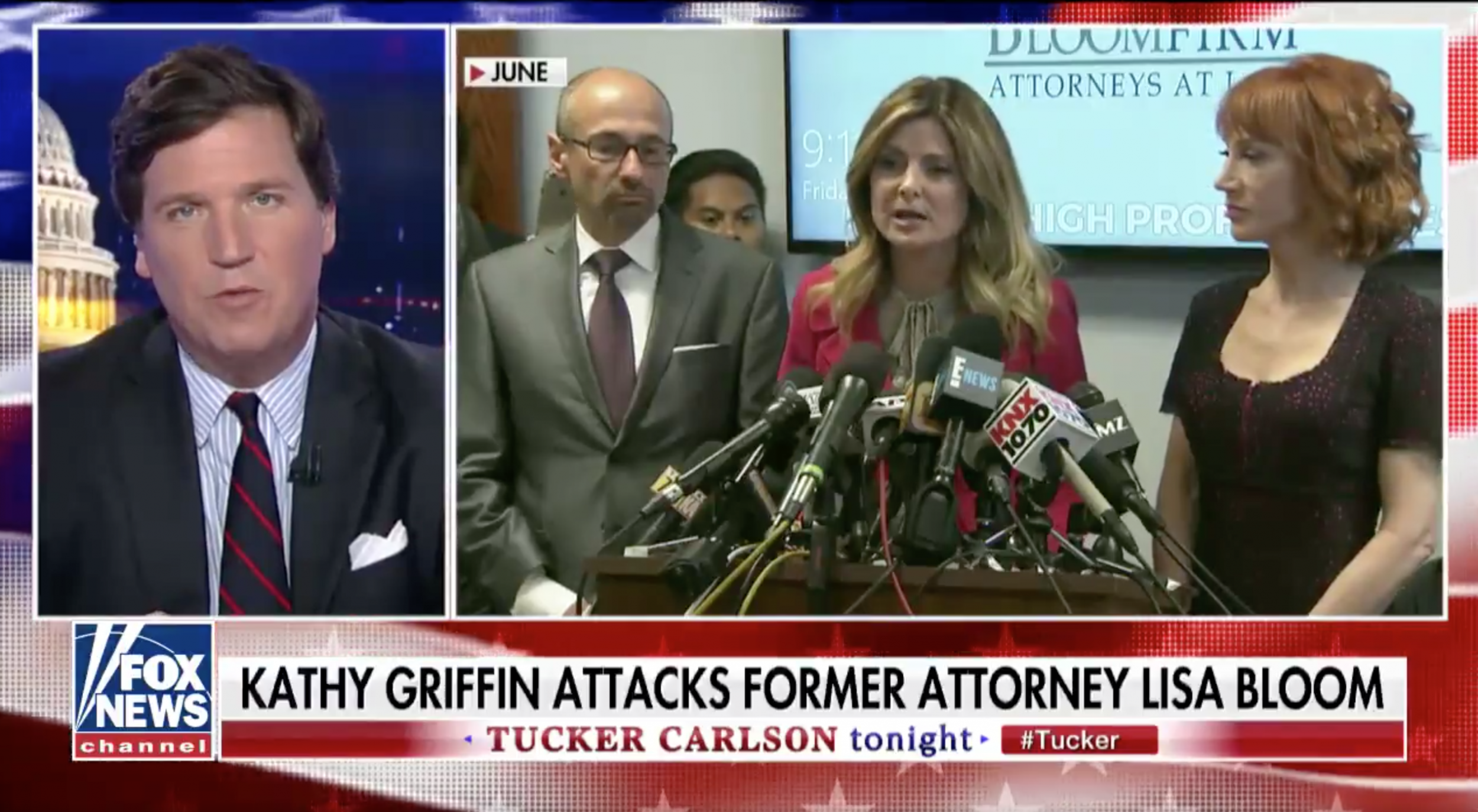 It seems Tucker Carlson is willing to agree with Kathy Griffin as long as it means he can bash feminism while he does it.
Tuesday night, the Fox News commentator directed his signature aggression on civil rights attorney and former Harvey Weinstein counselor Lisa Bloom. She recently made headlines when Griffin, who was previously under federal investigation for her controversial beheaded-Trump photo, said in a Facebook video that she "did not have a good experience" with Bloom as her attorney.
But what Tucker Carlson heard is this: "Griffin says that Bloom practices 'fake feminism' and is a 'fame whore.'" Carlson also attacked Bloom for supposedly "offering bribes" to silence Weinstein accusers, a rumored allegation the Daily Mail claims actress Rose McGowan wrote on her private Facebook account. Bloom recently admitted she regrets ever advising Weinstein.
Carlson concludes, "It turns out Bloom is exactly who you thought she was: a moral cover for hire, a feminist Al Sharpton, a scam artist. Even Kathy Griffin knows that." (Sharpton is often a target for right-wing conservatives.)
It's true that Griffin did open her Facebook video by stating she was going to "blow the lid off fake feminism." But the majority of her statement was focused on criticizing the Los Angeles Times and producer Sharon Stone for supposedly unfair treatment of her, which she feels is because of her gender. (She posted screenshots of emails with both in the comments of the video.) Here's all that Griffin had to say on Bloom herself:
If you want my Lisa Bloom statement, anybody, OK, here it is. Yes, I got Bloomed. Yes, I did not have a good experience with her. I felt that she and her husband exacerbated my personal situation. OK? There. It's very obvious. It's on the tape of that horrible press conference was a disaster. I'm not going to sue Lisa Bloom. I don't think she should be shot. There's my fucking statement.
The "fame whore" comment Carlson references comes from an interview Griffin did with The Daily Beast about her press conference on the Trump photo in June. Griffin said, "Lisa's husband was physically holding the door closed, so we were in there, and Lisa was outside doing interviews in the hallway fame-whoring, which we didn't know at the time."
Earlier this week, Bloom posted her response to Griffin's criticism on Twitter. Bloom also told The Daily Beast: "The last time I spoke to Kathy, at a group dinner recently, she gave me a big hug, was very friendly and said everything was great between us. I had no idea there was a problem until a reporter reached out to me about this a few days ago."
Earlier this month, Carlson made a bizarre leap, saying "feminism is insincere." His justification? Hollywood's long silence on the Harvey Weinstein scandal.