Tucker Carlson Suggests Shootings Are Result of Lectures on Male Privilege
Tucker Carlson suggested on his Tuesday show that women lecturing men about male privilege is a contributing factor to mass shootings in the United States.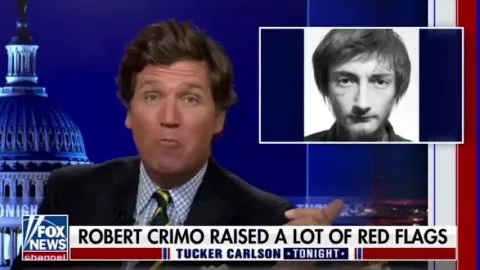 His comments came after the mass shooting at a July 4th parade in Highland Park, Illinois, that saw at least seven people killed and more than two dozen people injured. Following the shooting, police arrested 22-year-old Robert E. Crimo III as the main suspect and charged him with seven counts of first-degree murder.
During his show, Carlson also claimed that poor mental health is a significant facet of why mass shootings happened and said that there were many people like Crimo across America.
"Look at Robert 'Bobby' Crimo, would you sell a gun to that guy, does he seem like a nut case? Of course, he does," Carlson said. "So why didn't anyone raise an alarm? Maybe it is because he didn't stand out. Maybe it is because there are a lot of young men in America who suddenly look and act like this guy. That is not an attack, it is just true."
He added: "Like Crimo, they inhabit that solitary fantasy world of social media, porn and video games."
Carlson then went on to claim these same men may be high on drugs and angry because they believe their lives will be worse than their parents'.
"They are high on government-endorsed weed, 'smoke some more, it is good for you.' They are numbed by the endless psychotropic drugs that are handed out in every school in the country by crackpots posing as counselors. Of course, they are angry, they know that their lives will not be better than their parents', they will be worse. That is all but guaranteed, they know that. They are not that stupid." he said.
"And yet the authorities in their lives, mostly women, never stop lecturing them about their so-called privilege. 'You are male, you are privileged.' Imagine that, try and imagine an unhealthier, unhappier life than that. So a lot of young men in America are going nuts," Carlson continued.
"Are you surprised? By the way, a shockingly large number of them have been prescribed psychotropic drugs by their doctors, SSRIs or anti-depressants. That would include quite a few mass shooters."
Carlson also questioned why the authorities did not act more on the red flags they had seen from Crimo, prior to his alleged actions in the July 4 attack.
"Not surprisingly, at a press conference today, police acknowledged they had encountered Crimo several times before," Carlson said. "Three years ago, for example, police arrived after he attempted to kill himself."
Carlson then played a snippet from a press conference held Tuesday regarding the shooting. Deputy Chief Christopher Covelli of the Lake County sheriff's office and the Lake County major crimes task force highlighted the instances where police encountered Crimo.
He said in April 2019, police were contacted by someone who had learned a week prior, Crimo had attempted to die by suicide. Police then spoke with Crimo and his parents and the matter was passed over to mental health professionals.
In the second instance, in September 2019, Crimo had a large collection of knives confiscated by the police after saying he "was going to kill everyone."
Newsweek reached out to Fox News for comment.
{{#isDisplay}} {{/isDisplay}}