On Tucker Carlson, Oath Keeper Thomas Caldwell Says Capitol Riot Was 'Good vs. Evil'
Thomas Caldwell, an Oath Keeper charged with seditious conspiracy in the January 6 attack, told Fox News personality Tucker Carlson on Thursday that he believes what happened at the U.S. Capitol on January 6 was a matter of "good versus evil."
Thomas Caldwell, 67, of Berryville, Virginia, who goes by the moniker "Commander Tom" due to his status as a former Navy man, was indicted on a charge of seditious conspiracy, along with 10 other members of the Oath Keepers. This charge is reportedly connected to the "amassing" of firearms and weaponry to besiege the Capitol.
The Oath Keepers are described as an anti-government, right-wing militia group. A number of the group members have been identified as participating in the Capitol riot.
Caldwell's indictment follows a previous charge of felony conspiracy after he allegedly told those at the Capitol to "hang the traitors."
Sedition charges—which are often defined as conduct or speech that can incite a rebellion—can carry a maximum prison sentence of 20 years.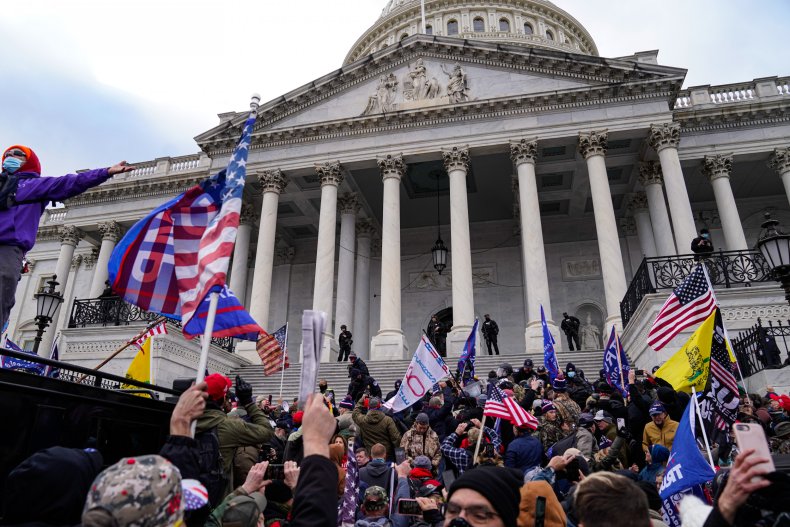 However, appearing on Tucker Carlson Tonight, Caldwell reiterated his view that he was being painted as a "poster boy" for all of those who participated on January 6. He added that he was not guilty of sedition because he "did not go into the Capitol and they know it."
In the federal indictment, investigators say they had come across video proof that Caldwell had indeed entered the Capitol that day. Caldwell, again, stated that he was "absolutely, categorically denying [this] when pressed on the issue by Carlson.
A former FBI employee who at one point had "top secret" security clearance, Caldwell added that the attack on the Capitol was a matter of opposing viewpoints, and claimed that he did "not see any weapons" being wielded that day.
"We believe that this is good versus evil," Caldwell told Carlson, adding that, because he was white, somebody in the prison system told him that he had "no chance against [the Justice Department] when they get ready to take you down."
Despite Caldwell's statements on Tucker Carlson Tonight, additional evidence from the Justice Department reportedly shows electronic messages that he made confirming that he supported the violence at the Capitol. If corroborated, these messages would also appear to confirm that Caldwell had indeed entered the building on January 6.
"Then we heard [former Vice President] Pence f****d us. Wr [sic] had over a million oeople [sic] here ... so I grabbed up my American flag and said let's take the damn capitol," one of these alleged statements read. "So people started surging forward and climbing the scaffolding outside so I said lets [sic] storm the place and hang the traitors."
"The people in front of me broke through the doors and started duking it out with the pigs who broke and ran," Caldwell continued. "Then we started stealing the cops riot shields a d [sic] throwing fire extinguishers through windows. It was a great time."
Despite this reported evidence, though, Caldwell has maintained his stance of innocence. His attorney, David Fischer, told Newsweek in March 2021 that Caldwell "is adamant that he's innocent."
Newsweek has reached out to the U.S. Department of Justice for comment.
Update (01/13/2022, 10 p.m. ET): This story has been updated with additional information.