Fox News Host Tucker Carlson Says 'Partisan Judges' Want to Destroy 'Fraud-Free' Election Night
Fox News host Tucker Carlson said "partisan judges" were trying to "destroy" election night on November 3 as state courts extended mail-in ballot deadlines.
Delivering a monologue on the network last night, Carlson said judges in Pennsylvania and Michigan wanted votes to be counted for weeks so legal challenges could be brought against ballots in the key battleground states.
The Quote
"There's nothing partisan judges would like to destroy more in the end than a quick, efficient, fraud-free election night. That's the goal here, make no mistake.
"If all the votes are counted in one night, no one will have time to issues rulings to throw out ballots they don't like. And that's why judges in Pennsylvania and Michigan want poll workers to count votes for weeks after election day.
"With their rulings last week, they made that essentially inevitable. It'll be a disaster, we know that for certain, we've seen it before during the Iowa caucuses this past February."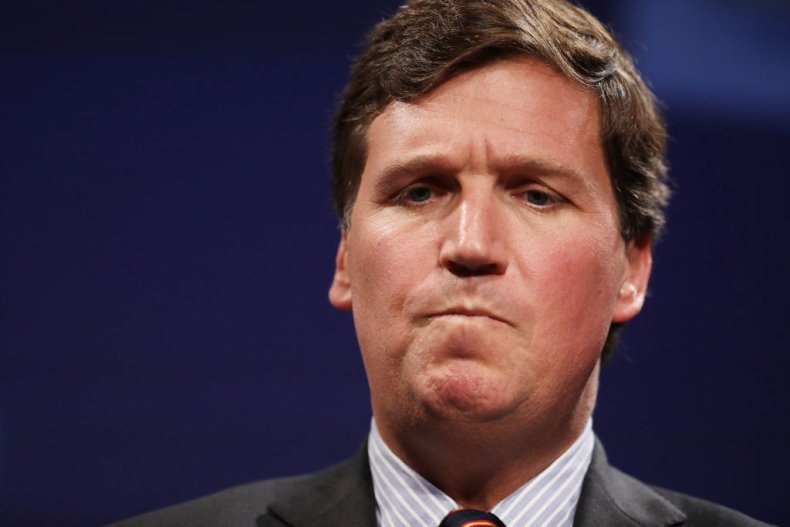 Why it Matters
The extension of access to mail-in voting amid the COVID-19 pandemic has sparked a backlash from President Donald Trump and other top figures in the Republican Party who have argued that the practice will increase instances of voter fraud.
Pennsylvania's Republican Party planned to contest the state's extension of the due date for mail-in ballots earlier this week, as the move was widely viewed to be a boost to Democrats that are more likely to vote by mail than their GOP counterparts.
Speaking in the White House on Thursday afternoon, the president sought to cast further doubt about the integrity of the 2020 presidential election in light of the mail-in voting extensions.
"We want to make sure the election is honest, and I'm not sure that it can be with this whole situation," Trump said. "Unsolicited ballots... millions being sent to everybody."
Counterpoint
Judges in Michigan and Pennsylvania ruled in favor of mail-in ballot deadline extensions last week—a move that will see fewer ballots thrown out for lateness amid fears about the U.S. Postal Service's (USPS) ability to deliver ballots on time.
The Pennsylvania Supreme Court ruling on Thursday last week allowed for ballots postmarked by 8 p.m. on election day to be counted as long as they are received by November 6 at 5 p.m.
In its ruling, the Pennsylvania court noted that a letter from the U.S. Postal Service's General Counsel said certain mail-in ballot deadlines were "incongruous" with its delivery standards.
"In light of the information contained in the USPS General Counsel's letter, the Secretary concludes that a temporary extension of the Election Code's received-by deadline is necessary for the upcoming General Election to ensure a free and equal election as protected by Article I, Section 5 of the Pennsylvania Constitution," Pennsylvania Supreme Court Justice Max Baer said.
In Michigan, the Court of Claims Judge Cynthia Stephens ruled that all ballots postmarked by November 2 would be eligible for counting as long as they were received within two weeks of election day.
According to MLive, the Michigan Supreme Court previously ruled in July that mail-in ballots would have to arrive by 8 p.m. on election day to be counted.