Tucker Carlson proposed organizing a "Burning Mask" festival on Wednesday after learning that this year's Burning Man festival had been cancelled amid the ongoing COVID-19 pandemic.
The 2021 edition of the festival located in the Nevada desert was cancelled for the second year in a row over public health concerns on Tuesday. Carlson reported the news one day later on his Fox News opinion show Tucker Carlson Tonight, saying organizers were "too afraid of COVID" and making the tongue-in-cheek suggestion of an alternate anti-mask festival.
Carlson said the cancellation of Burning Man was "obviously bad news if you enjoy body painting and interpretive dance on acid." He said that the absence of the festival presented an opportunity for a new entry "on this summer's roster of nude festivals."
"Why not replace it with Burning Mask?" Carlson said. "The nakedest gathering in the desert. Five days of totally unimpeded breathing. No more moist cotton clinging to your face, no more struggling to fill your lungs, no more mandatory suffocation. Just deep, satisfying breaths, as many as you want. Unrestricted airflow in nature, gulp it down, it's allowed here."
"And then, on the final night, a pagan ceremony under the stars: the burning of the masks," Carlson continued. "A ritual bonfire of PPE. Liberation, a cleansing of the spirit—a word that, by the way, means breath—in a single blaze, COVID neurotics will turn the instruments of their emotional oppression into heat and light and ash. At Burning Mask, America's Joy Reids will immolate their fears and emerge once again fully human, or at least somewhat less uptight and annoying. How is that not a great idea?"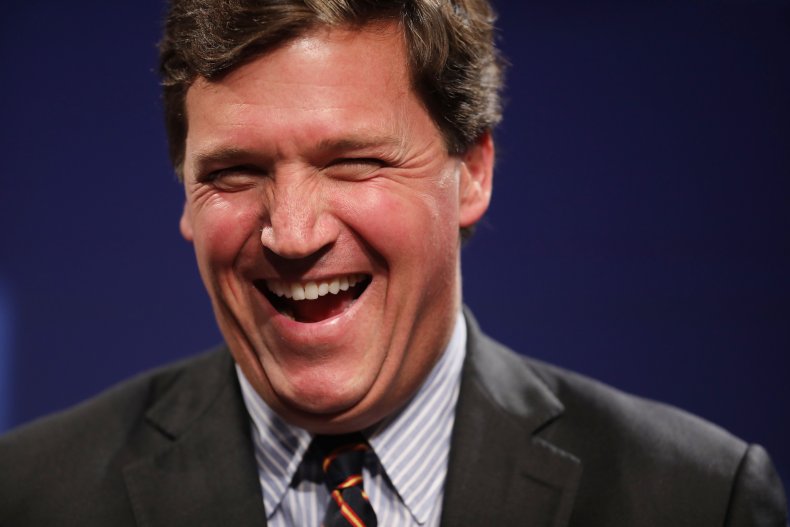 Although the conservative pundit appeared to be making the proposal in jest, he went on to say that the proposal "doesn't sound entirely crazy." Carlson claimed that actually holding the festival would be "a lot more sane than jogging through the park with two masks on," referring to MSNBC host Joy Reid, who recently said that she jogged while wearing two masks despite being fully vaccinated.
The Burning Man Project and Fox News both declined Newsweek's requests for comment.
Carlson made the remarks days after receiving backlash for urging viewers to "call the police" if they spot a child wearing a face mask outdoors, claiming that parents who encourage their children to wear the masks are committing "child abuse."
Sen. Rand Paul (R-Ky.), another prominent conservative who has spoken against public health restrictions amid the pandemic, suggested during a Fox News appearance last week that President Joe Biden should "take off his mask and burn it" on live television if he wants to promote Americans getting vaccinated against the virus.
Although the Centers for Disease Control and Prevention said Tuesday that fully vaccinated Americans no longer need to wear masks outdoors, masks are still recommended to limit the spread of COVID-19 indoors and among the unvaccinated.
An average of over 50,000 new cases of COVID-19 continue to be recorded each day in the U.S., according to Johns Hopkins University. Over 573,000 Americans have died due to the virus.