Fox News host Tucker Carlson has gone on the offensive against New York Congresswoman Alexandria Ocasio-Cortez, questioning her credentials to talk about morality as she's "never even raised children."
Carlson made the comments on his show Tucker Carlson Tonight, specifically lambasting Ocasio-Cortez's Green New Deal, a plan by progressive Democrats to virtually eliminate greenhouse gas pollution in the U.S. over the next decade.
It was when the freshman congresswoman suggested she was pursuing a moral society, as well as a wealthy one, that the Fox News host took particular issue.
"Wait a second... you may be wondering. How does a member of Congress who has not yet turned 30, someone who has never even raised children get the right to lecture me about morality? Well that is the difference between you and Alexandria Ocasio-Cortez. She is a highly decent person," Carlson said, his monologue dripping with sarcasm.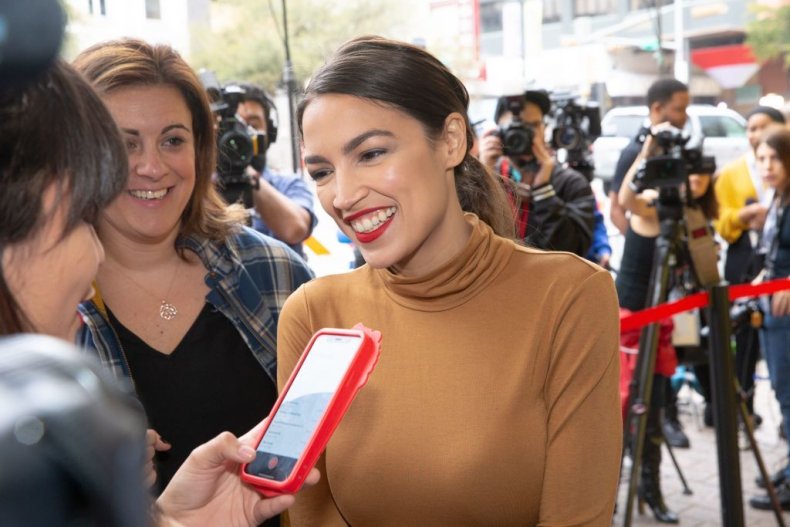 The Fox News anchor had taken aim at a public forum Ocasio-Cortez held on the Green New Deal with MSNBC's Chris Hayes. Carlson referred to Hayes as "what every man would be if feminists achieved absolute power in this country: apologetic, bespectacled and deeply, deeply concerned about global warming."
He then attacked the representative for New York for calling her opponents names. "Stop with the name calling, you racist, white supremacist xenophobe," Carlson said, ironically paraphrasing Ocasio-Cortez. He then chortled at his own joke.
He seemed unwilling to listen to his own advice. "So it is official. Alexandria Ocasio-Cortez is a moron and nasty and more self-righteous than any televangelist who ever preached a sermon on cable access. She is not impressive; she's awful," he said.
However, Carlson was not unimpressed by everything the Democratic congresswoman said. "Why do people like her?" he asked rhetorically. "Well... if we're being honest we have to say it's because, at the end of the day, not everything she says is wrong," he added, explaining she had offered an "insightful critique of the American economy."
Tucker Carlson Tonight then cut to an MSNBC clip in which Ocasio-Cortez said: "We have runaway income inequality, we are at one of our most unequal points economically speaking in American history. We are dealing with a crisis of how our economy is even made up."
Ocasio-Cortez, who worked as a bartender and waitress at a taco restaurant before leading an upstart campaign to win the race for New York's 14th Congressional District against a 10-term incumbent, has become a lightning rod for conservative criticism during her first months in office.
In February she launched the Green New Deal with Senator Edward Markey of Massachusetts. The initiative looks to combat climate change, while addressing income inequality and overhauling the healthcare system.