Tucker Carlson Questions How Donald Trump Can Protect Country After Fox Reporter Attacked Near White House
Tucker Carlson has questioned whether President Donald Trump can protect America after a Fox News reporter was chased near the White House over the weekend.
During a Monday night monologue on the George Floyd protests, Carlson said the president's handling of the ongoing unrest was a "distressing moment" for dedicated supporters who had defended Trump for "years and years."
The Fox News host also warned that any commander-in-chief who failed to protect the people was "done" at the ballot box.
Carlson made his comments just two days after Fox News reporter Leland Vittert was chased and attacked by a group of protesters in Lafayette Park in Washington, D.C.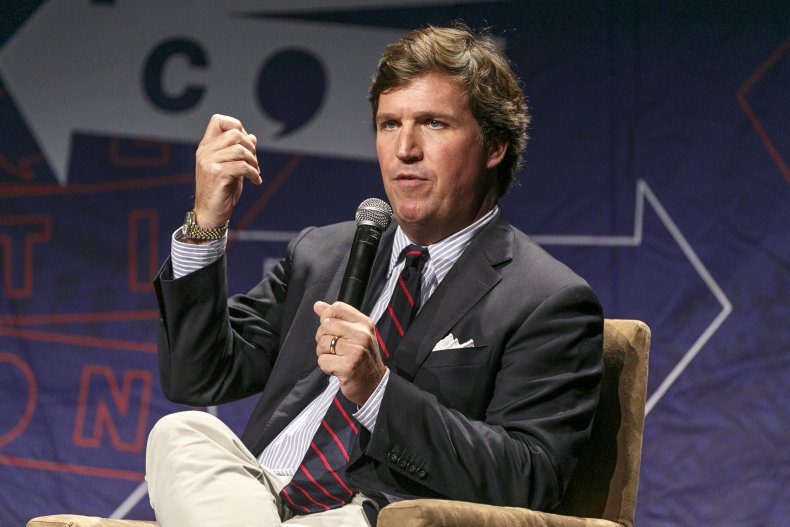 Speaking on Fox News on Monday night, Carlson said: "The tape raised a troubling question: if you can't keep a Fox News correspondent from getting attacked directly across the street from your house, how can you protect my family? How are you going to protect the country? How hard are you trying?"
The Fox News host added that the president seemed to be "aware only of himself" as cities across the U.S. witnessed rioting, fires and violence.
"For people who like Donald Trump, who voted for Donald Trump, who support his policies, who have defended him for years and years against the most absurd kinds of slander, this was a distressing moment," Carlson said.
"The first requirement of leadership is that you watch over people in your care... it's what voters demand from their presidents."
After arguing that people would "put up with almost anything" as long as they felt protected, the Fox host added: "But if you do not protect them, or worse than that, if you seem you can't be bothered to protect them, then you're done. It's over."
He then said that Trump's handling of the ongoing George Floyd protests would be the "singular test" of his time in office.
Newsweek has contacted the White House for comment. This article will be updated with any response.
As protests against the killing of George Floyd in Minneapolis Police custody last week raged on for the seventh day running, Trump threatened to send in the military to break up protesters if state authorities did not quell the ongoing unrest.
"If a city or state refuses to take the actions that are necessary to defend the life and property of their residents, then I will deploy the United States military and quickly solve the problem for them," Trump said in the White House Rose Garden yesterday.
As the president issued his threat, law enforcement were firing tear gas at protesters near St. John's Church to clear a path for Trump, who posed for a photo outside the church with a Bible in hand.