Tucker Carlson Ramps up Pete Buttigieg Feud With 'Dwarfish Fraud' Reference
Tucker Carlson has taken another swipe at Transportation Secretary Pete Buttigieg after he hit back at the Fox News anchor for mocking his decision to take paternity leave.
On Friday, MSNBC host Nicolle Wallace asked Buttigieg for his response to the Fox host's criticism of him taking time off after welcoming twins into his family.
Buttigieg has been on leave since mid-August, Politico reported. On September 4, he revealed that he and his husband Chasten had adopted twins.
But Carlson had weighed in on criticism of Buttigieg's absence as the U.S. deals with massive global supply chain problems.
"Paternity leave, they call it, trying to figure out how to breastfeed," Carlson said on his show Thursday.
But Buttigieg brushed off the dig, telling MSNBC on Friday, "I guess he just doesn't understand the concept of bottle feeding, let alone the concept of paternity leave."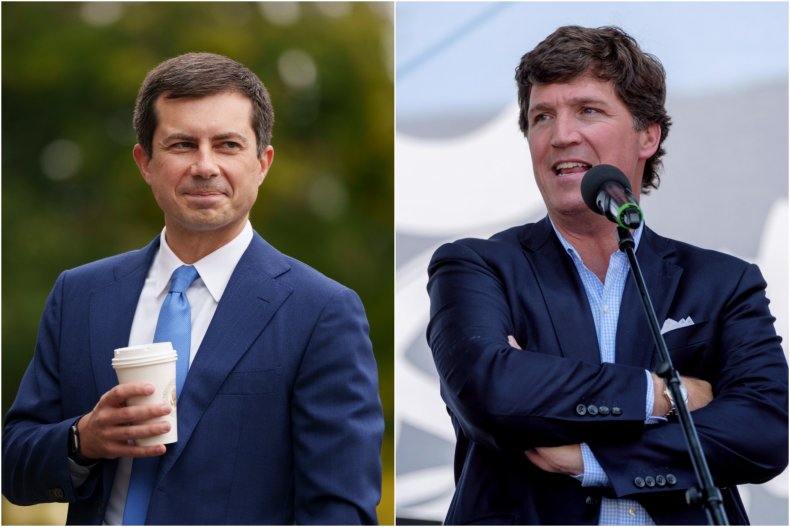 "What is really strange is that, you know, this is from a side of the aisle that used to claim the mantle of being pro-family," he said, "what we have now is an administration that is actually pro-family.
"I'm blessed to be able to experience that as an employee, being able to have the flexibility to take care of our newborn children, which is, by the way, work," he added.
But Carlson followed up by doubling down on his feud on Friday night. "We made a brief, offhand joke about the Secretary of Transportation Pete Buttigieg, and this morning we discovered our error," Carlson said, teasing viewers with the prospect of an apology.
His monologue then took a sarcastic turn. "It turns out that Buttigieg is not a dwarfish fraud whose utter mediocrity indicts the class that produced him. No, not at all.
"Pete Buttigieg was once the mayor of South Bend, Indiana. So understandably, going forward, we are under strict orders from the Biden administration to take Pete Buttigieg very, very seriously. And of course we will. Our mistake."
Legislation is moving through Congress that would make 12 weeks of paid family and sick leave available to most workers.
During Friday's interview with MSNBC, Buttigieg, who was a Democratic primary contender, spoke about the Biden administration's ambitions for paid family leave for all Americans.
When asked on the network about what he thought about the attack from Carlson which had a "homophobic" overtone, Buttigieg said it was "coming from a guy who has yet to explain his apparent approval for the assassination of Harvey Milk."
Carlson faced controversy earlier this year when an unearthed page from his 1991 college yearbook said he was in the "Dan White Society." Dan White was the name of the man who fatally shot Milk, California's first openly gay elected politician.
Newsweek has contacted Fox News and Buttigieg for comment.