Tucker Carlson Rails Against COVID Vaccine Plans as 'Social Control'
Tucker Carlson alleged on his Thursday program on Fox News that Americans would be forced to receive a COVID-19 vaccine as a form of "social control."
States began receiving doses of the COVID-19 vaccine developed by Pfizer and BioNTech on Monday. Mass vaccination campaigns have eradicated or greatly reduced the incidence of diseases such as smallpox, polio and rinderpest and are widely considered the most effective response to COVID-19 which has claimed the lives of 300,000 Americans. While data from the clinical trials suggest the COVID vaccines are safe and extremely effective, a large minority of Americans remain wary of side effects and long term risks.
Carlson, the host of the most watched show in cable news history, fed those fears with his monologue even as social media companies tried to clamp down on the spread of misinformation about the vaccine. He cited a report of a woman who developed side effects from receiving the vaccine.
"That's how a healthcare worker in Juneau, Alaska feels tonight—lucky. She got the vaccine two days ago, the woman had no history of allergies, but within minutes she developed a severe anaphylactic reaction to it, and then had trouble breathing. She went up to the emergency room overnight. It was all a fantastic experience, according to the doctor who treated her, quote, 'During the whole time she was so enthusiastic that she got the vaccine and the benefits it would give her in the future.' What a cheerful patient she must be. We've got to assume she is, in any case, because we can't really know—the authorities didn't release her name. All we know is, she's a highly satisfied customer," Carlson said.
"Have a vaccine and a smile. Just do it," he added, referring to popular advertising campaigns by Coke and Nike respectively.
Carlson then suggested that efforts to publicize the COVID vaccine were patronizing and turned Americans off on the idea of getting the shot. He also said social media platforms like Twitter were working to shut down news of side effects by "[censoring] any unauthorized inquiry about the vaccine, or as the company put it, 'false or misleading narratives about COVID-19 vaccinations.'"
"Twitter is censoring any claim that this vaccine might be used to 'control populations,'" Carlson said. "So whatever you do, don't say this is social control because if you do, the richest, most powerful people in the world will act in perfect coordination to shut you down immediately."
Carlson added that those acts of "censorship will not convince a single person to take the coronavirus vaccine. In fact, it will have the opposite effect."
"Even if you are strongly supportive of vaccines, and we are, even if you recognize how many millions of lives have been saved over the past 50 years by vaccine, and we do, it all seems a bit much, it feels false, because it is, it's too slick," Carlson added.
In a Wednesday blog post, Twitter said it was "focused on mitigating misleading information that presents the biggest potential harm to people's health and wellbeing. Twitter has an important role to play as a place for good faith public debate around these critical public health matters."
Newsweek reached out to Facebook for comment.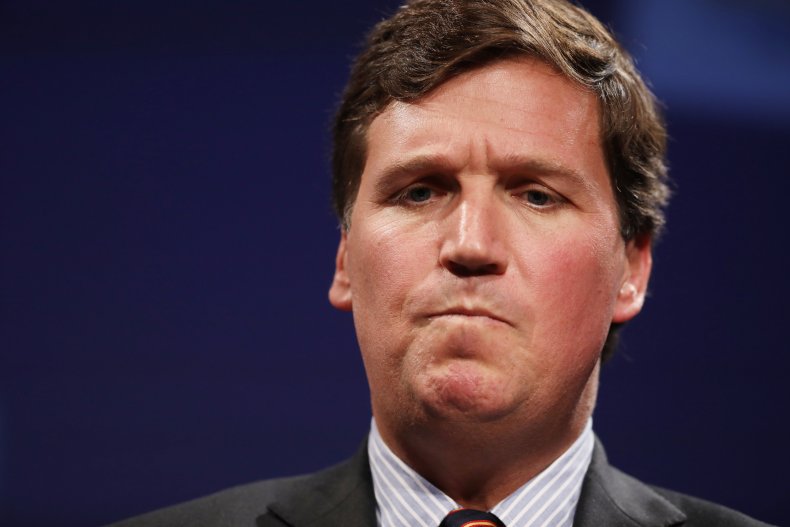 According to a December poll by the Kaiser Family Foundation, 42 percent of Republicans who participated said they probably or definitely would refuse to be vaccinated against COVID-19. Out of poll participants, 59 percent said they were unsure of the vaccine's side effects.
Conservative author Candace Owens predicted in a November tweet that vaccines would become required.
"Mandatory vaccinations will be next with required vaccination IDs to enter businesses and to travel," Owens wrote. "Mark my words."
President-elect Joe Biden said in December that he would not compel Americans to be vaccinated against COVID-19.
"I don't think it should be mandatory," Biden told reporters in Delaware. "I wouldn't demand it to be mandatory. Just like I don't think masks have to be made mandatory nationwide."
Biden is expected to receive the COVID-19 vaccine in December in a public forum to emphasize to Americans the safety of the medication. Vice President Mike Pence is slated to receive a COVID-19 vaccination on Friday. Pence's vaccination is scheduled to be broadcast on television.
According to data from Johns Hopkins University, the U.S. had reported 17,192,379 positive cases of COVID-19 with 310,424 fatalities attributable to the virus as of December 17.