After receiving heat for appearing on Russian state television as an apologist for Russian President Vladimir Putin, Fox News personality Tucker Carlson said Ukrainian President Volodymyr Zelensky should also be considered guilty of "repeating Russian talking points."
Carlson on Monday took aim at critics who've accused him of aiding and abetting Russian propaganda after reports that the Kremlin has requested clips of the Fox News show be used in state media. During his opening monologue Monday, Carlson said he and Zelensky now see eye-to-eye on NATO expansion, a central source of Russian antagonism. So if Carlson is pushing Russian propaganda, so is Zelensky, reasoned the Fox News host.
"Anyone who suggests there might be a way out of this disaster short of total war, anyone who says that is immediately denounced as a tool of Russian propaganda," said Carlson.
The Russian invasion of Ukraine is now in its third week and negotiations between the two countries haven't produced any breakthroughs. Zelensky last week said he had "cooled" on the idea of joining NATO, saying he realized the Western-based alliance wasn't ready to accept Ukraine.
To end Russia's invasion, Zelensky has said, he might be open to a deal holding off on Ukraine joining NATO, but stopped short at Russian demands it be enshrined in his country's constitution.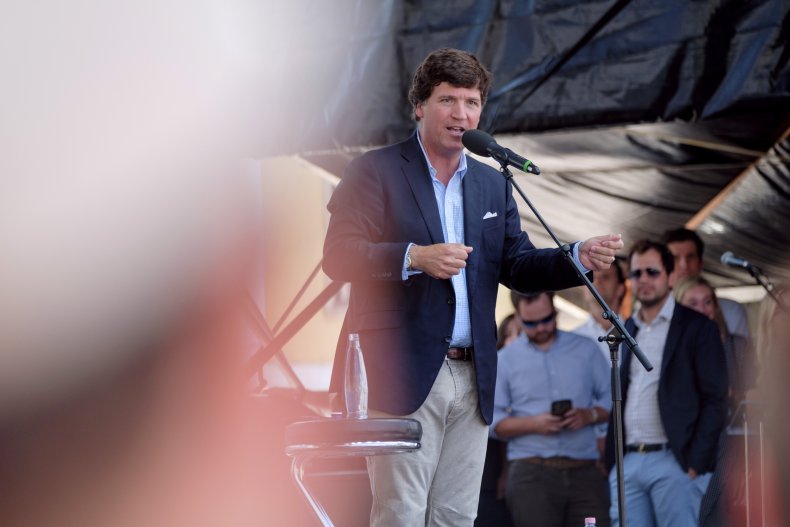 Carlson said on Monday he's repeatedly argued "that forcing Ukraine into NATO will in no way serve the interests of the United States," and says Zelensky's position is now aligned with his.
"So what does that mean?" continued Carlson. "It means that by acknowledging that NATO expansion is what Putin seems to care about most. And so when he (Zelensky) is by definition, at least in this country, repeating Russian talking points, would make the president of Ukraine a Putin collaborator. Anyone who says that is immediately denounced as a tool of Russian propaganda. ... Sound insane? Then you can still think clearly, but that's the state of play."
Carlson has been widely condemned after a segment defending Putin appeared on Russian state television in the run-up to the invasion of Ukraine. In the clip, Carlson rhetorically asked: "Has Putin ever called me a racist? Has he threatened to get me fired for disagreeing with him? Has he shipped every middle-class job in my town to Russia? Did he manufacture a worldwide pandemic?"
Since then, Carlson has been condemned by conservative political figures. On his show, Carlson played a clip of Republican Senator Mitt Romney saying that siding with Putin was "unthinkable" and "almost treasonous." Carlson responded by mocking Romney.
Republican Representative Adam Kinzinger on Monday posted a video explaining why he declined an invitation to appear on Carlson's show and why he never would.
"His show is full of Russian propaganda and not news, and I will not validate his show by making an appearance," said Kinzinger. "I do not want to be associated in any way."
Kinzinger accused Carlson of interrupting and laughing when he's been called out by a guest on his show.
"And after the segment's over, he brings on another guest to try to discredit any statement made by the prior guests without counter," continued Kinzinger. "He's not interested in conversations. He's only interested in himself."
MSNBC's Nicolle Wallace on Monday further criticized Carlson, asking why he hasn't sent Russian state media a cease and desist letter for using clips of his show. She pointed to how her network reacted angrily when political campaigns used its programming in advertisements and was surprised at "crickets" from Fox News.
Newsweek has reached out to Fox News for comment.