Tucker Carlson Says Media Should 'Resist Hasty Calls' After Fox News Defends Handing Arizona to Biden
As election counting continued on Thursday night, Tucker Carlson urged the media to "resist hasty calls." His remarks came after Fox News stood by calling Arizona for Democratic Presidential Nominee Joe Biden.
"It's entirely possible now that some day soon, the news media will decide to shut this election down," Carlson said during his Tucker Carlson Tonight monologue. "Believe it or not, effectively, they have the power to do that."
The conservative host discussed a possible scenario that could happen on Friday. "Let's say tomorrow officials in Philadelphia produce a large number of newly counted votes. Pennsylvania Secretary of State hastily ratifies them, puts the seal of approval on them and then declares Joe Biden the winner. Winning Pennsylvania would put Joe Biden over the threshold of 270 Electoral College votes. So Joe Biden is now the president-elect."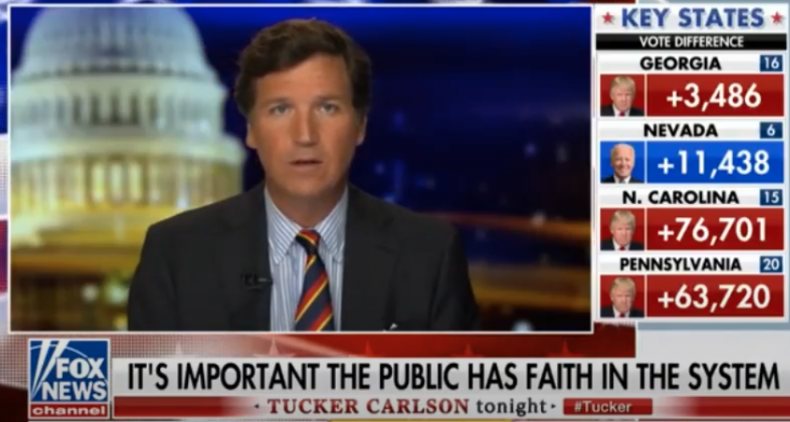 He then urged the media not to "force Donald Trump's voters to believe this" if they "cared about the country and the people."
"You wouldn't force them to take you on your word. Instead, you'd show them, you'd convince them. You'd pull back and resist hasty calls," he said. "You'd make certain that we got to the bottom of any credible claim of fraud. Not all the claims are credible but some are."
Carlson's remarks came after Fox News on Tuesday backed their decision to call victory in Arizona for Biden despite backlash from President Donald Trump's campaign. On Election Night, Trump's campaign criticized Fox News' call for Biden, suggesting that it was too early.
When Fox News Decision Desk Director Arnon Mishkin was asked whether he was 100 percent sure of his call, he responded "absolutely" and defended the decision.
"It's been clear for a while that the former vice president is in the lead in Arizona and was most likely to win the state," Mishkin said in response.
"I think we've heard from the White House is that they are expecting to get that they need just to get 61 percent of the outstanding vote and their 870,000 outstanding votes and they'll be getting that. That's not true. The reality is that they're likely to get only about 44 percent of the outstanding votes there. We're right now sitting on a race that is Biden at 53 percent, Trump at 46 percent."
Arizona Governor Doug Ducey joined Trump's team in criticizing the call in a tweet early Wednesday morning.
"It's far too early to call the election in Arizona," he wrote. "Election Day votes are not fully reported, and we haven't even started to count early ballots dropped off at the polls. In AZ, we protected Election Day. Let's count the votes—all the votes—before making declarations."
Newsweek reached out to Fox News for comment.