Tucker Carlson Says Millions of Americans Love Donald Trump 'Because No One Else Loves Them'
On the eve of Election Day, Tucker Carlson claimed that millions of Americans love President Donald Trump because "no one else loves them."
In his final Fox News monologue before November 3, the host urged voters to question why many Americans still support Trump despite his faults and negative press coverage. After showing an image of the crowd at the president's Saturday rally in Butler, Pennsylvania, Carlson asked, "Why did all those people come?"
"They must have known that Donald Trump was the most evil man who ever lived. They've heard that every day for five years. They know that people who support Donald Trump are also evil. They're bigots, they're morons, they're racist cult members," Carlson said. "They know that Americans have been fired from their jobs for supporting Donald Trump. Not to mention kicked off social media. Belittled by their kid's teachers, shunned by decent society. Only losers and freaks support Donald Trump."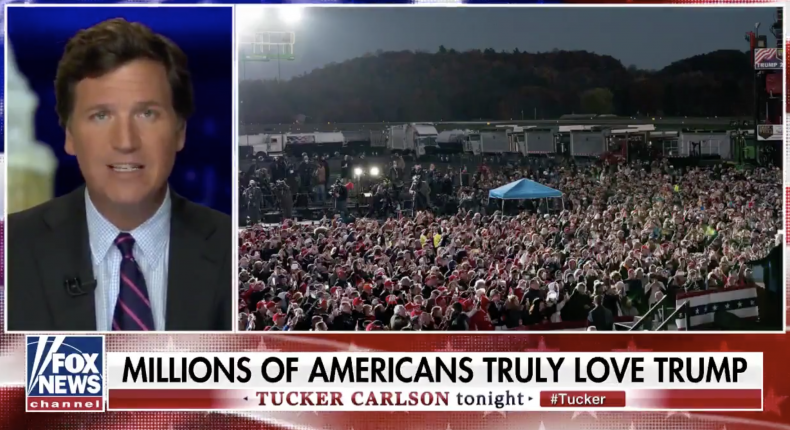 The conservative host went on to insist that "millions of Americans sincerely love Donald Trump. They love in spite of everything they've heard, they love often in spite of himself. They're not deluded. They know exactly who Trump is."
Carlson then expressed his belief that supporters "love Donald Trump because no one else loves them."
"Whatever Donald Trump's faults, he is better than the rest of the people in charge," he said. "At least he doesn't hate them for their weakness. Donald Trump, in other words, is and has always been a living indictment of the people who run this country."
"Trump rose because they failed."
Trump has been trailing behind Democratic Presidential Nominee Joe Biden in most nationwide and swing state polls. With hours until Election Day, Biden's lead over the president is larger than Hillary Clinton's lead four years ago, when Trump's electoral college win stunned America.
A CNBC/Change Research poll, released Monday, had Biden with a narrow lead in six battleground states. In Arizona, 50 percent of likely voters supported Biden compared to Trump's 47 percent; in Florida, 51 percent supported Biden and 48 percent supported Trump; in Michigan, 51 percent supported Biden and 44 percent Trump; in North Carolina 49 percent supported Biden and 47 percent Trump; in Pennsylvania, 50 percent supported Biden and 46 percent Trump; and in Wisconsin, 53 percent supported Biden and 45 percent Trump.
The battleground states poll surveyed 3,328 people from the states between Thursday and Sunday. Its margin of error is plus or minus 1.7 percentage points.
Newsweek reached out to Biden's campaign for comment.