Tucker Carlson Says Senator Told Him to Go Public with NSA Spying Allegations
Tucker Carlson says that a U.S. Senator helped convince him to go public with allegations that the National Security Agency (NSA) was spying on him and his Fox News opinion show.
During the June 28 edition of Tucker Carlson Tonight, Carlson first alleged that a "whistleblower" working inside the government told him the NSA was "monitoring our electronic communications and is planning to leak them in an effort to take this show off the air."
During an interview with Glenn Beck on Wednesday, Carlson said that the guidance of an unnamed "wise" Senator had helped convince him to detail the purported plot on his show despite his suspicions that it would make him "sound like a nutcase."
"It actually scared me," Carlson said. "I immediately called, like, the only person in politics I would ever talk to—who is a U.S. senator who is wise—and I said, 'This kind of scares me honestly, what should I do?' And he said, 'You've got to go public with it because you don't have any other defense. You don't actual power, the only power you have is to talk... and you need to do that right away.'"
"So I did and I felt like kind of a lunatic," added Carlson. "You don't want to go on TV... I mean would you want to go on the air and say, 'They're spying on me?' No, you sound like a nutcase. But I didn't feel like I had a choice."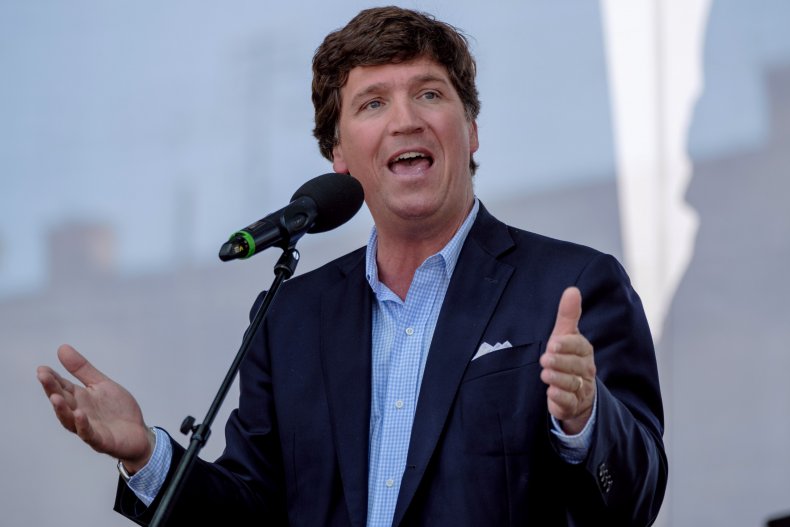 Carlson said that he "never would have imagined" he would be making such allegations three years earlier, boasting that he is "the least paranoid, sunniest, most optimistic, naive person I know" and never assumes "bad motives on the part of any American." He said he was first made aware of the alleged surveillance by a "very close friend" while visiting Washington, D.C.
The day after Carlson aired the allegations, the NSA issued a rare statement denying that Carlson had ever been a surveillance target. It later emerged that Carlson had been making arrangements to conduct an interview with Russian President Vladimir Putin and that his name had been "unmasked" at the request of an unidentified official due to related communications.
However, it is not clear if the NSA was directly monitoring Carlson as he alleges, or whether his name was mentioned in communications that the agency intercepted during its more usual surveillance on third-party foreigners, as the NSA told members of the House and Senate intelligence committees in July.
On Tuesday, the NSA's internal watchdog said it was launching an investigation to determine whether the agency "improperly targeted the communications of a member of the U.S. news media" Fox News issued a statement saying it was "gratified to learn the NSA's egregious surveillance of Tucker Carlson will now be independently investigated."
Newsweek reached out to Fox News for comment.