Tucker Carlson Says Someone Opened Package of Incriminating Biden Documents and He Wants Answers
Tucker Carlson on Thursday night said that someone opened his collection of incriminating documents related to Democratic Presidential Nominee Joe Biden's family and he wants UPS to explain who did it.
UPS confirmed that they located the contents of Carlson's misplaced package today, hours after the Fox News host said he had come into possession of "real, authentic and damning" documents on Hunter Biden that were subsequently lost en route from New York to California.
"After an extensive search, we have found the contents of the package and are arranging for its return," a UPS spokesperson said. "UPS will always focus first on our customers and will never stop working to solve issues and make things right."
Following the development, Carlson went back on air tonight and accused "someone" of opening the package and removing the flash drive that contained the documents. He also called on UPS to explain how the documents got separated from the package.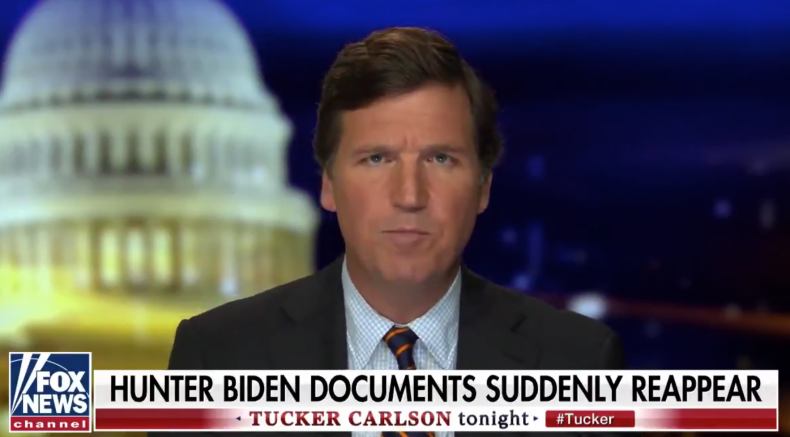 Carlson clarified that the documents did not come from Tony Bobulinski, Hunter Biden's former business partner, and said that producers made a copy of the documents before sending them.
"The package never arrived," he said. "They vanished on the same day we were conducting a heavily publicized interview based in part on documents on the Biden family. So as you can imagine, we wanted to know what happened. We still don't know what happened."
The Fox News host insisted that someone opened the package and said UPS won't disclose how they misplaced his Biden documents.
"Obviously we had some questions about it but UPS executives would not answer our questions," he said. "How did our flash drive get separated from the package that we sent it in?"
"The obvious explanation [is that] someone for some reason opened our package and removed a flash drive containing documents that were damaging to the Biden family. We'd love to know who did that and why," the host added. "What we'd really like is some answers."
Carlson's tale of the lost Biden documents quickly became the object of online scrutiny last night. After the host recounted the story about his missing documents during a segment on Tucker Carlson Tonight, Twitter users responded with jokes, insults and demands for proof that the documents existed in the first place.
"I stole Tucker Carlson's trove of documents," tweeted Democratic California Congressman Ted Lieu.
U.S. Naval War School Professor Tom Nichols, who's also a senior adviser to anti-Trump group The Lincoln Project, questioned whether Carlson's story was real.
"If you think about it, this is a brilliant strategy," Nichols tweeted. "Now the fever swamp viewers of Carlson's nightly 60 minutes of hate can just imagine what those documents are and how bad they are, instead of Tucker risking getting sued or caught with fakes."
Carlson said the confidential documents were sent Monday from New York to Los Angeles, where he was preparing for an interview with Bobulinski.
Newsweek reached out to UPS for comment.