Tucker Carlson Says Vindman Should 'Go Work for Ukraine,' Nunes Suggests He 'Will at Some Point'
Representative Devin Nunes told Fox News host Tucker Carlson Thursday that he thought impeachment hearing witness and National Security Council (NSC) member Lt. Col. Alexander Vindman could one day work for Ukraine.
Nunes' comment came after Carlson questioned why both Lt. Col. Vindman and his brother, attorney Eugene Vindman, are still employed by the NSC.
Nunes suggested that the NSC could shrink its ranks by putting any employee who came in under the Obama administration in "a used building somewhere on the other side of the Potomac. Just get 'em out of there."
"Why not just say, 'Mr. Vindman and your lawyer brother, take a hike?'" Carlson asked. "Nobody elected Mr. Vindman to anything, or his lawyer brother, or any of these people. The government exists for our benefit and it's not working, so why is it so hard to do that?"
"That's why I think I gave them very good advice which is, there's plenty of empty buildings. Just say 'Look, thank you for your service, just get off the premises,'" Nunes said.
"Go work for Ukraine," Carlson said.
"Maybe he will at some point," Nunes replied.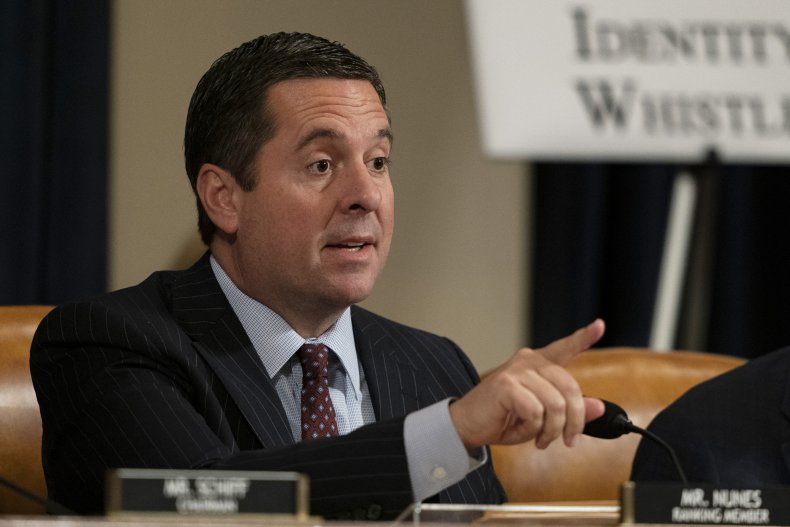 Vindman's testimony during the November 2019 impeachment inquiries included his claim that he heard President Donald Trump ask Ukrainian president Volodymyr Zelenzkiy ask for an investigation into the activities of both former Vice President Joe Biden and Biden's son, Hunter. When he told a lawyer at the NSC about his concerns with Trump's call, Vindman was allegedly told not to discuss it.
Thursday, House Intelligence Chairman and lead prosecutor in the impeachment trial against President Trump named Vindman as someone he had "admiration" for during his statements on the floor of the Senate.
"Why is that Colonel Vindman, who worked for [former NSC Russia expert] Fiona Hill, who worked for [former National Security Adviser John] Bolton," Schiff asked, "why is it that they were willing to stick their neck out and answer lawful subpoenas when their bosses wouldn't? I don't know that I can answer that question but I can just tell you that I have such admiration for the fact they did."
Schiff's praise of Vindman incensed Tennessee Senator Marsha Blackburn, who tweeted about it Thursday.
"Adam Schiff is hailing Alexander Vindman as an American patriot," Blackburn tweeted. "How patriotic is it to badmouth and ridicule our great nation in front of Russia, America's greatest enemy?"
Blackburn's tweet drew ire from other Twitter users, including actor Alyssa Milano who wrote, "You are attacking a war hero."
In a statement released Thursday, Vindman's attorney David Pressman said, "That a member of the Senate—at a moment when the Senate is undertaking its most solemn responsibility—would choose to take to Twitter to spread slander about a member of the military is a testament to cowardice."
Newsweek reached out to the National Security Council for comment but did not receive a response in time for publication.