Tucker Carlson Says We Don't Talk About Hillary Clinton 'Very Often' on Fox News
Tucker Carlson on Tuesday asserted live on air that Fox News rarely talks about Hillary Clinton on his show as he assessed the likelihood of a possible 2020 Clinton campaign.
Two unnamed sources close to Clinton recently told The Washington Post that the 2016 Democratic nominee is still considering entering the 2020 presidential race as a Democrat, potentially to have another shot at defeating President Donald Trump. The New York Times on Tuesday also reported that Clinton has privately indicated in recent weeks that she would consider a 2020 bid for the presidency if she believed she could win. According to the newspaper, Clinton is skeptical that would be the case.
During a segment on Wednesday's Tucker Carlson Tonight, the show's host invited Philippe Reines, an ex-Clinton adviser, to discuss a possible Clinton campaign and whether the former Secretary of State would likely secure the 2020 Democratic nomination if she chose to run.
"She ran for president [in 2016] because she thought she would be the best president," Reines said, "if she still thought that now, if she thought she had the best odds of beating Donald Trump, I think she would think about it long and hard."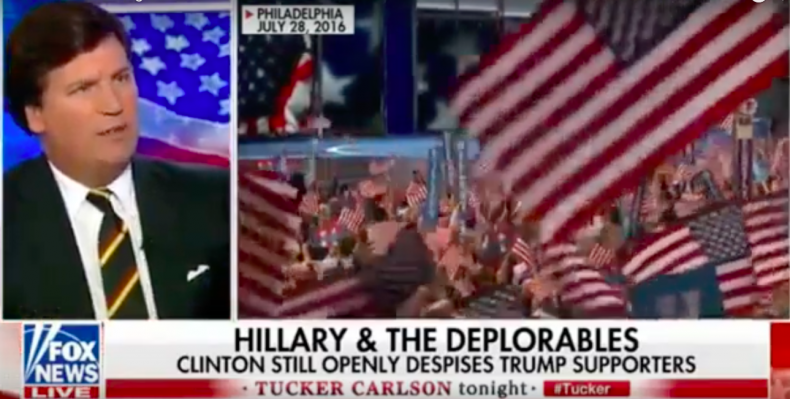 When asked by Carlson whether Clinton could be considered "too right-wing" for the current Democratic Party, Reines responded: "If she would jump in for whatever reason and the party has moved some place that she hasn't. Then she won't get the votes."
He added: "There might be a reason that she'd be the best person, not only to beat Donald Trump but to govern after Donald Trump, which is a part we don't talk about much."
Reines then quickly moved to defend Clinton after Carlson appeared to be skeptical of his remarks. "Look, you can make fun of her all you want, but 65 million people voted for her," he said.
"I'm not making fun of her," Carlson said.
"I watch Fox News..." Reines fired back.
"We don't talk about her very often," Carlson responded.
"Oh come on, we're talking about her right now!" Reines said.
"We are because I think it's so interesting," Carlson explained. "Hillary Clinton, who I've always thought was at the leftward edge of the Democratic party, has been for 50 years since her 1969 speech at Wellesley College. She's been at the leftward edge of the Democratic Party. She denounced Bernie Sanders' Medicare For All proposal as a terrible conversation to have."
Clinton has come under fire recently for her comments that suggest the Republican party could be grooming Tulsi Gabbard as a potential third-party candidate.