Tucker Carlson Slams Elizabeth Warren's Legal Background, Compares Her to Mr. Burns on 'The Simpsons'
Conservative Fox News host Tucker Carlson took aim at Senator Elizabeth Warren by comparing her to Mr. Burns from The Simpsons during a televised segment discussing the senator's past legal work.
The remarks came on Tuesday's edition of Tucker Carlson Tonight. Carlson's guest for the segment was Cornell Law School professor William Jacobson, who is a frequent conservative commentator and a longtime opponent of Warren. Jacobson offered unflattering characterizations of work the presidential candidate had previously done for corporations as a bankruptcy lawyer.
Carlson reacted to Jacobson's allegations by comparing Warren's work to the behavior of the evil Simpsons character, jokingly asking if she represented chemical company Union Carbide during their infamous 1984 industrial disaster in Bhopal, India, where thousands of people died due to a gas leak.
"It's unbelievable. I mean, she is like Mr. Burns on The Simpsons from your description," said Carlson. "Does she represent Union Carbide in Bhopal, too? I mean of all people. Just the irony here. Elizabeth Warren is always lecturing you. And I don't even like trial lawyers, and I wouldn't do what she did. So, the irony is overwhelming."
Often considered a progressive advocate for consumer rights, Warren's public image is a stark contrast to the unscrupulous and greedy Mr. Burns, who has also acted as the chairman of the local Republican Party on the fictional show. Her position as a Harvard bankruptcy law professor meant she was in high demand as a legal expert and she engaged in private legal work for numerous clients over the course of decades. A handful of the jobs have been singled out by her political opponents.
Jacobson mentioned a few clients during the segment, but particularly focused on her work for Dow Chemical. Carlson referenced a July article in The Washington Post that suggested Warren had helped block compensation for women who sued the company over claims of health issues caused by silicone breast implants. Warren's campaign insisted she had worked as a consultant "to ensure adequate compensation" for the women.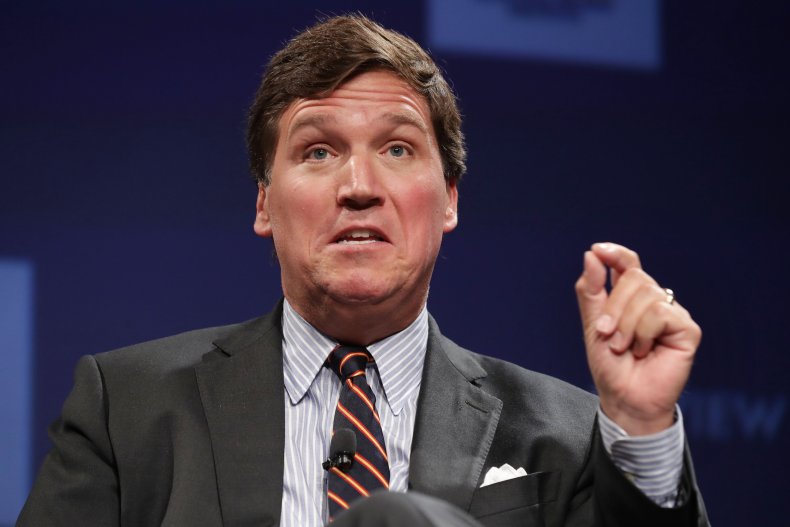 Carlson is a fervent supporter of President Donald Trump and his show has taken frequent aim at Warren in recent times.
An October edition of the show described the senator as "fake." Carlson claimed that Warren was willing to "say literally anything" to get ahead and insisted her "pandering" to the left was responsible for the results of a Quinnipiac poll showing she had a seven percent lead over former Vice President Joe Biden.
"She expects you to believe every word of what she says, which means you're watching someone who will say literally anything. Whatever it takes," said Carlson. "In the primaries on the Democratic side, what it takes is maximum leftward pander. So that's what Warren has delivered this season. There is no issue in which she doesn't have the most radical possible position. And for now, it's working. Quinnipiac confirms that."
However, Carlson's view of Warren has not always been universally negative. In June, he praised the senator for her proposed "plan for economic patriotism." The surprising endorsement was punctuated by a moment that threatened to upset both his fellow Trump supporters and supporters of Warren, when he claimed the plan reminded him of "Donald Trump at his best."
Newsweek reached out to Warren for comment but did not receive a response in time for publication.