Tucker Carlson Slams Pompeo, Soleimani Intel for Claiming Iran Risk of Terror Has Increased: We Trust the 'Deep State' Now?
On Monday's Tucker Carlson Tonight, the Fox News host chided his colleagues for readily believing U.S. intelligence that the risk of terrorism from Iran has gone up prior to the death of General Qassem Soleimani.
"Seems like about 20 minutes ago, we were denouncing these people as the deep state... Now for some reason, we do trust them, implicitly and completely," Carlson said.
"It's harder to get rich and powerful during peacetime, so our leaders have a built-in bias for war," Carlson declared. "So they decided on television studios over the weekend to describe in detail the type of violence they are prepared to wreak on a country very few of them know about."
"There's not much chance that war with Iran will make this country safer, or richer, or happier. If recent history is any guide, the opposite is likely to happen."
"It's hard to remember now, but as recently as last week, people didn't consider Iran an imminent threat," he noted, criticizing Secretary of State Mike Pompeo's reasoning for the airstrike which killed Soleimani. "Iranian saboteurs were not committing acts of terror in our cities. Oh, but our leaders tell us, 'They were about to any second! That's why we struck first.'"
"What's striking is how many people are willing to accept this uncritically," Carlson added. "Just the other day, you remember, our intel agencies were considered politically tainted and suspect. Certainly on this show they are, were, and will be for quite some time."
He reminded the "people pushing conflict with Iran" that during the investigation into President Donald Trump's alleged ties to Russia, intelligence reports on the situation were roundly dismissed by them as untrue or biased, and that during the president's impeachment trial members of the intelligence community faced similar accusations by the same persons now praising the reports on Soleimani as accurate.
"It seems like about 20 minutes ago we were denouncing these very people as the 'deep state' and pledging to never trust them again without verification. But now, for some reason, we do seem to trust them implicitly and completely," he concluded.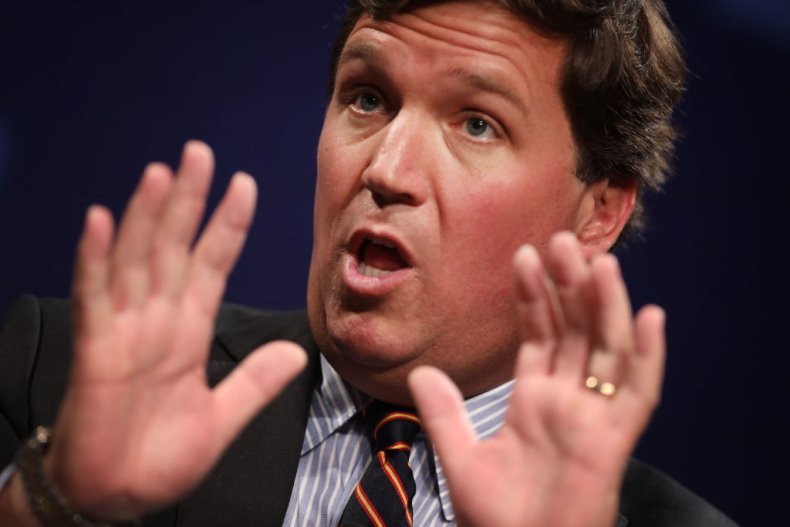 The conflict between Iran and the United States has been intensifying since a rocket attack allegedly launched by members of the Kataib Hezbollah militia on an Iraqi military base in Kirkuk on December 27. That assault killed one American, a civil contractor, and wounded several U.S. soldiers. A spokesperson for Kataib Hezbollah denied involvement in the attack, according to The New York Times.
On December 29, the U.S. launched airstrikes which killed 24 Kataib Hezbollah combatants.
In response, a large group of Iraqi protesters forced its way past security forces and into the U.S.'s embassy in Baghdad on December 31.
Armed with rocks and chanting "Death to America," they marked the interior walls of the embassy with graffiti, set fires, destroyed property, broke windows and announced their demands—a complete withdrawal of U.S. troops from Iraq.
According to a statement from the Pentagon, the resultant strike against Soleimani was "aimed at deterring future Iranian attack plans."
"We do not seek regime change," Trump said during a Friday afternoon press briefing. "The future belongs to the people of Iran... We took action to stop a war, we did not take action to start a war."
Newsweek reached out to the White House and Mike Pompeo for comment, but did not hear back at press time.