Tucker Carlson Slams U.S. Housing Afghanistan Refugees: 'First We Invade, Then We Are Invaded'
Tucker Carlson has criticized the re-housing of Afghanistan refugees inside the U.S., saying, "So first we invade, and then we are invaded."
Carlson made his comments on his Fox News show Tucker Carlson Tonight on Monday. That same night, Democratic President Joe Biden authorized $500 million to help Afghan refugees who aided U.S. forces to relocate inside the United States.
During the show, Carlson cited a tweet about Afghan refugees published on August 12 by Republican Utah Senator Mitt Romney. "The President must urgently rush to defend, rescue, and give and expand asylum. There is no time to spare," Romney wrote.
Disagreeing with Romney's tweet, Carlson sarcastically replied, "There's lots of time to spare as Americans die of fentanyl overdoses and millions of foreign nationals whose identities we can't confirm move here. But when it comes to bringing Afghans to our country, there's no time to spare."
"We will see many refugees from Afghanistan resettle in our country in coming months, probably in your neighborhood," Carlson added. "And over the next decade, that number may swell to the millions. So first we invade and then we're invaded—it is always the same."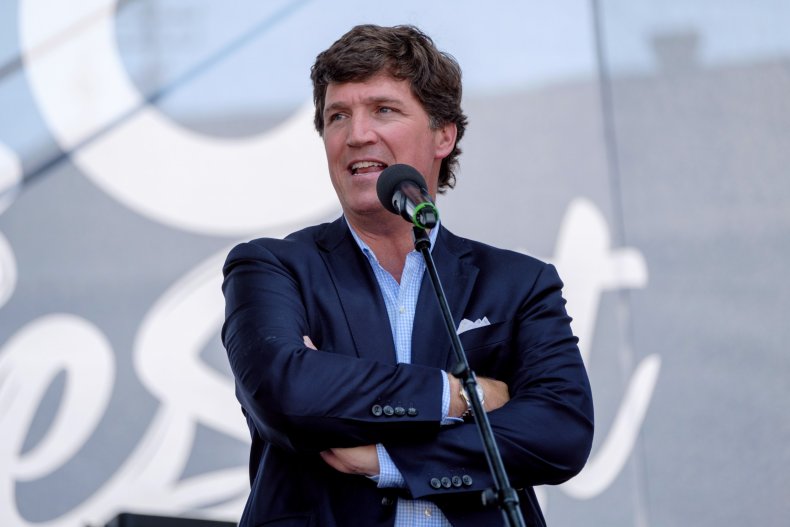 The Biden administration is scrambling to evacuate Afghan allies who aided the U.S. during its 20-year occupation within the country amid the Taliban takeover of Afghanistan.
On Monday, the Taliban said that Afghans who aided U.S. forces didn't need to fear for their lives. However, since 2014, the Taliban has murdered at least 300 Afghans who served as interpreters for U.S. forces, according to No One Left Behind, a veteran-led group for Afghan and Iraqi interpreters.
Carlson didn't explain how he thought the U.S. should handle its former allies in Afghanistan, however, he did promise to talk about the so-called Afghan invasion "in coming weeks because it matters."
On April 9, the Anti-Defamation League (ADL) accused Carlson of espousing the racist theory of "great replacement." The theory states that immigrants from non-white, developing countries will invade the U.S. to "replace" its current citizens, according to American political analyst Casey Michel.
The ADL called on Fox News to fire Carlson for allegedly pushing such views.
On April 12, Fox Corporation chief executive Lachlan Murdoch dismissed the ADL's request, stating that Carlson himself has disavowed the theory.
The ADL responded to Murdoch's explanation by stating that, despite Carlson's disavowal, he still regularly invokes the white supremacist theory under the guise of discussing other issues like voting rights or immigration policies.
Newsweek contacted Fox News for comment.