Tucker Carlson Calls Sen. Tammy Duckworth, Wounded Iraq Vet, 'Unimpressive'
Tucker Carlson called the Democratic Senator and Iraq War veteran Tammy Duckworth a "deeply silly and unimpressive person" in an attack on her party's leadership Monday night.
The Fox News host lashed out at the U.S. Senator of Illinois as she entered the spotlight as a possible candidate for Joe Biden's running mate in November's presidential election.
He also launched a screed against Democratic Party leaders, arguing that they hated America and would thus be unfit to take charge of the country.
At the end of his opening monologue, Carlson said: "You're not supposed to criticize Tammy Duckworth in any way because she served in the military. Most people just ignore her.
"But when Duckworth does speak in public, you're reminded what a deeply silly and unimpressive person she is."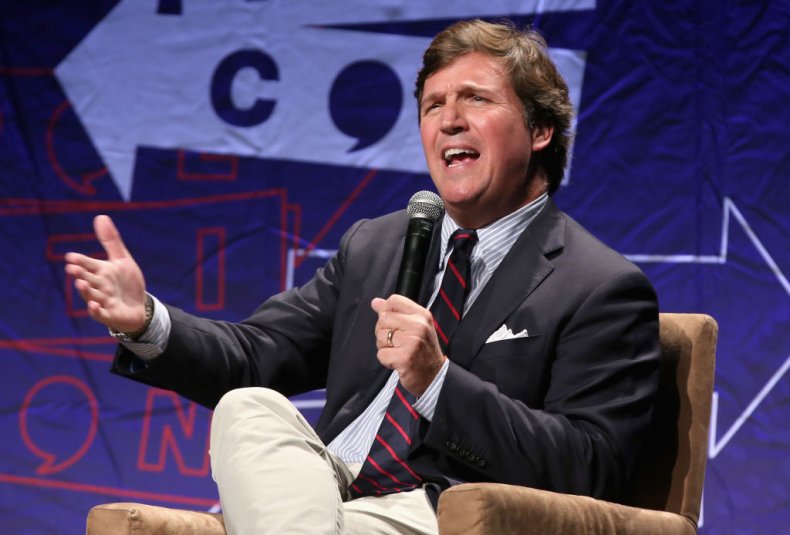 After playing a clip of the Illinois senator calling for a "national dialogue" on the removal of monuments, Carlson said: "They're not looking for any kind of colloquy, what they want is a soliloquy. We speak, you shut up and listen.
Responding to Carlson's monologue on social media, Sen. Duckworth said: "Does @TuckerCarlson want to walk a mile in my legs and then tell me whether or not I love America?"
The senator lost both her legs while serving with the U.S. Army in Iraq. According to an interview with Stars and Stripes, her helicopter was struck by an RPG as she returned from a mission in November, 2004.
Hitting out at the wider Democratic Party leadership last night, Carlson said: "What's long been out of bounds is to question a person's patriotism. It's a very strong charge, and we try not ever to make it.
"But in the face of all this, the conclusion can't be avoided: these people actually hate America."
"There's no longer a question about that. And yet, paradoxically, at the same time they desperately want to control America more than anything, and that leads to the most basic of all questions. Can you really lead a country that you hate?"
The Fox News host singled out Sen. Duckworth after The Atlantic reported last week that Biden's advisers were vetting her as a potential running mate for the former vice president.
Duckworth is one of several women in the bidding for a spot on Biden's presidential ticket. Among the top contenders are Sen. Kamala Harris, Rep. Val Demings and ex-National Security Advisor Susan Rice.
Asked whether she believed Biden needed to have a Black woman on his ticket in November, Duckworth told CNN on Sunday that it was not on others to "dictate" who should be the ex-vice president's running mate.
"He knows best who he needs as a vice president who can help him connect with American people," she said.