Tucker Carlson Taunts 'Woke Generals' Who Couldn't Defeat the Taliban
Fox News host Tucker Carlson hit out at "woke generals" days after Pentagon leaders denounced him for claiming that President Joe Biden is attempting to make the U.S. military "more feminine" while describing pregnant soldiers as a "mockery" earlier this week.
The Quote
Carlson said the following during the Friday night edition of his show Tucker Carlson Tonight:
"It was quite an experience yesterday being the very first target in the Pentagon's new 'Operation Silence the Talk Show Host.' For a minute, we'll concede we were almost rattled. Then we realized if the woke generals treat us like they've treated the Taliban, we'll be fine. 20 years later, the Taliban are still here," Carlson said.
"Maybe we ought to promise the Pentagon that we'll get rid of traditional gender roles on this show, change the pronouns, defeat the patriarchy and all that. Then they'd send us billions in unmarked $100 bills as a reward. They've certainly done that before. And that might really kickstart our struggling opium poppy business," he added.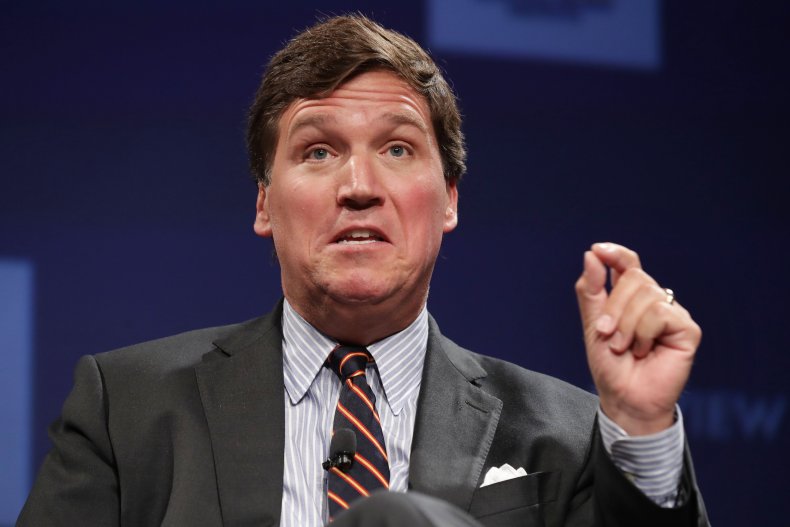 Why It Matters
Carlson has come under fire for making controversial statements in the past and his comments on women in the military this week are no exception. Critics have blasted Carlson for both his repeated use of attention-grabbing rhetoric and his alleged promotion of conspiracy theories.
CNN host Brianna Keilar on Friday denounced Fox News for allowing Carlson to say whatever "nutso thing" he wants and "Tuckerizing" other programing, noting that while the rival network has seen ratings falter overall in recent months, Tucker Carlson Tonight remains its highest-rated show.
Biden praised women in the military in a speech given during International Women's Day on Monday, highlighting the development of maternity flight suits, body armor designed to fit women and other measures to ensure that female service members are not "just token members."
Carlson praised the Chinese military for becoming "more masculine" during his Tuesday evening show, while denouncing Biden's comments and insisting that pregnant women "going to fight our wars" had made "a mockery of the U.S. military."
The remarks sparked a torrent of criticism and outrage from both veterans and active figures in the military. On Thursday, Pentagon Press Secretary John Kirby publicly rebuked Carlson for his remarks.
"We still have a lot of work to do to make our military more inclusive," Kirby told reporters. "What we absolutely won't do is take personnel advice from a talk show host or the Chinese military. Maybe those folks feel like they have something to prove, that's on them."
Kirby also said that Secretary of Defense Lloyd Austin "shares the revulsion of so many others to what Mr. Carlson said in his opening statement."
The Counterpoint
While Biden expressed support for female service members, he did not urge the military to become "more feminine" as Carlson claimed. There is also no evidence that the Pentagon is targeting Carlson or other talk shows hosts, nor is there any reason to believe that the military under Biden or any other president has provided "billions in unmarked $100 bills" for those who work to "defeat the patriarchy."
Carlson's comments concerning the military and the Taliban are questionable as well. While the Taliban has remained active in the area and has experienced a resurgence, the U.S. military did quickly succeed in toppling the group's control of the Afghanistan government after invading the country following the 9/11 attacks in 2001.
Former President Donald Trump's administration brokered a peace deal with the Taliban last year. Late last month, the Biden administration struck a further deal that may soon lead to a full withdrawal of U.S. troops from Afghanistan.
Newsweek reached out to the Pentagon for comment.