Tucker Carlson vs. 'Teen Vogue' Writer Lauren Duca: Score One for the Guest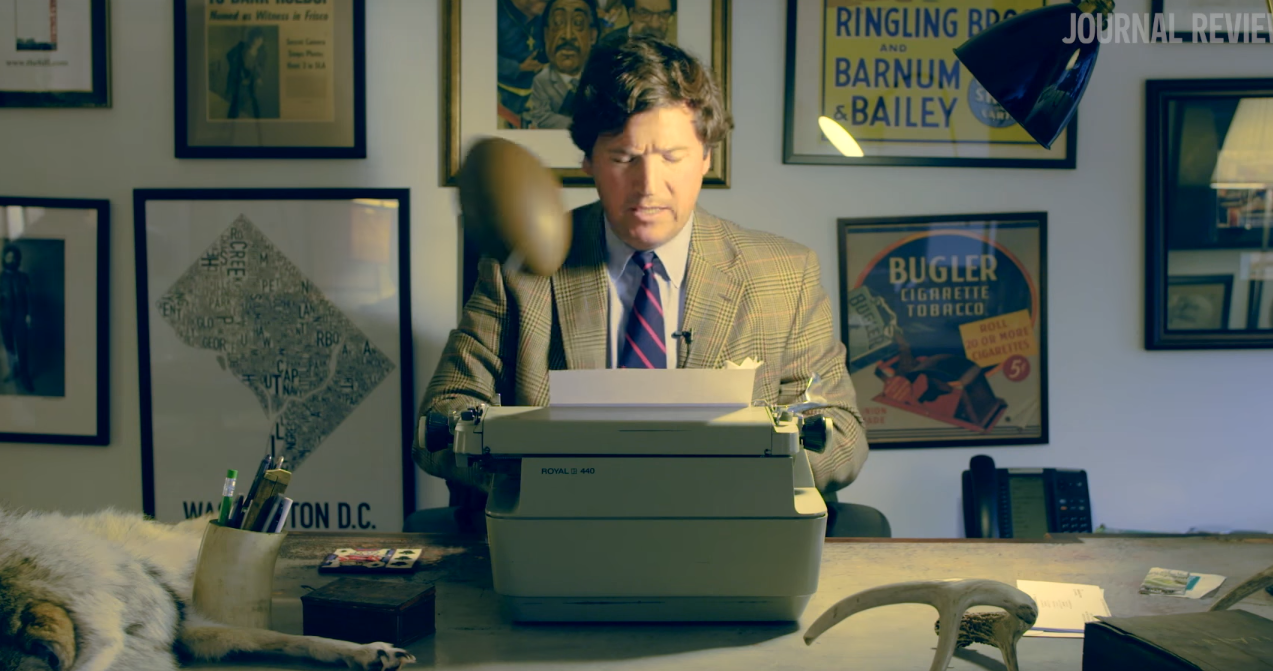 Talking over your guest? Check. Misrepresenting your guest's opinion? Of course. Fox News's Tucker Carlson followed the standard TV talking head playbook—coupled with a healthy dose of sexism—in an interview Friday night with Teen Vogue's Lauren Duca that has gone viral based on Carlson's patronizing questions and Duca's strong defense of her work and opinions.
The contentious interview on "Tucker Carlson Tonight" concerned a Duca tweet after a passenger was removed from a JetBlue flight over making angry remarks at fellow passenger Ivanka Trump, president-elect Trump's daughter and adviser. Duca tweeted, "Ivanka Trump is poised to become the most powerful woman in the world. Don't let her off the hook because she looks like she smells good."
Duca repeatedly explained that she doesn't "want anyone being yelled at on a plane" but believes Ivanka Trump deserves criticism for acting as a "cushion" for her father's sexist behavior. Ivanka is often seen as a moderating influence on the thrice-married president-elect, who crafted a playboy image in the New York press long before he was caught on tape bragging about sexual assault.
"It's sinister for a daughter to capitalize on the power of feminism and uniting women and empowering women while supporting a candidate who is the most anti-woman candidate this country has seen in decades," said Duca, who argued that Ivanka's views and work deserve greater scrutiny, since "she's not just a mother. She is a powerful, powerful woman who is connected very closely to the president-elect."
The point was apparently too much for Carlson, who repeatedly tried to lower the argument to his own narrative: a false claim that Duca was supportive of Ivanka being yelled at in public.
"I'm asking you a simple question," Carlson said. "You're not. You're actually being a partisan hack who's attacking me and not even allowing me to speak," Duca replied.
Carlson got personal after seeing that Duca was no pushover for the formerly bowtied CNN "Crossfire" co-host, who tried to insinuate that the Teen Vogue writer wasn't to be taken seriously for writing for such a publication. Duca called him "really patronizing" after he referred to a piece she wrote in Teen Vogue—"which I guess you write for"—but really earned Duca's ire by quoting entertainment-related headlines under her byline to suggest his guest was a frivolous person.
"A woman can love Ariana Grande and her thigh-high boots and still discuss politics. Those things are not mutually exclusive," Duca said to a smug Carlson, who wore a mask of apparent incomprehension throughout most of the interview.
"You should stick to the thigh-high boots, you're better at that," he said to close the segment, cutting off Duca's audio as she called him a "sexist pig."
The exchange has roiled social media, with support for both parties—although many of the comments in Carlson's favor come with gendered attacks serving to prove Duca's point.
Duca responded via Twitter, as well, saying Carlson "is an enemy of rational discourse. In this fraught moment, his bully tactics are profoundly damaging, and achieve nothing."