Tucker Carlson Thinks Asking Guatemala to 'Stop Off-Loading Poor People' Is 'Pretty Simple'
Fox News host Tucker Carlson has said he thinks it should be "pretty simple" to tell the Central American country of Guatemala to "stop off-loading poor people' into the United States.
"So if you're going to deal with the governor of Guatemala, wouldn't it be pretty simple?" Carlson asked Monday night on his Fox News program Tucker Carlson Tonight. Guatemala is led by a president, not a governor.
"One phone call," Carlson continued. "You say 'Look, either you stop off-loading your poor people onto our taxpayers or we're shutting down your foreign aid, tomorrow. Like you've got 24 hours.' Why is that complicated?"
Guatemala is one of three countries in the Northern Triangle region of Central America. The region, which includes El Salvador and Honduras, is the primary source of migrants to the United States. In 2018 alone, at least 116,000 Guatemalans crossed the southern U.S. border. The amount was more than from any other country except Mexico, according to National Geographic.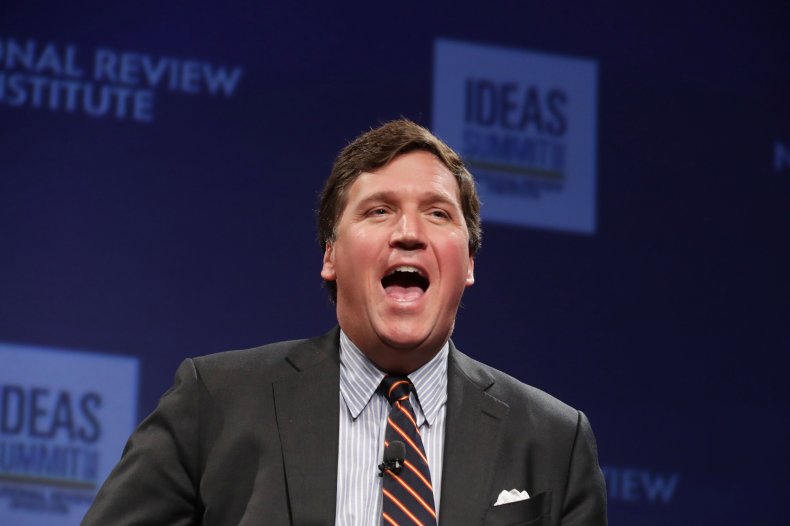 Former President Donald Trump tried something similar to what Carlson suggested. Near the end of March 2019, the Trump administration cut federal funding to the Northern Triangle to "punish" the region for the large number of migrants that left the area for the United States.
Trump cut off nearly $450 million in annual funding to local and international nongovernmental organizations (NGOs) as a result. The NGOs provided childhood education, farming skills, domestic violence shelters, medical clinics, funding for local business initiatives and other community services, including anti-corruption and transparency training for local governments.
After Biden won the 2020 election, he pledged to try to reduce Central and South American migration to the United States. His administration is developing an aid package that will encourage regional governments to "clean up their police, increase tax collection, fight corruption and create the opportunities necessary to convince would-be migrants to remain in their countries."
Guatemalan President Alejandro Giammattei has said that the only way to stop migration from his region into the U.S. is with a "wall of prosperity," not with a physical barrier.
"No one abandons their home, their family or their land on a lark," Giammattei said in an interview with ABC News on April 8. "People who do it out of need have to find in their country enough guarantees that they will have opportunities."
"The high walls, those, anyone can cross," Giammattei continued. "Physical walls don't stop immigration, not when they hire someone ... to dig a tunnel and cross underneath. The wall doesn't stop it. The only thing that stops a person is a wall of prosperity."
Immigrants largely flee the region to escape high murder rates, gang violence, low employment, as well as a lack of access to food, necessities and social services. Recent droughts and hurricanes have worsened conditions in the region.
Giammattei also said that more migrants from his country may be emigrating to the U.S. because they think Biden may welcome them more warmly than Trump did.
The U.S. could encounter 2 million migrants at the border by the end of 2021, according to projections by CNN. The amount would be nearly double the amount seen in 2006, the last time apprehensions of immigrants at the border exceeded 1 million.
Newsweek contacted Fox News for comment.